---
Sunrise at the Sunset Beach bridge, Sept. 29, 2007:

Still tons of miniature golf in the region, starting along Highway 17 in Ocean Drive:
Hawaiian Rumble Golf
33rd Avenue South Hwy. 17
North Myrtle Beach, SC 29582
(843) 272-7812 Home of the US Pro Mini Golf association
Miniature Golf in Myrtle Beach
Like Myrtle Beach, many of the old movie theatres are now gone. The Ocean Cinema I, II & III, at 400 Hwy 17 South, is completely gone. This was where I first saw "Star Wars" in June 1977.
---
CHERRY GROVE FISHING PIER
3500 N. Ocean Blvd
Cherry Grove (NMB), SC 29582
(843) 249-1625 Website:
http://www.cherrygrovepier.com/
Despite numerous storms, the fishing pier is still here, with a long 985 foot long pier and a 2-story observation deck at the far end. Despite its length, the water is only 30-40 feet deep at the end; the continental shelf is very gentle here, and boats must go out over 50 miles to hit deep water.
Photo: Victor Lin
Until very recently, the world record for the largest Tiger Shark was held by this pier. On June 19, 1964, a 1780 lb. tiger shark was caught by Walter Maxwell of Charlotte NC using regular line. The shark almost escaped; it went out to sea almost to the end of the line, then back to pier, repeating this five times until it was completely exhausted and could be hauled in. This catch remains the M-60kg and all tackle IGFA record. The new official world record is 1785lb. 11oz (810kg) caught on March 28, 2004 by Kevin Clapson off of Ulladulla, Australia. The Cherry Grove shark could still be the largest; it took a day to truck it to Loris SC to find a scale capable of measuring it, during which time it could have lost a large amount of fluid. This pier is also the site of a record 98-pound tarpon.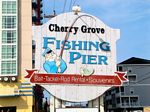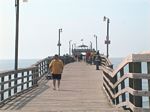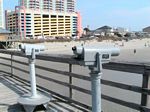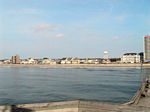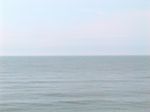 In the "main" section of Cherry Grove, at the intersection of Sea Mountain Hwy and Ocean Boulevard: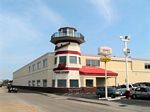 Boulineau's
grocery store is still here, very much expanded - in 2003, the store underwent a $2 million renovation, and is now a full IGA grocery store. The old historical pictures of Cherry Grove that were once displayed were taken down at that time.
Apparently the lighthouse on the building was once an observation deck; when I went, the top outside door was locked, but it was still possible to take some pictures of the area. Sonney's arcade is gone across the street. (Pictures taken May 12, 2007)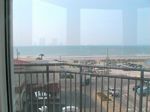 ---
SUN FUN AMUSEMENT PARK
781 Main Street
Ocean Drive Beach, SC 29582 This park opened in 1970. Located at the corner of Highway 17 and Main Street in Ocean Drive, this park had a decent variety of classic rides like
Tilt-A-Whirl
, Scrambler, etc. I'm not sure about any dark rides. There was also miniature golf course during the early years of the park. They had a medium-sized wooden coaster,
"These United States"
, designed by Aurel Vaszin of the National Amusement Device Company. This coaster operated from 1970, until the park's closing in 1986. Originally named "Coaster", it was renamed as "Wildcat", then received its last name in 1976 to celebrate the bi-centennial.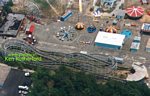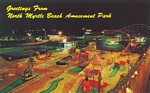 Thanks to
Ken Rutherford
at
Ken's Classic Coaster Postcards
November, 1983, closed during the winter
Thanks to Bob Russell for use of his pictures at
webshots.com
The park was torn down in 1986 to make room for this Kroger grocery store and attached strip mall.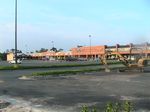 ---
DOWNTOWN AREA
The "heart" of Ocean Drive is centered around the Main Street and Ocean Blvd intersection, extending about 3 blocks west along Main St., and a block in either direction north-south along Ocean Blvd. Within that area, there have been a number of stores, restaurants, bars and nightclubs, pavilions, miniature golf, and a small amusement park. Today, there are still a number of bars and clubs, and restaurants in this area, along with the OD Pavilion, although many of the older places are gone.
Downtown area in the late 1940s/early 1950s. Buildings include the Griste's Drug Store (built 1945), Ocean Drive Barbecue, and the original Robert's Pavilion.
The same area, today. The Griste building is still there, the bottom is now a boutique.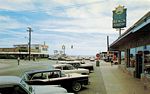 Main Street/Ocean Blvd intersection, in the 1950s. The Beach Shop is on the corner, Pavilion across the street, and McElveen-Owens Drug Store and Wood's 5 & 10 Store on the other corner. A "Jumping Gyminy" amusement is at the street end by the beach.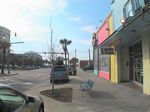 The same area, today. A generic beachware shop has replaced the Beach Shop, just like another directly across Main Street. The snack/drug store and Wood's is gone, as are the later beach clubs, replaced by this hotel complex.
---
HARDWICK'S CAFETERIA
202 Main Street
Ocean Drive Beach, SC
(803) 249-1823 A very old and popular cafeteria, open from 1948 until at least into the late 1980s, located on the left end of a block of buildings on the northwest corner of the Main Street/Ocean Blvd intersection. I ate here frequently with my grandparents- it was a great place, and convenient to the O.D. Pavilion. This was one of the Hardwick family businesses, and was managed by James 'Jimmy' Hardwick from 1980 to 1988. For a time, the restaurant was operated by Carolyn Hardwick Scabery and her husband Charles Scabery of Loris.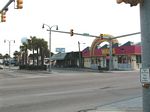 This location is now the Duffy Street Seafood Shack (http://www.http://www.duffyst.com)
---
SPANISH GALLEON
Long-time beachgoers in Ocean Drive probably remember the old Spanish Galleon, a popular beachfront beer joint/dive. It was somewhat seedy, but fun, and was conveniently located right on the beach, across from the O.D. Pavilion.
Its gone now, replaced by this facsimile that is part of a new, huge motel that replaced all the small businesses and motels on that corner. Its no longer on the beachfront, and I hear that this is a fancy ultra-expensive and ultra-exclusive club now.
---
OCEAN DRIVE PAVILION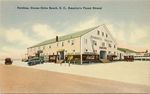 This is the former site of the old Roberts Pavilion, built in 1936 by William Roberts, and destroyed by Hurricane Hazel on October 15, 1954.


A historical marker commemorating the Roberts Pavilion - the first marker in North Myrtle Beach - was dedicated on Sept. 24, 2007
1
. This marker was approved through the efforts of Bill Bell and the
OD Pavilion Social and Shag Club
.
The current concrete and steel Pavilion building, similar to the larger one in Myrtle Beach, was built in 1955 to replace the ruined Roberts Pavilion. It used the same foundation, and some of the salvaged timbers from the wreckage.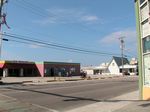 Beach-front side of the Pavilion, with dance floor/meeting area. Church services are held here each Sunday morning.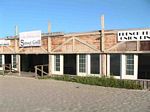 Open for MayFest (May 12, 2007):
The O.D. Pavilion is still full of games, although like most arcades nowadays, a huge percentage of the machines are devoted to winning tickets for prizes-- probably over 50% in this arcade. They once had a great collection of the old in-line pinball games, like "
Miss America
". They also have bars and a dance area in back where they still have beach music dances on the weekends. I've never liked beach music, but I can appreciate their determination to preserve something that they enjoy.
Since 1959, the area to the right of the Pavilion, where the Boulevard Grill now sits, was full of rides, including a Wild Mouse coaster. The rides were moved in 1972, then owned by Justin Plyler of the Gay Dolphin, to the beachfront area in Atlantic Beach. Cars in this picture are a 1950 Buick, 1950 Ford, 1952 Ford, and 1940s convertible.
1960s view of the OD Pavilion amusement park, showing rides and a miniature golf course.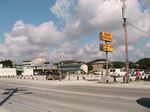 This southern half of this parking lot across the street from the O.D. Pavilion was once a couple of famous beach music clubs- The Pad, and Fat Harold's. The Pad, which opened on July 4, 1955, closed after a 1987 fire and was demolished in 1994. Fat Harold's was torn down in 1988, although it has re-opened in a new building on Main Street.
GPS:
N 33° 49.125 W 078° 40.400
View on map
An excellent source for pictures and artwork of how Ocean Drive once looked, featuring the work of local artist Becky Stowe:
Beach Memories
219 Main Street
North Myrtle Beach, SC 29582
(843) 249-7215
GPS:

N 33° 49.170 W 078° 40.374

View on map
1.
NorthMyrtleOnline.com, 09/24/2007
---
BOULEVARD GRILL
93 S. Ocean Blvd
North Myrtle Beach (Ocean Drive) 29582
(843) 249-1061 Now known as Mike & Connie's
Boulevard Grill
, established in 1994. Located beside the Ocean Drive Pavilion, this very old snack bar is still in operation, and appears to be much the same as it was back in the 1950s. Back then, it was surrounded by a small amusement park and a miniature golf course, for many years it has been surrounded by an empty lot, mainly used for parking. An amusement park has moved back into the lot during the summer of 2009, with the Ferris Wheel almost in the same spot it was many years ago. In the 1950s/1960s, this was "Playland Burgers & Shakes".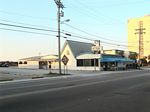 ---
Ocean Drive Arcade & Grill, across from old location of The Pad:
Pirate's Cove bar on Main Street, seen from rear parking area:

---
FUN WORLD FAMILY AMUSEMENT PARK
700 7th Ave. South
North Myrtle Beach, SC 29582
(843) 361-9845 This park, with its
54-hole miniature golf course
, kiddie rides, go-carts and skate park, closed at the end of the 2006 season- the miniature golf closed on Sept. 15, and the rest closed in October. Also known as Amusements International, Inc., this park was built in the late 1980s, and was one of the first planned-use developments in the area. By the end of 2006, they had sold most of their equipment, and torn up large sections of the miniature golf course. There are plans to redevelop the front part of the property, with a new 36-hole miniature golf course and a restaurant, with the rest converted to two and three-bedroom townhouses. Newspaper article:
Fun World to shutter in fall for new plans
Last days of the last season, pictures taken on Sept. 30, 2006. The miniature golf course is already closed.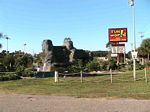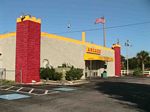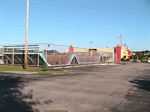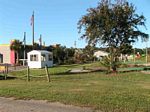 These pictures were taken over Christmas, 2006. The closing and demolition process has already begun, with an earlier equipment sale.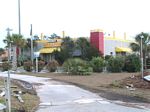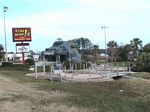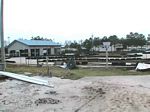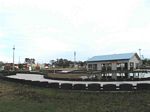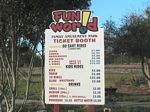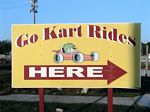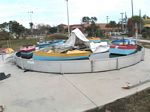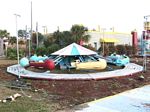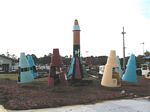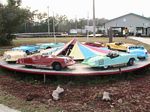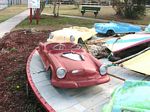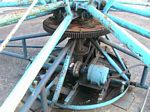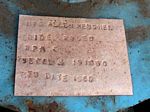 All of these kiddie rides look like antiques from the 1960s. This last kiddie ride- the horse ride- definitely is. The plate identifies it as:

MFG ALLEN HERSHEL   (mis-spelled!)
RIDE  RODEO
RPM   3
SERIAL #  191060
MFG DATE  1969

The ride with the upright space capsules is an Allan Herschell "Astronaut" ride, and the rocket-ship ride is the Herschell "Skyfighter" ride. The
Allan Herschell Co.
produced many carousels and other classic portable rides, before being acquired by Chance Rides in 1970. The famous carousel at the Myrtle Beach Pavilion was produced by Herschell-Spillman. The miniature golf course is in horrible condition- apparently some major pipeline work has completely destroyed entire sections of the course, and many other holes are torn up or missing the carpet.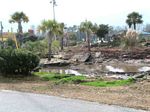 Detailed view of the Fun World miniature golf course
Demolition almost complete: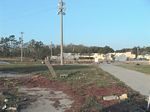 ---
ATLANTIC BEACH
Once called the "Black Pearl", this small black-owned beach has chosen to remain independent, and did not join the other beaches when they consolidated to form the city of North Myrtle Beach in 1968. In fact, this beach chooses to remain completely segregated, with large fences separating it from adjacent areas, and the property owners steadfastly refuse to sell to developers. It is not possible to drive the entire length of Ocean Boulevard from Cherry Grove to Windy Hill, because of this isolated section- all traffic must go out to Highway 17. This was once a bustling waterfront ethnic community, with an active beachfront area. They even had a small amusement park with rides owned by Justin Plyler of the Gay Dolphin, who moved them there from Ocean Drive. Maids were often given Thursdays off, and often spent their day relaxing here. Better days in Atlantic Beach:
J & L Motel, 1958.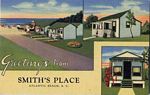 Smith's Place, 1939 linen postcard
Today, it is desolate and in serious trouble. The pavilion was damaged by Hurricane Hugo in 1989, and was torn down-- the entire beachfront strip for at least 2 city blocks inward has been wiped clean, with only a couple of houses on the southern end. The area has many empty lots, or deteriorating and collapsed buildings. The small area of motels that they do have is on the level of Myrtle Beach motels in the 1960s.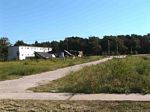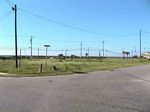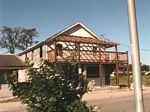 The severe political and economic problems from which this beach suffers- with visible results- are well documented in the book
Banana Republic: A Year in the Heart of Myrtle Beach
, by Will Moredock. This beach would probably not exist at all without the single profitable business in the area- the non-black-owned
Crazy Horse
strip club on the highway. In 2008, the city is nearly bankrupt, and is having difficulty even electing a town mayor. There are open calls from many in the community to revoke the City Charter, and to absorb this area into North Myrtle Beach.
---
CRESCENT BEACH ARCADE
402 17th Ave South
North Myrtle Beach, SC 29582
(843) 272-6865
Crescent Beach Arcade and amusement park in the late 1950s, postcard by Justin Plyler.
The Crescent Beach section of NMB has lost its entertainment park located a block off the oceanfront. These last pictures were taken over Christmas, 2006, and it appears to have been closed for a couple of years. This includes a large arcade and skating rink, and a miniature golf course beside it, plus the snack bar. At the time, a sign indicated that it was to be torn down to build "The Havens", a condo development. In 2008, it is still an empty lot, with a new sign advertising a different condo development. The Pavilion, skating rink and park was owned by the Siceloff family.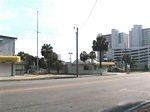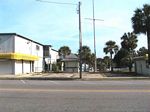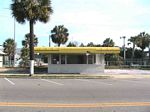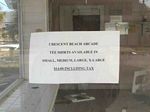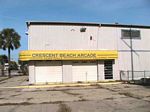 Detailed view of Crescent Beach miniature golf course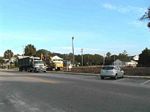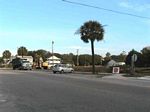 The arcade and miniature golf have been completely demolished as of 02-03-2007, when these last pictures were taken, leaving absolutely no beach-area amusements in Crescent Beach. The only remaining establishment is
Molly Darcy's
Irish pub and restaurant, on the oceanfront. Mr. G's Ice Cream and Grill, across the street from the arcade and miniature golf has also closed- the refreshment shop in front of the miniature golf course was also part of Mr. G's, now the main location is closed too. This was established in 1978.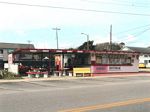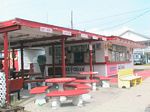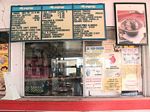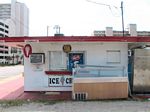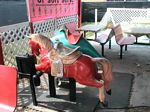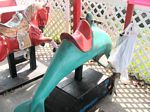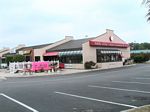 They opened a brand new store at 3300 Highway 17 South, across the street from Hawaiian Rumble Miniature Golf; this opened on April 3rd, 2007. They will not be re-opening the original Crescent location, which was torn down at the beginning of August, 2007.
---
MYRTLE BEACH GRAND PRIX
Myrtle Beach Grand Prix
is now closed! After 30 years at the beach, they recently announced that it will be closed permanantly and redeveloped. Their "Last Ride" event was Saturday, Sept. 16th, 2006, and pics and videos of this will be online soon. Click
here
to see a special page for this NMB attraction.
...and right next door.... There is now a miniature golf course directly across the highway from the old Wacky Golf-
Hawaiian Village Golf
, which has been there about 5-6 years in 2007. It ia one of the courses used for an annual minigolf championship.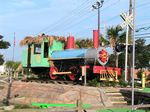 ---
WINDY HILL BEACH PAVILION / PIER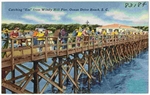 Windy Hill Pier, Tichnor linen postcard from 1930s-40s.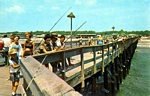 First facing pier picture postmarked 1962. The Pavilion is visible to the left.
The pavilion was immediately adjacent to and shared the parking lot of the Windy Hill Pier. This picture is a photo on Kodak velox paper printed ca. 1956. This pavilion was financed and constructed by George T. Ogden, Jr., in 1955. It was one of the first structures in the Myrtle Beach region to use a new and innovative (at the time) construction material known as "veil brick". In 1977 the Pavilion, which was still in operation, was severely damaged by arson-- a crime that was never reported nor prosecuted. Mr. Ogden had a strong sentimental attachment to the Pavilion and refused offers over the years to sell it. Shortly after the fire, Mr. Ogden, then in his 80s, sold the property which is now the site of a high-rise condo project.
---
VILLAGE OF THE BAREFOOT TRADERS /
BAREFOOT LANDING
4898 Highway 17 South
North Myrtle Beach, SC 29582
800-272-2320
Originally a residential area with its own private marina, this was developed into a quint "village" of shops in the 1970s.
This opened in March, 1972 on 3-1/2 acres of shops surrounded by Louis Lake, with 15 different shops. This aerial view shows it located along Hwy 17.
The Customs House; an outstanding year round Christmas Shop, and a flower and candle shop are three of the fifteen shops in this delightful village.
The dress, Toy and Book ships are just three of the Fifteen unusual shops in the village.
The "NAUTILUS" one of the fifteen Unique Shops in the village. Shells from throughout the world, and having one of the Finer Shell collections on the East Coast.
The entire area was redeveloped and expanded into a much larger complex of various shops, consolidated under a single owner and rebranded as
Barefoot Landing
, which opened in 1988. Today, there are over 100 stores and restaurants, on all sides of the small lake, plus adjoining areas with the Alabama Theatre, House of Blues, and Alligator Adventure. It is part of a much larger group including real estate, a golf course, and a resort. During the construction of the resort, several unexploded bombs were uneathered, left over from the time that this property was part of a bombing/gunnery range for the military.
---