---
The NASCAR SpeedPark is a chain of go-kart/racing attractions, licensed and themed for NASCAR racing. As of 2008, there are parks in Myrtle Beach SC, Sevierville TN, Concord NC, St. Louis MO, and Vaughan, Ontario. This large park in Myrtle Beach was the first of the chain, built on 26 acres at a cost of $13 million in 1998. Other parks soon followed; original plans were to have 10 such parks within 5-6 years, however no more than 5 were built. The chain was owned and developed by Burroughs & Chapin, with this park in Myrtle Beach being the "large-scale" prototype for the others.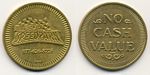 SpeedPark arcade token
The Myrtle Beach park had its grand opening on July 28, 1998. It was a large event with NASCAR drivers Rusty Wallace, Ernie Irvin, Jeff Gordon, Dale Jarrett and others in attendance. There have since been numerous appearances over the years, by various other drivers. The park boasts 7 tracks of different sizes, 2 NASCAR themed miniature golf courses, kiddie rides, bumper boats, race car simulators, and the SpeedDome- a 12,000 square foot arcade with a snack bar & NASCAR/SpeedPark-themed merchandise. A rock climbing wall and a Skyflyer Ride were also added to the park. The largest track is a 1/2 mile twisting course- "Thunder Road", with 5/8 scale versions of actual Winston Cup-style cars. "The Competitor" is another high performance track with 1/2 scale cars on a 36-foot wide oval with high-banked curves. Drivers on these courses must have a valid driver's license for these powerful cars. Others are "The Intimidator" with 12 open-wheeled cars on an 800-foot slick track, "The SlideWayz"- a short polished oval track with up to 12 cars, "The Qualifier" for children age 4 and up, with 8 small cars on a 220-foot course, "The Young Champions" for kids 8 and up, and "The Family 500", for ages 10 and up, with a 1,200-foot track at faster speeds. With the closing of the Myrtle Beach Grand Prix in 2006, this is the largest go-kart/racing park in the region, and the only one where larger-scale, more powerful cars can be driven. Burroughs & Chapin sold the NASCAR SpeedPark chain and their nearby Myrtle Waves water park to PARC Management LLC, a Florida-based company that runs various theme parks around the country. The sale of these parks was announced on July 11, 2008; PARC had reportedly been interested in acquiring them since 2002. When I last visited the SpeedPark over Labor Day, 2008, it was looking somewhat run-down. One of the miniature golf courses was closed for repairs, and the one that was open was dirty and in need of work. Hopefully, it will be fixed up for the 2009 season.
NASCAR CAFE

1808 21st Ave. N. Ext.

Myrtle Beach, SC 29577

843-946-7223 Website:

NASCAR Sports Grille
The park is located on the western side of Highway 17 Bypass, at 21st Ave. North. The very corner of this lot was the NASCAR Cafe, which was not officially associated with the park itself- it was owned by The Cordish Co. based in Baltimore, who bought it from the original chain owners, H&C Racing Inc. The cafe was closed in August 2008, taking off the dramatic NASCAR sign and leading many to think that the park was also out of business.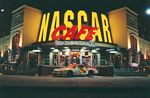 The restaurant featured rows of cars- some hanging overhead- videos and electronic games, memorabilia, artifacts and collectibles- much like a "Hard Rock Cafe" for racing fans. The Myrtle Beach location opened in January, 1997, and was the first restaurant in the chain.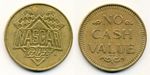 NASCAR Cafe arcade token
The chain has officially changed its name from NASCAR Cafe to NASCAR Sports Grille. With the closing of the Myrtle Beach restaurant, the only other one is in Orlando, Florida, at the Universal Studios CityWalk; another is planned at the Indiana Live! Casino in 2009, in Shelbyville, Indiana. Other restaurants include the NASCAR Cafe in Las Vegas, at the Sahara Resort, but this one is owned by Matt Dyer of Dyer Ventures. There was also a NASCAR Cafe in Greensboro, NC, a smaller 10,000 square foot version of the Myrtle Beach restaurant; it was located at 2101 Four Seasons Blvd, and closed in July, 2006. A NASCAR Cafe in Sievierville TN, near Pigeon Forge, closed on May 31, 2007, and a
NASCAR Cafe in Nashville TN
closed in 2001.
---
Return to
Myrtle Beach
page