OCEAN FOREST COUNTRY CLUB/
PINE LAKES INTERNATIONAL COUNTRY CLUB
5603 Woodside Ave.
Myrtle Beach, SC 29577
(866) 772-4669 Website:
Pine Lakes Country Club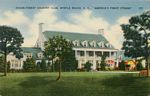 This is the first golf course in Myrtle Beach- built in 1927 by the Woodside brothers as the 2nd phase of their ambitious but failed "Arcady" project. Originally, it was the direct companion to the Ocean Forest Hotel, on the ocean about 1/2 mile away. This course is just off Hwy 17 at 56th Avenue, and is known as the "The Granddaddy" because it is the oldest and most famous, historic course in the area. In 1996, the course and clubhouse were added to the
National Register of Historic Places
; it is the only South Carolina golf course in that list. A 27-hole course was designed by Robert White, a St. Andrews, Scotland native and the first president of the PGA of America, and co-founder of the American Society of Golf Course Architects. The club continues the Scottish the original Scottish traditions and feel, with tartan kilt-clad assistants. The Woodside Brothers' grand plan was halted by the Great Depression; they lost the hotel and golf course, and the course was taken over by Myrtle Beach Farms (now Burroughs & Chapin)- at which time its name was changed. The present 18-hole course dates back to 1946, when a new owner- Fred Miles, sold 18 of the 27 holes for real estate development; the 9 that were left were redesigned, and 9 more were added. Sports Illustrated magazine originated here- in the early 1950s, a group of 67 Time-Life, Inc. executive, including Henry Booth Luce, came to Myrtle Beach by train to play this course and plan the magazine- which appeared shortly afterward. The course was closed in November 2006 for renovations, and is scheduled to re-open in March 2009. This includes many changes to bring the course back to the style of the original configuration. Changes made by Craig Schreiner, golf course restoration architect, includes building two new holes in the wetlands, and converting the old holes 17 and 18 into a new Pine Lakes entrance along Grissom Parkway. The original 9-hole course remains as holes 10-18. The greens and bunkers have been enlarged to their original size This course is owned by Burroughs and Chapin, who own a number of other area courses and resorts.
---