---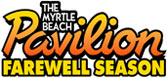 HAUNTED HOTEL
Pavilion Amusement Park
Ocean Blvd 8th-9th Ave N
The Haunted Hotel was the best dark ride in the entire region, and the only haunted house ride-- all other haunted houses are walk-throughs. This ride was destroyed along with other fixed structures in the park during Feb.-March 2007, after operating for the last time on the Sept. 30, 2006 "Last Ride" event. Burroughs & Chapin was unable to sell this ride, so the fate of the props, and effects is not known. During its last season of operation, it had many maintenance problems- when I rode it in August, and at the Last Ride, many of the effects weren't working, different ones each time. This was the 2nd fixed haunted house ride at the Pavilion Amusement park; an earlier ride was located on the direct opposite side of the park, backed against 8th Ave. North. This may have been an original Bill Tracey dark ride, with gravity-powered cars. The Haunted Hotel was originally the "Haunted Inn", built in 1978 by Funni-Frite of Pickerington (Columbus), OH, which made props for many haunted houses across the country. Funni-Frite started in the early 1960s as a contractor to Philadelphia Toboggan Company, to produce gags and effects for their funhouses. They also built portable rides for carnivals, constructing almost 500 before they closed in 1999. Funni-Frite is no longer in business; the company and its assets were sold at auction on January 15, 2000.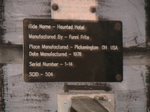 The manufacturer's plate behind the operator. Note that this still lists 1978 as the date that the ride was originally manufactured, as the "Haunted Inn". The silver tag above the plate says:
DEPARTMENT OF LABOR
DIVISION OF LICENSING
AMUSEMENT RIDE
504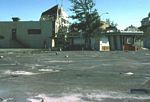 The "Haunted Inn", with a large skull in the middle of the rooftop, with bone fingers on either side that moved. I don't remember what it was like inside. This is a picture from November 1983.
Thanks to Bob Russell for use of his pictures at
webshots.com
The Haunted Inn was renamed and renovated in 1992-93 by Leonard Pickel of Elm Street Hauntrepreneurs. Later in 1997-98,
Sally Corporation
did an extensive renovation in three phases, adding animatronics and exterior signage, including a new animated greeter named Gravesly.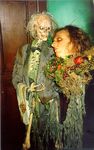 "Order ahead?" Realistic figure added by Sally Corp.
[Thanks to
Sally Corp.
for these original pictures and info] According to Sally, this rides's specs are:
Facility size: 9,500 sq. ft.
Scenes: 14
Animated props/characters: 14
Capacity: 4 passenger/700 pph
Webpages on the Haunted Hotel and other dark-rides: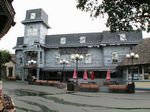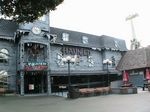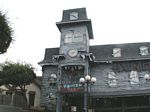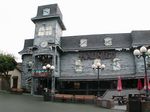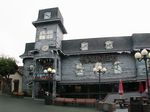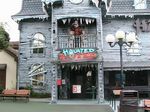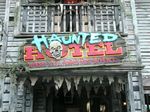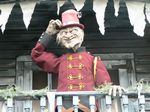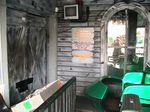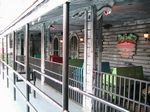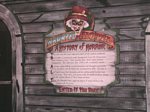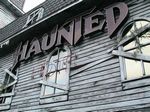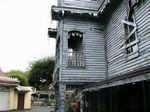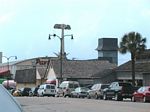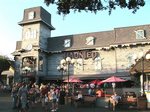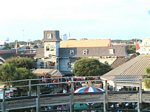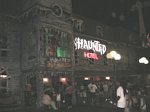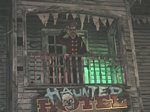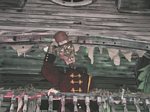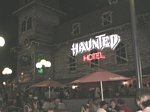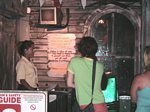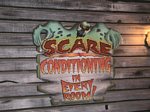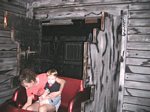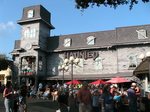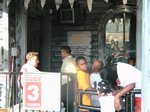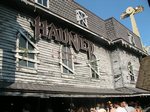 The Last Ride - Sept. 30, 2006 3pm-8pm
This was a very popular ride at the Last Ride event- there was always a line for it. I rode it several times.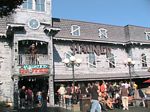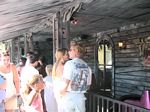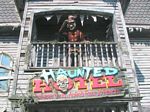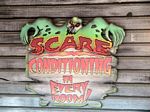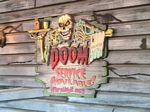 The "Hush-Puppy" style cars and the track were sold at an auction in the 9th Ave. parking deck on Thursday, March 26, 2007, along with a number of old arcade games, trash cans, benches, the Hydro-Surge cars, and
other items
. The Haunted House cars were converted to pull-behind carts by having their motors removed and a hitch added- these were on display at Moped Rentals of Myrtle Beach, at 106 N. King's Highway. Asking price was $599, and sales were brisk, with some of them sold on eBay. They are unsure of what to do with the track, which is in 12' I-beam segments, and is very heavy.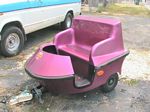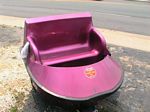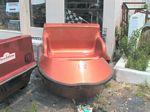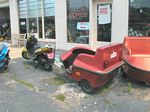 This were most likely the original "Hush-Puppy" cars as manufactured by K.D. Enterprises of Sunnyvale, California, and sold exclusively through Amusement Display Associates. This company was owned by the dark-ride legend
Bill Tracy
, who built the Pavilion's original Haunted House ride on the other side of the park.
---
Return to
Myrtle Beach
page