---
Recommended Reading: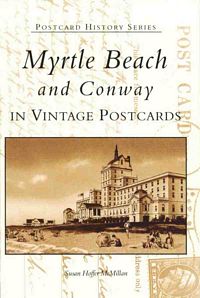 Two books by local author
Susan Hoffer McMillan
. These present a wide historical view of Myrtle Beach and other Grand Strand beaches, as well as the surrounding area. Through hundreds of excellent-quality postcards and photos, they tell the story of the beach, with detailed information about each picture. Follow the very early establishment of Myrtle Beach, from the original Seaside Inn, the first "original" Pavilion on the beach, the rides, motels, and restaurants that made up this growing and changing resort. Many of the interesting and impressive landmarks listed here no longer exist.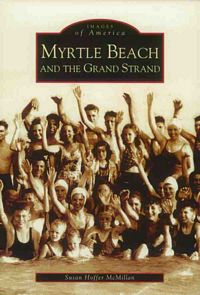 Both "Myrtle Beach and Conway in Vintage Postcards", and "Myrtle Beach and the Grand Strand" are published by
Arcadia Publishing
, and are part of their "Images of America" and "Postcard History" series which cover many parts of the country.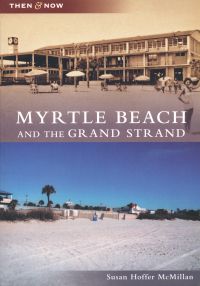 The latest book in this series is "Then & Now: Myrtle Beach and the Grand Strand" which takes a look at historical pictures of Myrtle Beach and other Grand Strand sites, and compares it to what the same location looks like today. This is an interesting study of the evolution of Myrtle Beach from small rooming-house motels, to ever-larger motels over the years, to the huge beachfront condo developments there today. Work on this book included a helicopter fly-over of the entire Grand Strand region, in order to recreate the views of many old vintage postcards and pictures.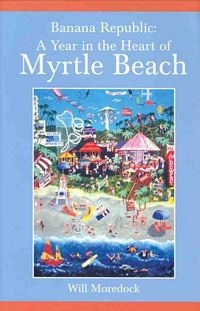 In 1999, Charleston reporter
Will Moredock
spent an entire year living in Myrtle Beach, and this is the chronicle of his experiences. Its full of history, information, problems and controversies, as well as the mystery and allure that draws millions of people to the beach each year. It covers the contradictions between this small, conservative southern town, and the no-holds-barred party fantasy-land that it becomes every summer, along with the politics, corruption, pollution, violence, and social problems that the area endures but that the tourists rarely see.

Susan McMillan and Will Moredock at the Italian Fair, Broadway At the Beach, Sept. 8, 2007.
Other Links:
Greek Boy - Memoir by Myrtle Beach resident Dino Thompson, owner of Cagney's and the Flamingo Grill. It tells the story of a young boy growing up in Myrtle Beach, whose parents ran the Kozy Korner restaurant in the downtown business district, in the shadow of the Pavilion and amusement park.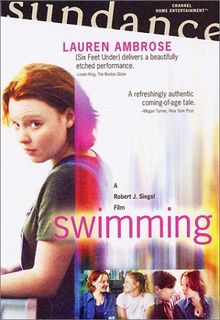 Swimming
- Movie released in 2000, about a local Myrtle Beach girl who works in her family's restaurant, who encounters trouble when new arrivals in town drive a wedge between her and her best friend. Starring Lauren Ambrose (from HBO's Six Feet Under), it was filmed in downtown Myrtle Beach. IMDB:
Swimming, 2000