OCEAN ADVENTURE GOLF
1201 North Ocean Blvd
Myrtle Beach, SC 29577
(843) 448-8045 This course was located at the corner of Ocean Blvd and 12th Avenue North, at the northern end of the main entertainment district. It was built in 1989 at a cost of $125,000, and was designed by area minigolf builder Jim Merrill. It opened for the 1990 season, then closed at the end of the season on October 3rd, 2004. Only the lighthouse-shaped clubhouse along the boulevard and the maintenance shed in the northwest corner remain from the course. The owners and managers of this course were Bob and Gloria Sapp, who had been the owners of the Carolina Inn and later the Kentucky Inn hotels, on the same lot since the early 1940s. They still own the lot, and are currently leasing it to Bill Prescott for the Slingshot and Bungee rides which opened in 2006. The Bungee ride was previously located on 8th Ave. N beside the Pavilion park. Pressures of running the business, along with increased competition from bigger and more modern courses built in recent years, led to the decision to close the course. Changes to the beachfront, most notably the move from small "mom and pop" motels to huge condominium towers, has also affected the shoreside amusements. Miniature golf also suffers during non-family events like the annual motorcycle festivals, according to a 1999 interview with Mrs. Sapp. These pictures are courtesy of Gloria Sapp, Sept. 8th, 2007.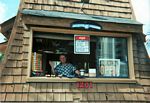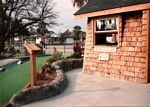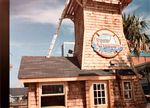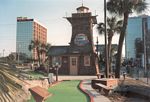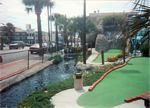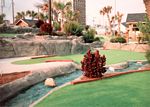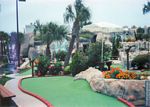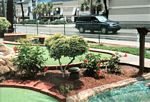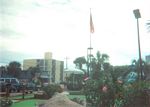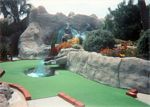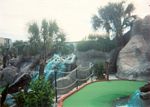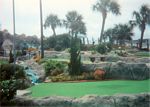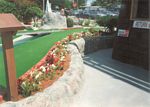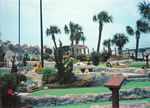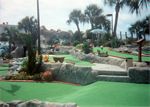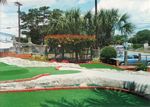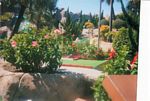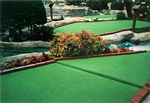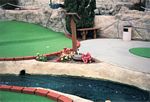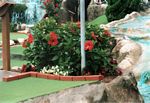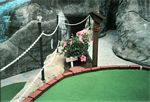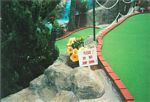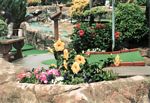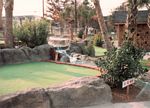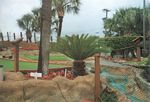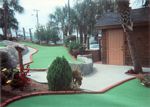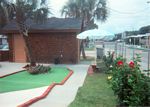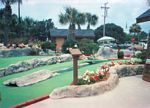 Downtown area businesses were encouraged to decorate for Christmas; some of these also show Mrs. Sapp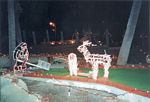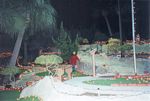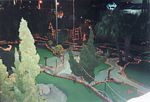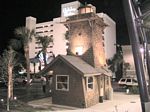 The original clubhouse, converted to a t-shirt stand/storage on the Slingshot lot. Picture taken 9-30-2006.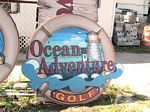 When the course closed, the signs were moved to the parking lot directly behind the old course- they have been moved and the small bungalow behind it is torn down as of 2008.
---