Myrtle Beach has undergone distinct "waves" of construction, to build the various
hotels
and
motels
along the beach. It is currently in the middle of the latest, with huge construction cranes along the beach-- its nearly impossible to look down Ocean Boulevard or the coast and not see several-- as they build a huge wall of buildings that are blocking off the ocean view. Very soon, the only way to see the beach will be if if you are on the beach. Many of these are very expensive condos, which indicates an attempt to move Myrtle Beach away from being primarily a seasonal resort, to one with a larger year-round population. The future of the beachfront is tied to these huge condo projects, as they relentlessly replace older motels for working-class families. There could be trouble on the horizon for these huge towers. According to a Dec. 20, 2006 article in the Raleigh News & Observer,
3rd Quarter 2006 condo sales have dropped 37% from the previous year
. If, as the article suggests, large numbers of condos already sold have been to speculators, it could spell bad news for many coastal banks as condo values plummet.
---
Accomodations from the early years, from 1900 until the 1950s, consisted mostly of wooden structures, sometimes very large hotels like the first one, the Seaside Inn built in 1901. The developing Ocean Boulevard was lined with various small mom-and-pop hotels and inns, and Highway 17 had many sprawling motor courts. SEASIDE INN
8th Avenue North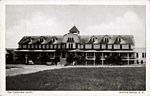 This was built in 1901 at the same time the final railway link to Conway was completed. The building cost $3,813, and guests got 3 meals and an overnight stay for $2. This was the first hotel in "New Town"- before the area was named Myrtle Beach - and within a few years, this became a popular vacation spot. This 1937 picture shows it named the "Carolina Hotel", one of several names this building had over the years. It was originally located close to Hwy 17, and faced the beach, with a long boardwalk running down to the beach and a small Pavilion building.
The May 23, 1901 issue of the Horry Herald noted that.."The season at Myrtle Beach will open in a short time now, and the Sea Side Inn will be open to the public (for the first time), with Mr. F. A. Burroughs as proprietor and Mr. C. H. Snider as manager."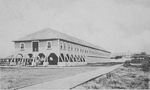 Annex to the Seaside Inn, which added many extra rooms. The Seaside Inn can be seen in the background, some distance away, with a boardwalk stretching to the Annex and the beach. Later, the main building was moved closer to the shore; it was literally sawed in half and moved with mule teams and logs. It was then turned 90 degrees and put into position on the end of the Annex, as shown below.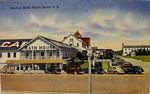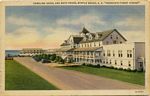 Views of the Carolina Hotel, after the move. The building section with the large cupola was the original building. Note the 2nd Pavilion building on the seashore. This is looking toward the present-day 8th Avenue North intersection from the middle of the former amusement park.
---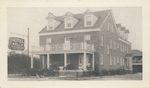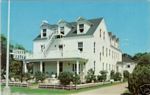 Hotel Kelly - "In the Heart of Town". End of terminal No. 501 on coastal Highway No. 17. Steam Heat, Private Bath, Reasonable Rates. Open Year Round. Mrs. Kelly Tompkins, Mgr.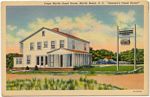 &nbsp
Crepe Myrtle Guest House. Approved Motel Tourist Home - Air Conditioned
Crepe Myrtle Inn at 401 7th Ave. N is still open in 2007, although it has very
bad reviews
on some online sites. This has also become a high-crime area, with a strong-arm robbery in the parking lot on 5/18/2007.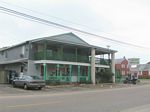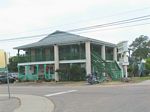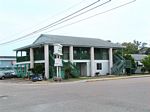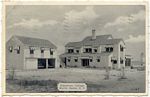 &nbsp
Eddystone Cottage, 1940
Note the lighthouse to the right of the house.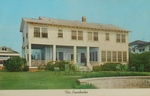 &nbsp
The Poindexter Tourist Home
owned and operated by Mrs. Estelle Poindexter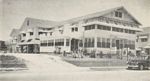 &nbsp
The Ship, at 1701 North Ocean Blvd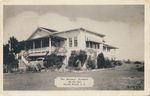 &nbsp
The Miramar - Reinhart, "By-the-Sea" on Ocean Blvd. North - U.S. 17 (Scenic)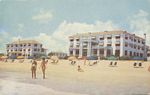 &nbsp
The Patricia - "Open All Year"
---
OCEAN PLAZA HOTEL
Ocean Blvd/14th Avenue North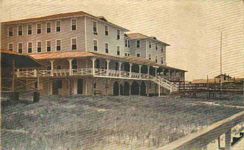 Yacht Club, 1915 from boardwalk area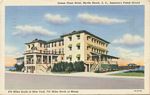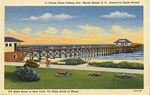 Originally the high-class Yacht Club, the pier was originally used as a dock for private yachts. The pier was also once known as the "Casino Pier", with actual gambling; today it is the 14th Avenue Pier, and is much shorter than it was in earlier times.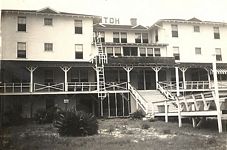 Ocean Plaza Hotel, June 1940. This is looking from the beach, where the pier joins into the back of the hotel.
Thanks to Shirley Ross for this picture The
Yachtsman Resort
is located on the spot where this old hotel once stood. The twin Yachtsman towers, built around 1972, were the tallest buildings in the area for many years. There is now a tall glass condo building in the narrow space between the original towers.
---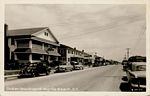 &nbsp
Looking north on Ocean Blvd - near 11th Ave. North. At one time, this was all small hotels. Pictured here are the Blue Sea Inn, Lucky Strike Hotel, The Placid, and the Kentucky Inn.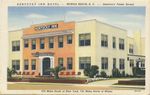 &nbsp
The Kentucky Inn, on the 1200 block of Ocean Blvd, MB. This was last owned by Gloria and Robert Sapp, who bought it in 1979 and ran it until it was torn down in 1989, to make way for a miniature golf course.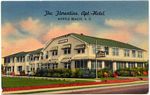 &nbsp
The Florentine Apt-Hotel - N. Ocean Blvd at 16th St. MYRTLE BEACH, S.C. Phone 4621. Modern Rooms - Excellent Dining Room / Walking distance Amusement Center - Ample Parking. / Mrs. S. K. Gardner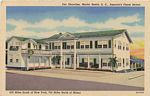 &nbsp
The Shoreline Hotel, 1938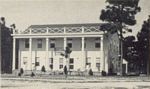 &nbsp
Veazey Hotel, along US Highway 17. This later became the Roma Restaurant, which was in business for many years until it recently closed, and was for sale as of Christmas 2006. It has been renovated, and appears to be a rooming house.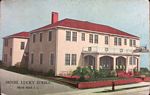 &nbsp
Hotel Lucky Strike, 1930s-1940s.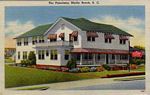 &nbsp
The Poinciana, 1930s. This was gone by the 1960s.
---
EL RANCHO /
HAWAIIAN VILLAGE
Hwy 17/39th Avenue North El Rancho was the first big motel complex, built in 1948 by Jack Nelson on 13 acres along Highway 17. This was on the site of the current Village Square Shopping Center at 38th-40th Ave. North along Highway 17, which at the time was a residential district. There was concern at the time about whether Myrtle Beach could possibly support this and other large complexes being built.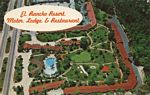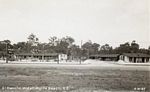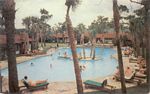 >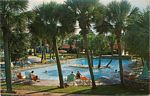 The sprawling grounds included 75 air-conditioned rooms with over 250-person capacity, car shelters, outdoor grilles and room service, a meeting room, and an adjoining restaurant. The palms and pines-wooded lot also included an 18-hole putting green, shuffleboard, ping pong, and their distinctive illuminated swimming pool, measuring 90' x 40', with a small island in the middle with palm trees. This motel became very popular; it was recommended by AAA, Duncan Hines, and Quality Courts, and was featured in the Saturday Evening Post, and Look magazines. Mr. & Mrs. Jack Nelson were the owners and managers of the motel for several years; later, Harold R. Nelson became the general manager. The motel was also a member of Dunes Golf and Beach Club, as well as Pine Lakes International Country Club in later years. The motel was open year-round, but due to light use during the winter months, they offered very affordable rooms to locals- many people who lived in the area and worked at the downtown amusements, stayed here during the off-season. The island in the swimming pool was reportedly a popular spot for late-night rendevous.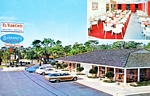 Schrafft's Restaurant at 40th Ave. North. This was open for about fifteen months before re-opening as Imperial Lobster House for about a year. The restaurant was a large part of the 1965 Polynesian theme.
In 1965, it was renovated and rethemed as the Hawaiian Village Motel and Restaurant. The restaurant was destroyed by fire on Sept. 7, 1974. At the time, it was owned by Marion Cannon of Myrtle Beach, and Jack Shaw of Greenville, SC.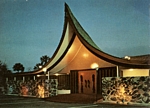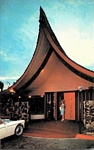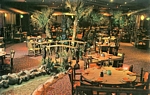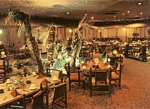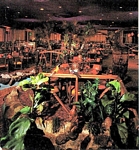 The restaurant actually had a small river running through it, with bamboo bridges to get across, and a live band in the "Bora Bora" room for entertainment. This interior picture is from a 1965 postcard, taken by Jack Thompson. The small souvenir menu lists Pepper Steak for $2.95. In 1979, the motel complex was torn down and the area was converted to the Village Square shopping center, one of the first strip malls in the region.
---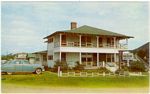 &nbsp
The Periscope, with rooms and meals at 2301 North Ocean Blvd. Car on left is a 1951 Plymouth sedan.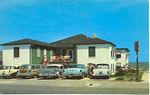 &nbsp
Myrtle Beach Shores Motel, 1904 N. Ocean Blvd.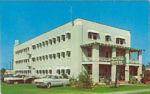 &nbsp
Myrtle Lodge Hotel, 8th Ave. North. This was torn down in 1970, to make room for the Dodge'Em bumper cars in the new Astro Needle Park.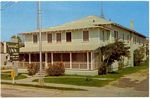 &nbsp
Sunset Inn Hotel, 1909 N. Ocean Blvd. Air conditioned rooms and efficiency apartments with electric kitchens. L. Cline Rogers, owner & operator.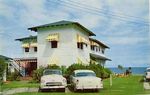 &nbsp
The Surfside, 1702 North Ocean Blvd.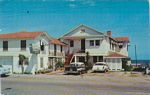 &nbsp
Ocean Terrace Hotel, 1002 N. Ocean Blvd, Myrtle Beach. Featuring Rooms and Apartments. Modern & Comfortable. European plan only. For Reservations Write or phone HI 8-7230. (postmarked April 30, 1966)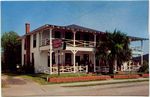 Carolina Inn - 1107 N. Ocean Blvd, Myrtle Beach. "Facing the Ocean, only two short blocks from Pavilion. All beds have innerspring mattresses. Twin and double beds, private and connecting baths. Delightful, shaded porch, cooled by ocean breeze. Side rooms air-conditioned. American plan in season. Also European plan. Friendly, homelike atmosphere. Reasonable rates. Capacity 50. Also apartments and cottages for rent. Mrs. Effie Lindsay, Owner and Operator. P.O. Box 735 - Telephone 448-6138" Mrs. Lindsay and her daughter Gloria moved to Myrtle Beach from Charlotte, NC in 1942, and bought the Carolina Inn. Ownership passed to her daughter, Gloria Sapp and her husband Robert, in the late 1940s. They ran it until 1989, when it was torn down and the lot turned into the Ocean Adventure Miniature Golf course. In 1979, they bought the adjacent Kentucky Inn, and ran both motels until they were torn down for the minigolf course. At that time, many of the older, smaller motels were being shut down, and an unusual zoning situation allowed them to convert the lot to this new use. During the time they ran these motels, the street number of the Carolina Inn changed from 1107 to 1201 North Ocean Blvd.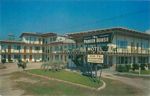 &nbsp
The Parker House Motel - Motel Rooms - Efficiency Apartments. 100% Air Conditioned - Free Room T.V. Mr. and Mrs. H. H. Parker, Phone HI 8-7036 PO Box 803 Myrtle Beach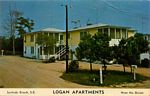 &nbsp
Logan Apartments, 210 N. Pinewood Drive, Surfside Beach. Completely furnished Modern Apts. Air Cond. - T.V. - Electric Heat. Withing walking distance of Beach - Pier - Pavilion - Amusements. Mr. and Mrs. Nelson Logan, Owners-Mgrs. Phone 238-5455.
&nbsp
Peggy's Place - Mr. & Mrs. J A Shirley, Owners, Operators.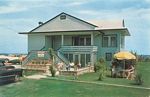 The Dayton House - "On the Ocean Front", 2402 N. Ocean Blvd. Featuring modern rooms and Efficiency Apartments. Ceramic tile baths, golf privileges. Owned and operated by Mr. and Mrs. Mike Stanko. Phone 8314.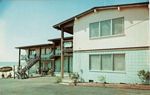 Sunny Shores Apartments, 703 S. Ocean Blvd Myrtle Beach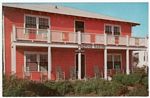 Thomas Manor Apartments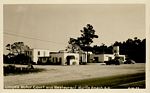 &nbsp
Lloyd's Motor Hotel and Restaurant, NE corner of Highway 17 and 16th Ave. North, across from Chapin Park. This is now a beachware store.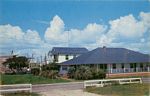 Just Inn - One of a number of small inns located just behind Ocean Blvd, between Withers Alley and Withers Drive- this one is right at 10th Ave. N. This was owned by Justin Plyler and was a popular place for local workers to stay. That strip is all parking lots now, and the motel to the left in the background was torn down in 2007.
---
OCEAN FOREST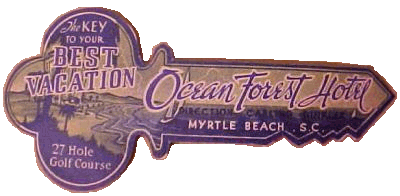 The Ocean Forest was the first big, first-class hotel on the beach, but was ill-fated when it had its grand opening on Feb. 21, 1930-- five months after the stock market collapse and the start of the Great Depression. Built by the Woodside brothers as part of the ambitious Arcady project, this neo-Georgian motel was the most luxurious hotel on the east coast between Florida and New Jersey. It featured a heated indoor pool, fresh and salt-water baths in each of the 300 rooms, ballrooms and dining rooms, luxurious Italian marble and imported chandeliers, and a theatre. It reportedly cost $1 million to build, a hefty amount in late 1920s dollars. This was the first large hotel in the region- together with the first golf course in the region, still in operation as Pine Lakes Country Club, it helped transform Myrtle Beach from a regional vacation spot into a national resort. The first radio station in Myrtle Beach, WMY13, was run from this hotel, and it often served as an unofficial convention center for many groups before the Convention Center on Oak Avenue opened. Among the Ocean Forest's famous guests was Al Capone, who stayed here during his regular trips to the area to check on his bootleg liquor supplies. After changing hands a number of times, it was last purchased in 1970 by Sonny Stevens and Dexter Stuckey. They planned to renovate it, but ultimately it was too expensive. Without the proper wiring and plumbing-- and the air conditioning necessary to be competitive with other hotels, it was demolished for the land value on Sept. 13, 1974. A condo development now sits on the property; the front roundabout as well as the distinctive street arrangement around the site still mark the surrounding neighborhoods. There is a sister hotel in Virginia Beach,
The Cavalier Hotel
, which is still in operation.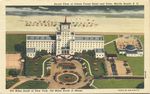 1940s postcard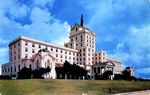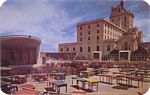 &nbsp
Marine Patio - Popular beachfront dining/dancing pavilion, where Tommy Dorsey and other popular "big bands" played nightly. Guests had to bring their own alcohol and pay for the set-up; a bucket of ice cost $1.00, as did a coke or ginger ale.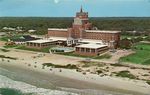 &nbsp
After last renovation, the white paint was removed from the brick exterior, and the Marine Patio was enclosed.
---
CHESTERFIELD INN
700 North Ocean Blvd
Myrtle Beach, SC 29577
(843) 448-3177
(866) 213-9534 This was a very old hotel, immediately south of the entertainment district along Ocean Blvd, at the corner of 7th Ave. N. The motel was established by Stephen Chapman, and was run by the Chapman and Brittain families for over 50 years. At its closing it was owned and run by the Rabon and Mitchell families, who also own the Diplomat and the Sea Palms. A 1991 historical article of this hotel, with pictures, is at:
FoodNotes - Chesterfield Inn
. It was announced on October 6, 2009, that the Chesterfield Inn would be torn down and replaced by a seaside miniature golf course, as part of the new Boardwalk project, due to open in 2010. This did not actually happen until 2012.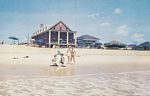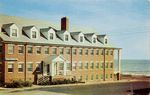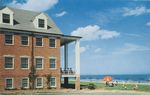 ---
THE BEVERLY MOTEL
703 North Ocean Blvd
Myrtle Beach, SC 29577
(843) 448-9496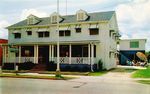 Overlooking the Blue Atlantic Ocean. Modern Rooms and apartments one half block south of Pavilion. Mrs. Grover Beverly, phone 3982. (1950s postcard)
This old motel has long occupied a space in the middle of the 700 block of north Ocean Boulevard, across from the Chesterfield Inn and right in the middle of the southern block of the entertainment district. She and her husband Grover managed a series of cottages on this site; he died in 1961. in 1970. When it closed, it had 42 rooms, with multi-story towers on both ends of the lot and a pool in the middle. This last structure was built in 1977, and was typical of the smaller motels built in the 60s and 70s. It was owned by Sara Beverly, her son Wesley and daughter-in-law Rometa. The motel was put up for sale after Sara's death on September 22, 2004. It was again up for sale in the early 2010s; it was bought by Victor Shamah, who leased it out to the Sea Mist as quarters for their employees in 2012. Later in early 2013, he and his business partners had the building torn down, to be replaced by a parking lot. The only thing that remains from the motel is the vertical sign, whose 7 letters now say "Parking" instead of the motel name, "Beverly".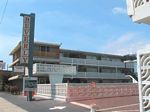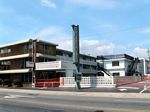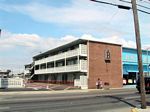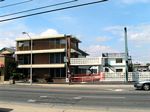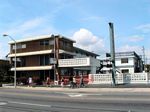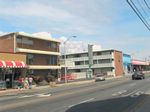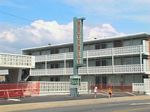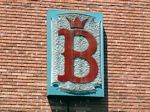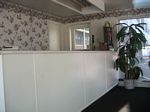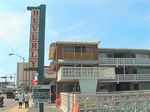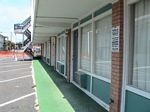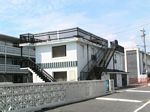 As of early 2007, the motel was closed and for sale, with an asking price of $4.9 million. It was bought or leased by the Sea Mist, and was used to house their employees during the 2007 summer seasion. It was back in general operation for the 2008 season, but had another 'For Sale' sign on it during the winter of 2009. It was torn down at the start of the 2013 season and turned into a parking lot.
---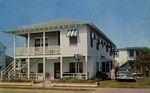 &nbsp
Nora Mack's Cottages, beside The Beverly at 705 N. Ocean Blvd, 1/2 block south of the Pavilion. This was later torn down, and the Beverly Motel was expanded into its place.
---
RAINBOW COURT
405 Flagg St
Myrtle Beach, SC 29577
Wikipedia article on the
Rainbow Court Motel
This motel was demolished along with other condemned/abandoned properties, in favor of redevelopment. The original building had been sitting vacant and deteriorating for at least a year.
Videos:
From the
SC Department of Archives and History:
"The Rainbow Court is significant for its association with Myrtle Beach's period of growth and prosperity as a coastal community resort from 1926 to 1954 and as an excellent representative example of the motels/hotels commonly built in Myrtle Beach in the mid-twentieth century. The Rainbow Court is one of the few remaining examples of the small-scale, low-rise motels that pre-dates Hurricane Hazel (1954). The complex of buildings, ranging in dates of construction from 1935 to 1959, consists of two motel-type buildings, five beach cottages/boarding houses, and a small house. The buildings are situated around an open court with a swimming pool. There are six contributing buildings. The non-contributing properties include the house and building that face onto 5th Avenue, the office building facing Flagg Street, and the pool. Rainbow Court has been owned by the same family since it was first opened in 1940 by Harvey C. Jones and Lila Mae Bognall who moved two boarding houses from the beach to start their enterprise. Over the next twenty years they built or moved the additional buildings to the complex, with the exception of the small house facing 5th Avenue North, which was not added until 1970.

The motel was listed on the National Register on
November 7, 1996
; it was de-listed in 2020.
---
THE PINK HOUSE
4301 North King's Highway
Myrtle Beach, SC 29577
(803) 448-9073 This was a unique, Colonial Williamsburg-style hotel and restaurant, which stood out from the rest. Built by Johnny Holcombe in 1945 from a variety of brickwork scavanged from Southern plantations, it was named after a
famous tavern and officer's club
from pre-Revolutionary days in Charleston SC. The design was taken from the Governor's Mansion in Williamsburg, VA, and had 6 smaller houes in front of the main hotel, all in the same Williamsburg style.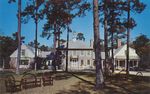 This exclusive, reservation-only club hotel and gourmet restaurant was highly rated by AAA and Duncan Hines. An old flyer lists room rates as $7.00 per day for 2 persons, $10.50 for three. (picture from a mid 1950s postcard)
The main building was used for five other restaurants in later years. Early 1980s ads and phone book listings show it as "Chapman's Pink House Square"; by that time, it was no longer being used as a hotel, but was still operating as an exclusive restaurant, with "Fine Dining in A Unique Colonial Atmostphere". It was last used as a Christmas shop called "Christmas Elegance". Eventually, the condo craze caught up with this property. Developers bought the land and razed the buildings, leaving only a single house - last used as a gift shop for many years - as a sales office. When gasoline prices spiked in 2003, the project went bankrupt, leaving the property abandoned and empty, except for this last original house. As of 2007, the only thing remaining from the original hotel is the cupola, sitting in the middle of the courtyard area.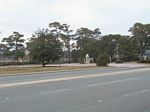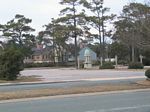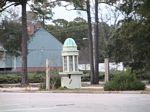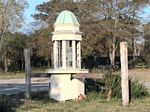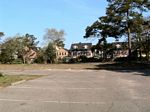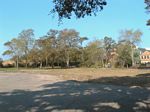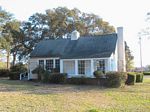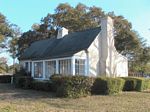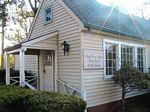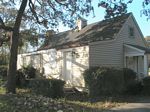 ---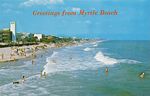 &nbsp
Motels along the shoreline, north of the MB Pavilion, 1960s/70s.
Hurricane Hazel destroyed or damaged many of the older motels in 1954. Disaster insurance paid for much of it, sparking the next big wave of development, leading to larger and more sturdier motels along the beach.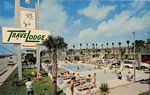 &nbsp
TraveLodge Motel, 1200 S. Ocean Blvd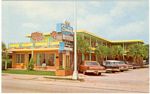 &nbsp
Suntide Motel, 103 North Ocean Boulevard, MB. Cars in first picture are 1965 Ford, Ford Falcon c. 1960, 1957 Chevy, 1962 Chevy, 1963 Plymouth.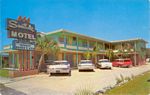 &nbsp
1964 postcard, cars in this image are: 1959 Pontiac, 1960 Pontiac, 1955 Pontiac, 1959 Rambler station wagon pub. O'Brien Color Studios, Daytona Beach, FL (#C-16900)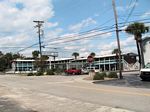 Atlantic View Motel - 601 Flagg St. - This old, smaller motel is 2 blocks off the ocean, just south of the entertainment district. It is typical of a large number of motels that once lined this treet. Picture taken 9/30/2006.
&nbsp
Hillcrest Motel, 7700 N. Ocean Blvd. 449-5815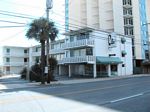 Catoe Villa, 506 N. Ocean Blvd. This was originally the Twin Tavern Hotel, it was purchased by W.J. Catoe and his wife Nell Brewer Catoe, in 1951. They ran it for 18 years until 1969, when the Catoe Villa was built on the same site. It was torn down soon after this picture (9-30-2006), and the empty lots from this and the adjacent Ocean Front Motel were used for the "World's Biggest Sand Castle" during the Sun Fun Festival in 2007.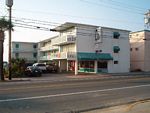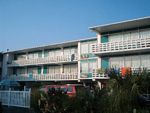 Catoe Villa in July, 2004. Until it closed in 2007, it was run by their daughter Ann and her husband Lester Rossignol. The motel had an excellent reputation with many repeat guests staying year after year.
Catoe Villa website
Thanks to
USAEAGLEONE1957@aol.com
for the 2004 pictures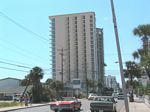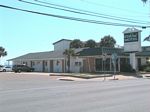 Ocean Front Motel, 510 N. Ocean Blvd. This was also torn down to make room for the "World's Biggest Sand Castle" in 2007. Picture taken 9-30-2006.
Ocean Front Motel website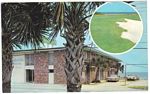 The Waterside, Ocean Boulevard at 20th Ave. North. Rooms and Efficiency Apartments, with carpeted rooms/TV/Air Conditioning/Dunes Club membership. Owned and managed by Mr. & Mrs. Allison Farlow. (picture is from 1967 postcard).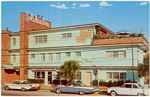 Holiday Inn, 1200 N. Ocean Blvd, was not originally affiliated with the national chain, which prompted a lawsuit which the original owners won. Bill & Frances Smith, Owners-Managers. Cars shown on the Blvd are a 1957 Mercury, 1959 Buick and 1960 Ford Falcon.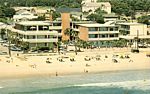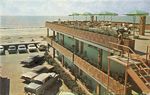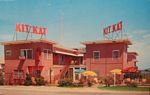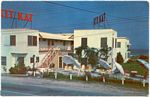 Kit Kat Hotel - built in 1930s, these pictures are from the 1950s; it was later remodelled in the 1960s to turn it into a
motel
and a cottage was added for employee quarters. The original owner sold it in the mid 1970s; it continued to operate until the early 1990s, when it was sold again and torn down for a parking lot. This was one of the first hotels to have its own coffee shop.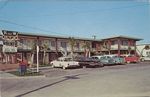 &nbsp
K and W Motel - 211 N. Ocean Blvd - Mr. & Mrs. C.O. Kleinert and Mr. & Mrs. Bob Wiggs, Owners and Managers. Tel: 448-5914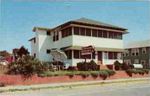 &nbsp
Darlington Hotel Apartments, 205 Ocean Blvd. Mr. and Mrs. E.A. Reaves, owners.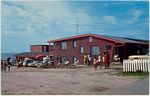 Antique Apartments & Rooms, "Overlooking the Ocean. Modern, Air Conditioned, Housekeeping Apts. Sleeps up to 6. Everything furnished. Overnight or by the week. Cable T.V., Swimming, Fishing, Sun Bathing. Telephone Myrtle Beach, Area Code 803 448-5994 - South Ocean Blvd & 16th Street - Myrtle Beach, S.C. 29577 - Mr. and Mrs. Enoch Smith, Managers"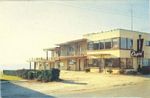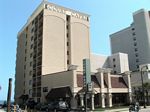 &nbsp
Court Capri
is still in business at 2610 N. Ocean Blvd, with a much larger hotel.
---
SAHARA MOTOR INN
2903 North Ocean Blvd
Myrtle Beach, SC 29577
(803) 448-6114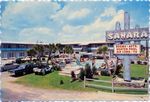 Sahara Motor Inn, 2903 North Ocean Blvd
Mr. & Mrs. George Wilson, owners and managers
Postcard from 1960s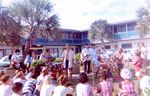 Afternoon Pool Party, featuring The Imperials Rock 'N Roll Combo, in the first week of August, 1964. The band played at the Pavilion and stayed at this motel; in return for their stay, they also played at this pool party at the motel. Thanks to Melvin Brafford for these Sahara pics; he can be seen playing bass guitar.
Click here
for a large-size scan of this pool party picture.
The Sahara was torn down in October 2005, as shown in these pictures from Melvin Brafford: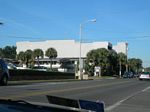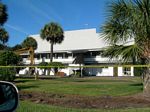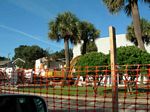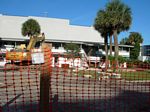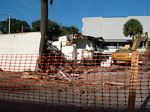 ---
HAWAII KAI MOTOR INN
1103 South Ocean Blvd
Myrtle Beach, SC 29577
(803) 448-8421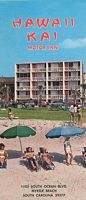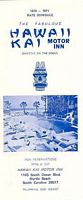 Hawaii Kai Motor Inn - brochure, 1971
1103 South Ocean Blvd, now the site of the
Coral Beach
resort.
Hawaii Kai restaurant menu:
Menu outside
Menu inside
Thanks to Scott McMahan for menu pics
---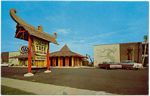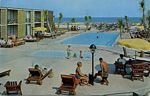 &nbsp
Jade Tree Motel and Tea House Restaurant, 5308 N. Ocean Blvd. 1960
Cars shown in the first picture are 1959 Oldsmobile and a 1955 Ford with fender skirts.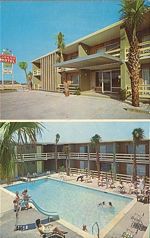 &nbsp
Grand Motel, Ocean Drive Beach. Picture from 1966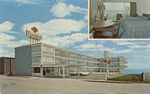 Firebird Motor Inn - 2007 S. Ocean Blvd
&nbsp
Matador Motor Inn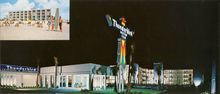 &nbsp
Thunderbird Motor Inn - 7300 N. Ocean Blvd, Myrtle Beach.
As shown in this 1968 postcard, this was open at least until 1982- it is gone now. This was managed by Don Cameron.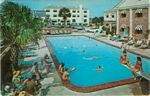 &nbsp
Patricia Inn and Court
| | |
| --- | --- |
| | RO-VA Apartments, 2502 S. Ocean Blvd. This was owned by Robert and Virginia Wilkins (hence name "Ro-Va"). This small building held 4 apartments- 2 on top and 2 on the bottom, of which the owners lived in one. It was likely built in the 1950s, and was also operated as the "Duck Inn". During its time as the RO-VA, it was between the Happy Days Motel and the Tiki II, and across the street from the Tiki and the Regency Towers. The building is still there as of 2015, with the "Food Mart" convenience store on the ground-floor. (Thanks to Monica Mason for these advertising card images) |
---
VENTURE IN
400 3rd Ave. South
Myrtle Beach, SC 29577-4038
(843) 448-6943 This old 1950s/1960s-era small motel was demolished in 2010.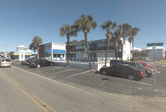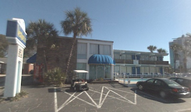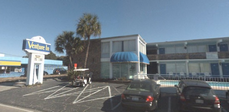 CHIP INN
312 3rd Ave. South
Myrtle Beach, SC 29577
(803) 448-7521 Another small motel being demolished, across from the Family Kingdom Amusement Park. They should have been able to get another season out of it, now that the park is the only one on the entire strand. In 2009-2010 this area is now a parking lot. The motel goes back at least to the late 1970s, pictures taken 4-01-2007: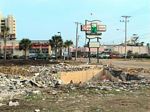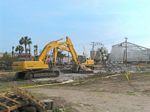 ---
OCEAN WEST MOTEL
204 2nd Ave. North
Myrtle Beach, SC 29577
(803) 626-9056 Website:
Ocean West Motel
This was originally the Smith Motor Court, opened in the 1940s, and has been open in the same spot ever since. This is one of the last few, if not the very last, motel in the style of the old motor courts that once lined Highway 17. Approx. 2 miles north of the downtown area was once an entire district of these small motels, consisting of single-story rooms aligned in two rows or a U-shape around a central courtyard, often containing a pool, with parking right outside the door. This particular motel has been open for over 40 years, according to their website, and is adding other amenities like internet access, in order to remain competitive. (Pictures taken on May 13, 2007)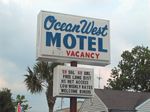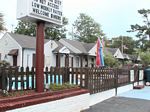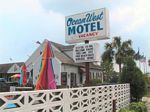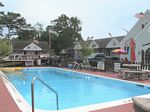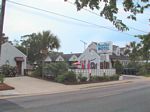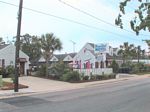 ---
CONTINENTAL MOTOR INN
401 8th Ave. North
Myrtle Beach, SC 29577
(803) 448-7106

Yellow-pages ad from the 1966 Myrtle Beach phone book
This large motel was on the southwestern corner of the old 8th Avenue/Chester St. intersection, right across the street from the
Astro Needle Park
, and within view of the Pavilion and the entire downtown district. Note the distinctive padoga-shaped roof over the office. These pictures are from the mid to late 1970s: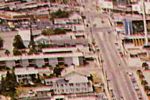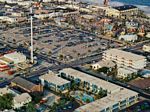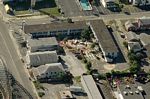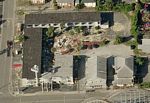 The last known pictures of the motel, at the beginning of the demolition process- note that the swimming pool appears to be filled with trash.
Today, the motel has been completely torn down, and its been sitting as a bare lot for at least one season. With the Pavilion and the amusement park also completely gone, along with numerous other empty lots in the area, the downtown region is starting to look bare. (pictures taken 4-01-2007)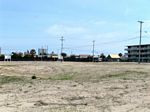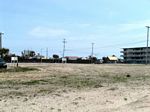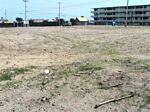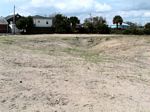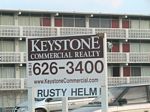 ---
THE PAVILION OCEANIC
Withers Drive/10th Ave. North
Myrtle Beach, SC 29577
This old 60s/70s-style motel along Withers Drive is being torn down, from these pictures taken on May 13, 2007. This and the Perry Court across the street are the last of a number of small motels in this hidden area tucked behind the 9th-11th Avenue boulevard strip- the rest have been gone since the late 1970s, torn down to make a string of small parking lots along Withers Drive. This was one of several small motels used by B&C to house the many foreign students who travelled to work at the Pavilion park during the summer. These motels quickly took on the chaotic character of college dorms, as recounted in
pictures from Julian Perani: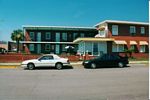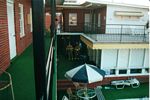 Since the Pavilion and the amusement park were torn down, this motel is no longer needed and is being demolished; the Pavilion employee parking lot beside it is chained off and starting to grow weeds.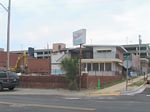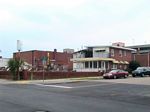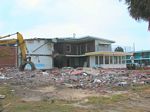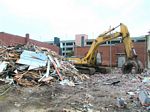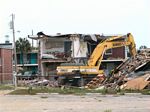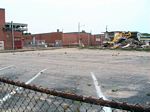 Perry Court is still open in 2007, directly across the street at 300 10th Ave. N. This was owned and operated by Carolyn Gay Perry, who died on Nov. 29, 2004. This 26-room motel is currently
for sale
asking $1.2M, down from an original price of $1.5M. This motel is located in the City's redevelopment zone, and will probably be torn down and redeveloped.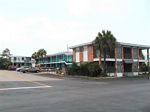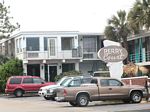 ---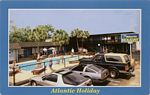 &nbsp
Atlantic Holiday - 1970s/80s, at 403-8th Ave. South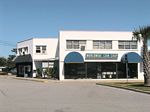 &nbsp
These 2nd-floor apartments across Hwy 17 from Mammy's Kitchen, have long been used by people staying at the beach for the summer, working in the local area. The building is still in great shape, and been the long-time home of the coin shop. The retail area to the left was the original location for Kilgore Trout's, a local music/movie store.
---
Hotel meal plans:
European Plan - no meals are included, or a minimal breakfast
American Plan - all meals included (full board)
Modified American Plan - option of breakfasts and dinners
---
North Myrtle Beach Motels
---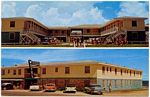 &nbsp
Ocean Strand Motel and Apartments, Crescent Beach. "All rooms cross ventilated with fresh ocean breezes. Completely modern throughout. Mr. & Mrs. R.C. McCord - Owners-Mgrs. Box 98 - Phone - BRoad 2-5622"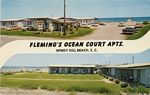 Fleming's Ocean Court Apartments - Windy Hill Beach
Near Windy Hill Pier. AC, linens, TV optional. Weekly room rates- 2 room $70-80, 3 room $80-90, 4-room $90-110. Off-season rates approx. 1/2 price. Phone BR 2-6293. Mr. and Mrs. P.K. Fleming, owners and managers; they lived nearby in Windy Hill.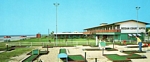 The building parallel to the ocean was renovated to make a larger 2-story building just befoe the motel was sold to Mr. and Mrs. Earl Childers in 1963. They ran it as the "Ocean Court Apartments" from 1963-1973. A miniature golf course was added between the motel and the pier in 1966.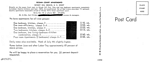 Weekly rents ran from $90-155, depending on number of rooms, with kitchen. Completely furnished and 100% air-conditioned, TV optional.
MIKE-ANN MOTEL
Highway 17
Windy Hill Beach, SC
This was located along Highway 17, 3 blocks from the Windy Hill Fishing Pier. The Windy Hill Saloon opened adjacent to the motel, which later became King's Famous Pizza. It was across Highway 17 from Tramps Disco at 3500 Hwy 17 South, and a Piggly Wiggly in the shopping center. In the late 70s/80s, the motel would shut down each year to host the Hell's Angels on their way to and returning from Daytona Bike Week in March.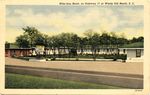 &nbsp
Mike-Ann Motel, Windy Hill Beach (NMB), 1940s. This was located on Hwy 17, 20 units, some with kitchenettes, all with private baths. Phone 2429. Owned and operated by Mr. & Mrs. John T. Harrell.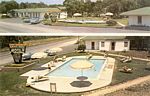 &nbsp
30 units, Air conditioned, Room TV, Kitchenettes. Restaurant adjoining
Also with new swimming pool. The convertible in the picture is likely a 1953 Ford Crestline Sunliner Convertible.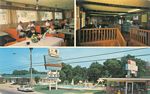 &nbsp
Note the larger, more modern signs for the motel and restaurant, with the same logo and phone number as the 1966 phone directory.
36 units, 100% Air Conditioned, Color TV in some rooms, kitchenettes available, Golf privileges.
---
Campgrounds
---
SHERWOOD FOREST/
BAREFOOT RV CAMPGROUND
4825 Hwy 17 South
Windy Hill Beach, SC 29582
272-6420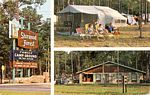 Located on Highway 17, this 60-acre campground stretched all the way to the ocean, with 400 large lots with utilities. It included an oceanside pavilion and fishing pier, and was rated in AAA, Rand McNally, and Woodalls. This is a postcard dated July 2, 1973.
This was later renamed to Barefoot RV Campground. In 2001, Scalise Development started the
Barefoot Resort
project, to redevelop the campground into oceanfront condos and homes as part of a larger resort project.
---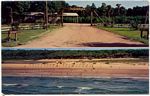 &nbsp
Ponderosa Campground, Mr. Guy Hammond, Manager. 272-6172 This was beside Sherwood Forest Campground, separated from it by sand dunes. This campground also went from Highway 17 to the ocean, and a swash ran through it. This is now
Ocean Creek Resort
, a gated condo resort.
---
LAKE ARROWHEAD
Star Route 2
Myrtle Beach, SC 29577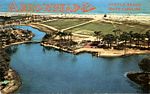 1974 postcard view. Campground boasts 1300 lots, 40 acres wooded, with swimming, carpet golf, softball, volleyball, playgrounds, laundromat, trading post, and close access to local attractions. General manager is Don Herring.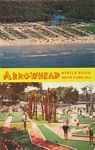 This campground was developed in 1960 by Jack Nelson, who also developed and owned the El Rancho motel on Highway 17. It was sold to Surety Investment Co., an insurance company in Greenville, SC, in 1968- by that time, it was one of the largest campgrounds of its type, with 1300 camp sites on 140 acres with ocean frontage, and two fresh water lakes. The campground remained under the management of Don Herring
1
. The campground was later bought by the Rank Corporation from England, who sent a woman to replace Don Herring as manager. Tim Bryant, the assistant manager, moved to the nearby Travel Park as its new Manager. The arcade was torn down in September 1986 followed by the entire northern end of the campground as the new "Kingston Plantation" hotels were built. Nothing except the lake remains from the original campground. Jack Nelson died on August 21, 1970, after a short illness.
2
The campground area is now
Kingston Plantation
, a gated resort/condo complex containing a new Embassy Suites hotel. The old Star Route 2 now joins Highway 17 at the Tangier Outlet Mall/Conway Bypass (SC 22) junction.
---
APACHE CAMPGROUND
9700 Kings Road
Myrtle Beach, SC 29577
(800) 553-1749/(843) 449-2323 Website:
Apache Family Campground & Pier
Apache Campground, Star Route 2, Myrtle Beach. Tel. (803) 449-2323. This is a large, old campground- the first of a string of campgrounds along the old Star Route 2. Apache Campground featured over 1000 lots, 700 with sewers, and a large beachside Pavilion, in this 1973 postcard. This campground is still open, and has added a large pier- they also still have a large arcade.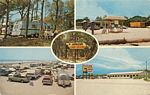 ---
PEBBLE BEACH CAMPGROUND
3000 South Ocean Blvd
Myrtle Beach, SC 29577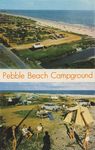 This campground was located in the Springmaid Beach area, between Ocean Blvd and the ocean, as seen in this postcard mailed in 1965. By the mid-80s, it was an empty lot, used as a beach access and semi-private beach by many locals. It has sat empty for many years, with only rumors that it might finally be developed.
---
PIRATELAND CAMPGROUND
5401 South Kings Hwy
Myrtle Beach, SC 29575
(800) 443-CAMP Website:
PirateLand Family Camping Resort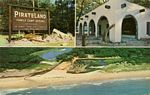 Although this opened nearly the same time as the PirateLand amusement park beside it, this was never part of that or the subsequent Magic Harbor park. It has since taken over all the land used by those amusement parks, using it to store trailers.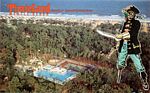 This campground recently celebrated its 40th season, and continues to update, with pools, a 510 foot "Lazy River", arcade, miniature golf, and much more. This older postcard shows the pool, tennis and miniature golf. It lists Ed Hardee as the manager.
---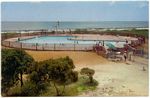 &nbsp
State Park Swimming Pool, between Myrtle Beach and Surfside Beach.
---
OCEAN LAKES FAMILY CAMPGROUND
6001 South Kings Hwy
Myrtle Beach, SC 29575
(843) 238-5636 GPS:
N 33° 37.701 W 078° 57.725
View on map
Website:
Ocean Lakes Family Campground
This campground was started by Nelson and Mary Emily Jackson, and their five daughters, in 1970. It opened on July 2, 1971 with 30 campsites and a bathhouse, and in 2010 is the largest campground on the east coast, with 310 acres and nearly a mile of oceanfront, with 893 campsites and 2,554 annual lease sites. During the summer season, between 25,000-35,000 people stay here. The campground was honored by the Governor's Cup as one of South Carolina's top tourist attractions, and holds many events, conventions, and celbrations throughout the year. Nelson Jackson passed away on Feb. 1, 2010, and his wife Mary Emily Platt Jackson, passed away on Dec. 11, 2010. They were married in 1942, and moved to Myrtle Beach from Conway in 1970. In 2004 they were honored with the Order of the Palmetto, SC's highest civilian honor, for their charitable work. Their daughters helped establish the Jackson Family Center for Ethics and Values at Coastal Carolina University that same year.
Campground map (PDF)
---
1. Florence Morning News Sunday, December 29, 1968, "CAMPSITE SOLD"
2. Florence Morning News Saturday, August 22, 1970, Page 2: "Jack W Nelson Dies - Beach Businessman"
---