---
OTHER LANDMARKS Other miscellaneous places around Myrtle Beach: THE CHICKEN SHOPPE/
SEASIDE CAFETERIA/
MARVIN'S FOOD & GAMES The southeast corner of Ocean Blvd and 8th Avenue North was originally one of the square beach bungalows, directly across from the 2nd Pavilion building. That was torn down at some point, and in its place was The Chicken Shoppe and other small stands along the beach.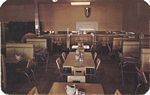 A beautiful interior natural color view of one of Myrtle Beach's Finest Dining Places - THE CHICKEN SHOPPE-- Specializing in Chicken in the Basket, Seafood Platters, Choice Western Steaks. On the Beach, south side of Pavilion, 8th Avenue.
The Chicken Shoppe was owned by Mitchell Saleeby and his cousin Eli Badde, who ran it until their deaths in 1995 and 1954, respectively. The property was then sold to Alex Karetas who owned the Seaside Restaurant across the street.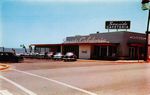 Seaside Cafeteria - This large, then-modern building replaced the Chicken Shoppe and other small stands on this oceanfront corner south of the Pavilion. "Specializing in Fresh Seafood, Crisp Salads, Fresh Vegetables. We want you to feel welcome in bathing attire". Managing owner was Alex Karetas, from this postcard in the 1940s/50s.
The building was Marvin's Food and Games from April 1979 until 1983 when it moved to the other end of the boardwalk. Mother Fletcher's nightclub moved here from its original location on 8th Avenue North near Highway 17, and operated here until it closed in 2004; the building then sat empty until it was demolished along with the Pavilion in late 2006. From then through 2010, it has remained an empty lot.
---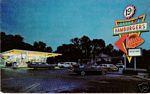 Bell's of Myrtle Beach - 7th Ave. North and King's Highway, tel: 448-8070. Fastest service in town--no tipping--no waiting--car or patio dining--famous 19 cent hamburgers and shakes--featuring Bell's crispy-chick 97 cent (5 pcs golden chicken, large roll, jug of honey and french fries)--dependable quality at a price you can afford to pay. Donald J. McCann, Mgr. Leslie M. Page, Asst Mgr.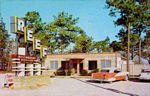 &nbsp
Reef Restaurant - Hwy 17 North at 65th St., Myrtle Beach
Car is a 1954 ragtop Oldsmobile.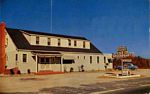 &nbsp
17 Restaurant, 1957. While staying at Myrtle Beach, enjoy it more by dining with us. Prime ribs of beef, Long Island duck and seafoods prepared and served in a manner that is sure to satisfy. Bring the whole family; children's especially prepared for their for their enjoyment.
This restaurant was started and run by Christos and Bessimer Kaloudis, Greek immigrants. After Hurricane Hazel hit in 1954, he could not recover; he shut it down and moved to Tampa, Florida and worked in the upscale Kapok Tree. He started 2 other small diners in NC, which his children took over.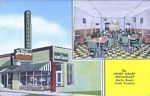 The Henry Grady Restaurant - was this on Ocean Blvd?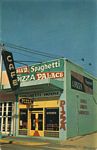 Boulevard Cafe, exact location unknown. "House of Real Spaghetti and Pizza. Dine in the atmosphere of old Italy. Located in the heart of the Amusement Center. Bathing attire welcome. Owned and operated by Jerri & Rosa Sidner."
---
MAMMY'S KITCHEN
1010 N. Highway 17
Myrtle Beach, SC 29577
843-448-7242 Website:
Mammy's Kitchen
One of the oldest local restaurants in continuous operation, located at the corner of King's Highway and 11th Ave. North (Mr. Joe White Ave). From their website, the original restaurant opened on Mother's Day weekend in 1953, built by Johnny Burris of Peach's Corner. This was sold to Chris Drosas and Chris Moshoures, who operated several other restaurants in the area. The current owners are Mike and Missy Lambert, who purchased it from Eli Asher in 1997; the restaurant has changed hands few times since the original owner. The listed phone number is the original number.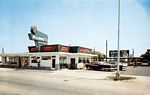 &nbsp
During the ownership of Chris Drosas and Chris Moushures, who ran it for many years.
"Specializing in Fine Sea Foods, Charcoil Broiled Steaks, Pan Fried Chicken. Also KOSHER sandwiches".
For many years their sign featured the face of Aunt Jemima (as "Mammy"). The Pillsbury Company threatened to sue over this, and the sign was replaced.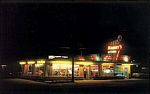 &nbsp
Mammy's Kitchen at night, with politically-incorrect sign.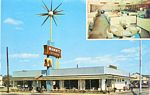 &nbsp
Mammy's Kitchen, 1970s, with the "Roto-Sphere" rotating sign
Mammy's Kitchen acquired this attention-getting,
Roto-Sphere
sign in October 1961. This particular sign was number 36 out of a total of 234 Roto-Spheres manufactured and sold across the nation by Warren Milks of Bossier City, LA. His sign shop, NESCO, supplied 2 of these spectacular rotating neon signs to South Carolina- the other one was at the Clover Inn in Santee, SC. This was removed sometime in the late 1970s, the other one in Santee is also gone. Only 17 remain world-wide and few are still installed or working.
---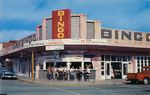 Sloppy Joe's - 901 9th Ave. & Ocean Blvd. This restaurant was right on the main corner in the heart of the entertainment district, and was open 24/7/365 - "We Doze But Never Close". It had convenient stools on the corner for watching the crowds while you ate. Along the Ocean Blvd. side was a large Bingo parlor, with a special prize on Saturday night. This was closed and torn down to make way for the Ripley's Believe It Or Not museum in 1975.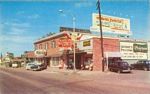 &nbsp
Myrtle Beach Drug Co., Walgreen Agency. Directly beside it is the Wilma Cafeteria, which later became the Thomas Cafeteria.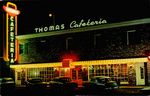 &nbsp
Thomas Cafeteria, at the north corner of Hwy 17 and 10th Ave, which is now part of the parking lot surrounding Mammy's Kitchen. This popular restaurant was one of the first few franchises of the then-new Kentucky Fried Chicken. Owned and managed by Mr. J.D. Thomas.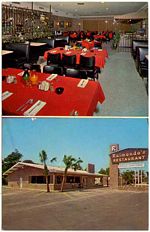 &nbsp
&nbsp
Raimondo's Restaurant, corner of King's Hwy and 28th Ave. N. Specializing in Italian foods prepared in the old country Tradition, also Raimondo's Choice Western Steaks & local Seafoods. Serving breakfast, luncheon and dinner - Italian owned & operated by Mr. & Mrs. T. S. Raimondo, Sr. Over one quarter century experience. (this postcard was postmarked 1967)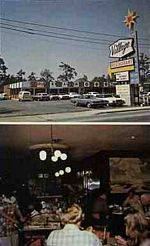 Village Restaurant - 5101 North King's Hwy, early 1970s.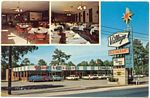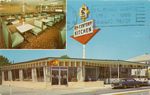 20th Century Kitchen - 301 8th Ave. North, across from the Pavilion parking lot. Take-out and patio dining for seafood, steaks, Italian food, and pan-fried chicken. Owned and operated by Mike Sagatos and John Moshures. This postcard is postmarked 1965. This restaurant closed after the 1983 season and was torn down; it was replaced with a Wendy's restaurant which is now also closed.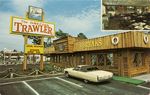 The Grecian Trawler Seafood House - Hwy 17 at 12th Ave. South - Serving seafood, steaks, shore dinners, special Grecian salad. Children's Menu. Beer & Wine. Note that the gas station in the background has gas for 57.9 cents/gallon!
---
SANTA FE STATION
1101 N. Highway 17
North Myrtle Beach, SC 29582
843-249-3463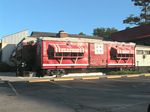 This train-themed restaurant, which used actual railroad cars as dining rooms, sitting on real railroad track, was sold and converted into a different restaurant. All of the train items have been removed. This unique restaurant sat on the north side of Hwy 17 for over 15 years, just a couple of doors north of Molten Mountain miniature golf. In addition to the railroad cars, they had an outdoor deck for happy hour, with local keyboardist David Parker for entertainment. During its later years, it changed hands, possibly resulting in poor reviews on some travel sites. This picture was taken on Sept. 29, 2006.
The restaurant that replaced it was Calico Jack's, which opened in November, 2008. This was owned by local restaurateur Ed Cribb and his son, Buddy Cribb. After abruptly closing for the seasion on October 6, 2009, the owners walked away from it and the bank took it over. It was bought and reopened in June 22, 2010 as
Dirty Dick's Crab House
.
---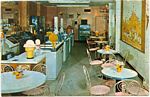 The Cool Scoop - Ice Cream Parlor. 5213 N. King's Highway, MB. This postcard was postmarked 1970.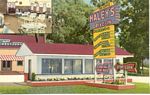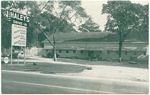 Haley's Drive-In, Hwy 17 North at 1st Avenue, beside Smith Motor Court. This was owned by Tom and Kitty Haley.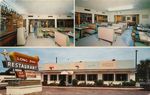 Long Bay Restaurant - 17th. Ave South & King's Hwy - Specializing in Fine Seafoods, Steaks, Southern Fried Chicken and Italian Foods. Large Selection of Choice Wines, Children's Plates Available. Special Atttention Give to Orders To Go. Ample Parking Space. Open for Very Early Breakfast and Lake Supper. John Moshoures - Mike Sagatos, Owners - Managers. [This was also named "Xenon's" at one time, picture shown is from 1969].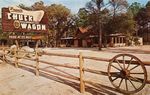 Brant's Chuck Wagon Restaurant - Hwy 17 at 29th Ave. South. Open since the early 1960s, this popular restaurant offered all-meat foot-longs and hamburgers, and quick to-go orders of pan-fried chicken. This postcard is from the early 60s.
Brant's Restaurant Ice Cream
406 3rd Ave South
Myrtle Beach, SC 29577-4038
(843) 448-3922
Brant's also ran a fast food restaurant at the corner of 3rd Ave. South and King's Highway, in the corner of the Grand Strand Amusment Park. In the early 1980s, this was closed and the area turned into another t-shirt shop. The restaurant was relocated a short distance away on 3rd Ave, opening in 1983.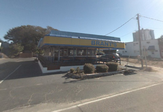 This restaurant was destroyed by a kitchen fire, and the lot was cleared in 2010.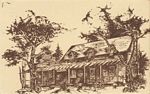 Stylistic postcard from The Farmhouse, at 500 Hwy 17 North. Down-home southern cooking, this restaurant is very similar in food and theme to the old Aunt Maude's Kitchen. This was open and busy in the early 1980s, and is still open today.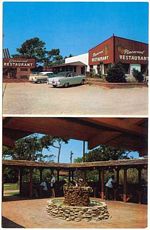 &nbsp
&nbsp
Pinewood Restaurant - "The Home of 'She' Crab Soup" - US Highway 17, two miles north of Downtown Myrtle Beach, S.C. A conveniently located, AIR CONDITIONED Restaurant in the heart of the Motor Court District. Serving appetizing meals in pleasant surroundings from 6:30 A.M. to 9 P.M.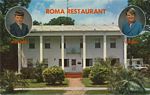 Roma Restaurant - 5815 N. King's Hwy - This postcard notes the location as "North end of Dual Lane Hwy 17", before the road was widened. This long-time Italian restaurant is closed and was for sale over Christmas 2006. It has since been bought and renovated. Originally the Veazy Hotel, this restaurant featured: "Veal, Scalappini, Antipasto, Pizza, Ravioli and Spumoni, Bisque Tortoni, or Western Steaks". Owners and Managers were Sarah and Sam Diminichi; presumably the young boys on the picture are their sons. It is unconfirmed, but I have heard that this closed due to a death in the family.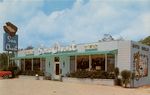 Sea Chest - Driftwood, Shells, Imported Gifts, Hats, Bags, Jewelry
2205 North King's Highway (803) 448-7022
This picture is from the late 1950s- early 1960s.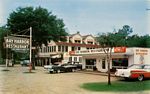 Bay Harbor Restaurant - On U.S. Hi-way 17, 14 miles So. of Myrtle Beach at Murrells Inlet, S.C. Specializing in famous Seafood platters, "Steaks - Chicken - Chops". Home Made Clam Chowder. Open 5:30 A.M. for Breakfast. The Best in Country Ham. Mr. & Mrs. Jimmie Eason, Owners & Operators.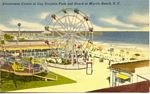 &nbsp
Early rides on the Gay Dolphin Park midway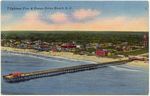 &nbsp
Tilghman Pier- the area between Cherry Grove and Ocean Drive was once a separate beach named Tilghman Beach.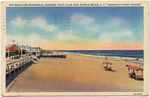 &nbsp
1930-40s view of boardwalk. Yacht Club pier in distance (now 14th Ave. Pier). Note the beer garden built out over the beach, for "Ye Olde Tavern", which is on the site of the current Ocean Front Grill. The recently-demolished Pavilion was located approximately at the tent with the flag.
A number of different pier structures have existed near 14th Ave. North. Originally, it was the Yacht Club pier; later the Casino Pier (with an actual gambling casino!), the Ocean Plaza Fishing Pier, today it is simply called the "14th Ave. Pier".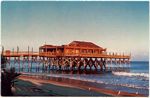 &nbsp
Pier 14 - Restaurant and Lounge, 1304 N. Ocean Blvd. Tel: (803) 448-4314. Specializing in fresh seafood and steaks. Entertainment nightly.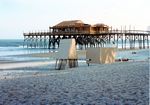 &nbsp
End of the day at the 14th Avenue Pier, 1983, donated picture.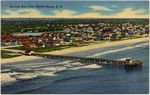 &nbsp
2nd Avenue Pier, 1930-40s.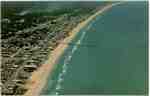 &nbsp
Old aerial view of the downtown area. Note the Pavilion, Sloppy Joe's, the Gloria Theatre, and many other long-gone features of that era.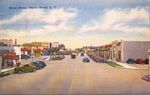 &nbsp
View down US501/Main Street in 1949. Chapin Company is on the right. Except for the service station on the left, these buildings on both sides of the street are still there.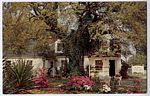 &nbsp
LaZelle's Flower Shop, 101 West Broadway. One of Myrtle Beach's oldest florists, open since 1946. Owned by Mr. & Mrs. O.C. DuBois.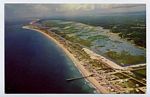 &nbsp
Garden City and Murrells Inlet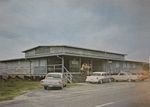 &nbsp
Pawley's Island Pavilion, 1950s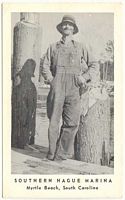 &nbsp
Southern Hague Marina - "Meet Clarence ... our dock master. He is anxious to greet you and help you solve your yachting problems." Marina owned by George & Myrl Rush
Withers Swash, south of the downtown district, and on the other side of Hwy 17 from the Family Kingdom Amusement Park. This large body of water is connected to the sea by a narrow channel that runs down the middle of the amusement park, and is one of 5 main swash areas within Myrtle Beach. Originally named Eight Mile Swash, it was later renamed to Withers Swash after an early 1700s indigo plantation in the vicinity. A post office was established on the plantation in 1881 and used until 1901; the area was known as "Withers". In the late 1970s, this large open body near the highway was used for Jet Skis, today, it is part of a large city park between 3rd and 5th. Avenue South.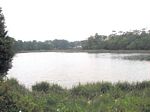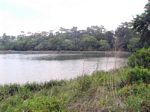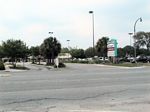 This K-Mart along Highway 17 at 14th Avenue was once the site of the Myrtle Beach High School, which has been relocated to Bob Grissom Parkway.
---
CAPE CRAFT PINE GIFT SHOP
Hwy 17 North
(803) 449-5423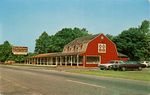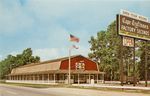 Cape Craft Pine - on Hwy 17 between Myrtle Beach and North Myrtle Beach, in the "Restaurant Row" section; Cape Craft Pine #2 was open at 2306 S. Hwy 17 in Myrtle Beach, toward the airport. Early American decorator items and factory seconds. Another store in this chain was in Pigeon Forge, TN.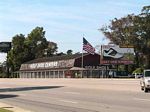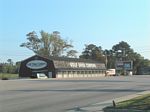 Today, its a golf supply store, like many others along the highway.
---
FREEDA A. WYLEY SHIPWRECK The hull timbers of the
barquentine
Freeda A. Wyley were visible until recent decades on the beach near 43rd Avenue North. This 156-foot, 507-ton, three-masted ship was built in 1880 in Thomaston, Maine. It was lost in the "Great Storm" of August 28, 1893, a hurricane which destroyed a thousand ships and took hundreds of lives. The ship was en route to New York to deliver a load of yellow pine when it was caught by the storm, along with the Jonathan May, which also ran aground near Myrtle Beach. The Freeda A. Wyley caught fire during the storm and burned down to the water line; onlookers saw the ship ablaze as it drifted in the ocean. Fortunately, the crew was rescued. The heavy wooden hull was pushed onto the beach, where it became permanently stuck. It remained a local conversation piece for nearly a century, until settling and beach renourishment finally covered it in the early 1990s.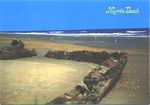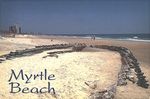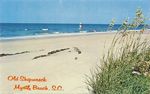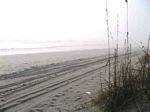 None of the wreckage is visible as of December 2006, although that could change with the next big storm.
There is a
Geocache
located near the shipwreck.
---
HURL ROCKS Hurl Rocks - unusual rock formation at 20th Avenue South, on an otherwise completely sandy beach. The "cliff of rocks" was noted by naturalist
William Bartram
in 1776, during his tour of the east coast.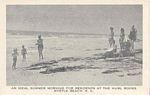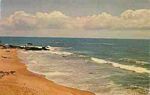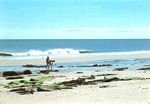 The City of Myrtle Beach has a historic marker commemorating this and there's also a nice little park with a gazebo used mainly for weddings. The problem? There's nothing to see! No rocks! It was completely covered by sand during a recent beach nourishment procedure.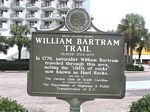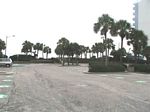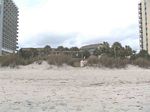 Links:
Travels Through North & South Carolina, Georgia, East & West Florida... by William Bartram, 1791
The Travels of William Bartram
---
CHAPIN MEMORIAL LIBRARY
400 14th Ave. North
Myrtle Beach, SC 29577
(843) 918-1275 Website:
Chapin Memorial Library
Open since 1949, this is the only municipally owned and operated public library in South Carolina. This is one of the sources for this website, with extensive microfilm and picture archives, and internet access. This library and the adjoining park were established in honor of Simeon B. Chapin, a prominent investor and business partner of the city founders.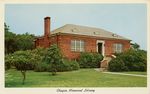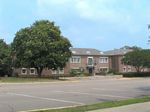 ---
WASHINGTON PARK RACE TRACK This was a popular harness race track formerly located on the northeast corner of Oak Street and 21st Avenue North. This includes land where a bank, an office supply store, and a children's museum now stand in the corner of the old Myrtle Square Mall lot, with the bulk of it in an empty semi-wooded lot directly behind Captain Hook's Miniature Golf course. The track was built by Paul and Parrot Hardy of Mullins, SC, and opened in 1938 with the Governor in attendance at the grand opening. Semi-weekly races were held with large crowds attending. One problem-- the track was opened anticipating that gambling would be legalized in the state, but it never was. When Strom Thurmond became Governor, he declared all gambling to be illegal; local preachers had also opposed the track. Washington Park and other gambling venues in Myrtle Beach continued for some time, but were eventually shut down in 1947. When the track closed, the stadium seating was sold to RAMBI Race Track, which now goes by the name
Myrtle Beach Speedway
. It eventually moved to its current location along Hwy 501. According to long-time resident Billy Rogers, there once an accident at the park when the bleachers gave way. Allegedly, there is still a section of the original clay track visible in that lot, however the outline of the track, including a line of trees where the fence once stood, is clearly visible from above.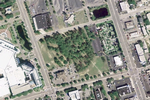 Washington Park, 2007. The circular shape of the race track can be clearly seen between the Convention Center on the left and Captain Hook's Miniature Golf/FuddRuckers to the right along Hwy 17.
The family of former SC Rep. John "Bubber" Snow Jr. raced seven thoroughbred horses at this park for a few years after WWII, with harness races on Wednesdays and Sundays drawing crowds of about 2500.
In 2003
, Rep. Snow introduced
House Bill 4219
to legalize pari-mutuel racing in South Carolina, but the bill didn't make it out of the Judiciary Committee. A
Geocache
is located near the site of this old race track.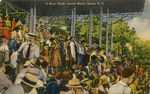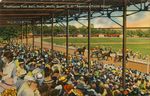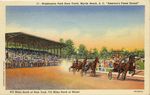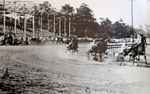 ---
GEORGE WASHINGTON SLEPT HERE One famous visitor to the Grand Strand was President George Washington, who took a tour of the southern States in early 1791. His route took him along the "King's Highway", roughly along US Hwy 17,
through the Myrtle Beach area
.
This
NC historical marker
is located along Highway 17 a few miles south of Shallotte, NC.
Washington had breakfast on April 27, 1791 at the home of William Gause Jr, about 10 miles from the NC/SC state line. He later had lunch at the home of James Cochran in Little River, then spent that night at the home of Jeremiah Vereen Jr. about 16 miles past the state line, roughly in the area of Highway 17 and Lake Arrowhead Road. The next day, Mr. Vereen guided the caravan across Singleton Swash, in the area of the Dunes Golf & Beach Club, and on through the "Long Bay"-- now known as Myrtle Beach. Five miles past the swash, Washington stopped for dinner at the house of George Pawley, then spent the night 10 miles further down the road at the home of Dr. Henry Flagg, at the site of the current "Alligator Pool" at Brookgreen Gardens. For many years, there were no markers or plaques anywhere along the Grand Strand beaches mentioning any of this- the only historical marker was the one at Hurl Rocks Park commemorating the travels of William Bartram in 1776. Several new markers include the Ocean Drive Pavilion, MB Air Force Base, and a marker for Washington's travels, along King's Road (old Star Route 2).
---
SUN FUN FESTIVAL Website:
Sun Fun Festival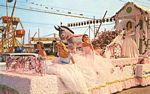 Sun Fun Parade passes by the Gay Dolphin Park, 1960s
Since 1952, this nearly-week long festival during the first week of June is the official kick-off to the summer season, and features a variety of events,
beauty pageants
, and the central event- the Sun Fun Parade on Saturday morning. For most of the festival's history, this parade has gone down Ocean Boulevard through the entertainment district in front of the Pavilion. This drew large numbers of people to the downtown area, who lined the streets, decks, and even rooftops to view the parade. The parade included marching bands, beauty queens, a variety of minor celebrities, and large numbers of floats by local businesses and organizations. In later years, there was also a fly-by by the Air Force Thunderbirds.
The Pavilion
was also the site of the beauty pageants and numerous other festival events such as bubble-gum chewing contests, volleyball, and human checkers. In 2008- the 57th Sun Fun Festival, there was no parade, and the events were centered at the new Market Commons area, on the site of the old Air Force base several miles away- and a fair distance away from the beach itself. Because the parade was done away with, some people speculated that the Sun Fun Festival itself would soon follow, however Festival organizers hoped that Grant Park at Market Common could more easily accomodate performances and other large-scale events. The events in 2008 and 2009 appear to have completely ignored the historic downtown entertainment district, once the central focus of the entire festival. The Myrtle Beach Chamber of Commerce cancelled the Sun Fun Festival in 2012, and it is highly doubtful that it will be held in 2013. According to the Chamber, the festival doesn't draw tourists to the beach as it once did, and doesn't pay for itself.
---
BIKE WEEK/
BLACK BIKE WEEK
Myrtle Beach Bike Week
runs on the 2nd thru the 3rd weekend in May, when thousands of motorcycles descend upon the beach for a week of fun. This has been a matter of contention for many years, as the motorcycles create noise and traffic, and the beach deals with large-scale drinking, trash, and riotous behavior. This first event is mainly the Harley-Davidson crowd, and is centered mainly around Murrells Inlet and the southern part of the Strand.
Black Bike Week
starts the weekend immediately after the "regular" bike week, and is centered in Atlantic Beach area. In 2006, Atlantic Beach officials tried to charge a $10 entry fee to enter the town area, and as a result, they lost money on the event- a mistake they did not repeat in 2007. Some area businesses shut down during this event when traffic gets so bad that their employees can't get through; others are concerned about the lewd behavior and violence, prompting the NAACP to sue over "racism". These pictures were taken on May 12, 2007. Although there were large shows set up at many local mall parking lots, and a lot of motorcycles on the road, traffic wasn't noticeably worse than any typical summer crowd.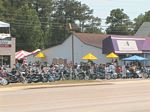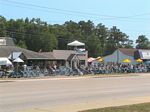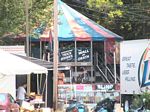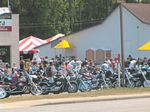 In 2008, the Myrtle Beach city council was approached by people fed up by the misbehavior during the rallies, and the council proposed a local tax to generate up to $1 million to be used to shut down the rallies. This has led to a large counter-demonstration by businesses and people who participate in and make a large percentage of their business from those rallies, particularly the Harley Davidson rally. Atlantic Beach announced intentions to continue their support of Black Bike Week, which may be the only time of the year that beach makes any money at all. Blogs:
Myrtle Beach Freebird Style
---
TRAINS Railroads were initially the best way of accessing the Myrtle Beach area. There had long been trails through the area like the King's Road, but tourists didn't arrive in any numbers until the rail line was extended from Conway in 1900. This marked the transition from a collection of isolated fishing camps to "New Town" on the coast. Many of the streets in the current "downtown" 8th-9th Ave. North area were laid out around the railroad terminus. Passenger service is no longer available; the last passenger train arrived in 1971. The last depot, built by Atlantic Coast Line Railroad in 1937, was sold to a beverage distributor in 1967 and was eventually hidden in a complex of warehouses and other buildings. When the distributor moved in 1999, the depot was threatened when other structures on the lot were torn down. The All Aboard Committee was formed to preserve the depot, headed by local photographer Jack Thompson. It was bought, restored to it's original condition, and
entered on the National Register of Historic Places in 2002
. Since then, it has been used as a community center. Today, the 14-mile long line running beside US 501 between Myrtle Beach and Conway is rarely if ever used. Occasional freight shipments were brought in for many years. Eventually, the Pine Island Railroad Bridge, a blue-colored rolling bascule bridge across the Intercoastal Waterway, broke down and sat in the "open" position for several years, requiring $3.8 million to fix in early 1997.



The line was leased by Carolina Southern Railroad, headed by Ken Pippin. A 50-year lease agreement was signed in March, 2001, and there were soon money disagreements between Pippin and Horry County, with the county closing the bridge until Pippin paid. In 2009, the line appears to be used primarily to store unused hopper cars; there was a long line of them sitting idle just north of the ICW bridge.
---
SNOW Because of it's position along the coast, Myrtle Beach rarely gets any snow at all, although it does get quite cold during the winter. An odd storm on Feb. 13, 2010, brought snow in an unusually southernly storm, catching Myrtle Beach right in the middle. At times, the snow was heavy, making driving difficult and slow. The snow was completely melted from roads by the next morning, but there was sufficient accumulation to pile up several inches in other places. Most of this was gone by the next day.














---