** NOTE: Phone numbers may be listed for various defunct businesses and attractions; when the name appears in RED, it means that it is closed and the phone is -not- valid. Old numbers are presented only for historical/research purposes-
Please do not call these numbers
, as the numbers may be re-assigned.
---
Downtown Myrtle Beach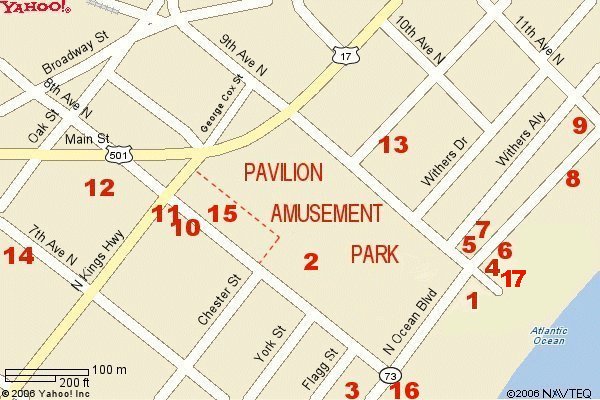 Links with Myrtle Beach pictures: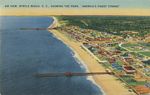 Downtown area in the 1930s. Both the 2nd and 14th Avenue piers are clearly visible, with no development south of 2nd Ave. The 2nd Pavilion building is also visible toward the center, as is the Seaside Inn and Lafayette Hotels in the area of the future amusement park.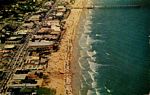 Downtown in the 50s/60s. The Pavilion and amusement park are in operation. Note Sloppy Joe's on the 9th Ave. corner, and part of the big Gay Dolphin building is done, with the Wild Mouse roller coaster beside it. The Ocean Plaza Hotel is still by the 14th Avenue pier.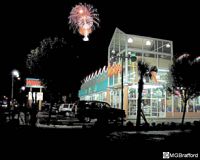 Fireworks along the Strand, donated picture
---
MUSIC on the beach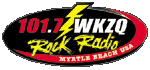 WKZQ 96.1 FM
- has long been the #1 station on the beach, for as long as I can remember, and its still going strong. This has long been at 101.7 FM ("Rock 102"), and changed to the new frequency on Sept. 23, 2008. If anything, its standard rock-and-roll format was somewhat unimaginative; for instance, they missed out on much of the punk/new wave/new romantic music back in the 1980s, with only a single special midnight show, "Life Out On The Lawn" in 1984. Nowadays, you're much more likely to hear new and different music; and it still rocks-- its much better than cookie-cutter corporate stations that just play tapes. After hearing the station on several 2006 trips, its even better than before, in my opinion. They are also streaming on the net, so you can listen in from anywhere. (requires Internet Explorer) The first radio station in Myrtle Beach was WMY13, located in the old Ocean Forest Hotel. Today, many location stations are available:
Myrtle Beach Convention Center
has hosted several memorable concerts. On June 22, 1978, the Rolling Stones played here - when this surprise concert sponsored by Beach Club Promotions was announced on the radio, it literally sold out within an hour.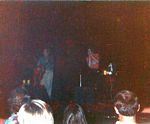 Jimmy Buffett also played at the MB Convention Center on June 16, 1980. Most of the show was solo, with Buffett sitting on a stool and playing acoustic guitar. The other musician is harmonica player, Greg "Fingers" Taylor, the first member of the Coral Reefer band.
Thanks to Carole Revetti for the concert picture
House of Blues - Myrtle Beach
- this large, fake-rusty building is clearly visible from Highway 17 in the Windy Hill section of North Myrtle Beach, at Barefoot Landing. By far, they have more -and the best- concerts than any other venue in the region.
4640 Highway 17 S., N. Myrtle Beach, SC 29582 (843) 272-3000
---
MYRTLE BEACH PAVILION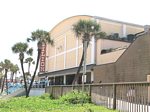 It's finally closed and destroyed, after all these years. Click on the Pavilion or
here
for the special page of Pavilion pictures.
MYRTLE BEACH PAVILION AMUSEMENT PARK
Ocean Blvd 8th-9th Ave N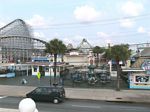 The amusement park across Ocean Blvd is also closed and torn down. Many of the rides were sold, some moved to a new "Remembrance Park", and many torn down. The entire downtown district just won't be the same without it.
---
IDLE HOUR ARCADE
CASTAWAYS
707 N. Ocean Blvd
(843) 445-2574 Idle Hour Arcade is yet another arcade that has vanished; it was never quite as good as the other arcades in the area, but still worth a walk down to the south end. When I last visited this arcade in 1995, they had put in a small bar along the middle of the southern side of the arcade.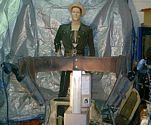 In years past, this arcade had one of the old, mechanical gun-slinger games, where you had to out-draw an animated outlaw figure. (probably the 1961 "
Mr. Quick Draw
" by Dynamic Amusement)
Like many downtown arcades, this one also had Bingo for a time; one of the operators was Harry Hardy, who came here when Sloppy Joe's closed. In 1977, he sued the City of Myrtle Beach when they tried to outlaw commercial bingo when played for profit; this went all the way to the State Supreme court when a Horry County judge held that the SC State constitution's provision against commercial bingo violaated the federal equal protection clause. Above the arcade was a rock-and-roll club, Castaways "Home Church of Rock & Roll, Coastal Mission". The last time I was in there, the entrance was through a tunnel with lights, like some sort of "space" tunnel, although it was very dim, and hadn't been cleaned in quite a while. This club was part of the circuit that many local rock bands played. All that is closed. Note the tattered canopy and enclosed region on the left side of the building- that was the stairway up to Castaways. With the loss of this club, there are no rock clubs in the entire area now. In 2011, the entire outside was painted white, covering over the last remnants of the Idlehour Arcade signs.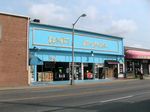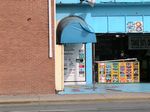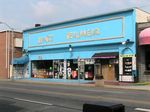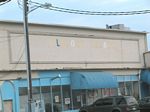 The building was demolished on July 9, 2012 by owner Mark Hardee. After the debris was cleared, it was paved for a new pay parking lot for the 2013 season.
---
PEACHES CORNER
900 N. Ocean Blvd.
(843) 448-7424 GPS:
N 33° 41.533 W 078° 52.776
View on map
This classic foot-long-hotdog, sandwich and beer joint right on the corner of 9th Ave. North and Ocean Blvd, appears completely unchanged. They have been open on this corner since 1937, which was named "Atlantic Ale" at the time.
Website here
.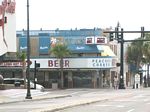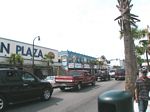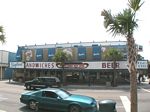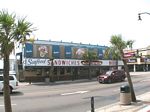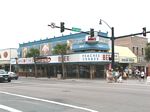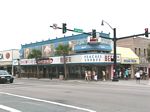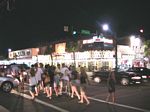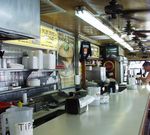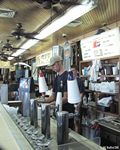 Inside Peaches Corner, 2001. This is a great place to sit and watch the boulevard on a hot day, with a foot-long hotdog and a cold beer. Thanks to Melvin Brafford for these pictures. Click
here
for the full-resolution version of the 2nd picture.
---
RIPLEY'S BELIEVE IT OR NOT MUSEUM
901 N. Ocean Blvd.
(843) 448-2331 GPS:
N 33° 41.538 W 078° 52.790
View on map
Ripley's Museum has changed a lot in appearance since I last saw it, but its still here! This museum has been open since 1976, and has undergone a major renovation in 1987, with the new "hurricane damaged" exterior. Ripley's has expanded in the Myrtle Beach area, with an Aquarium at Broadway On The Beach, and two new attractions down the street from the original museum, the Haunted Adventure and the Moving Theatre 4D.
Long-time visitors to Myrtle Beach might recall when this building at the corner of Ocean Blvd and 9th Ave. North was a hash house called "Sloppy Joe's". It was a restaurant in the corner- it was open 24/7/365 - "We Doze But Never Close", and had convenient stools on the corner for watching the crowds while you ate. Along the Ocean Blvd. side was a large Bingo parlor, with a special prize on Saturday night.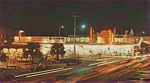 Another view of Sloppy Joe's, at night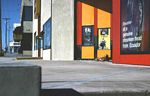 Original museum entrance design, from November 1983. Guarding the office door is the most famous dog in Myrtle Beach- Herschell, owned by then-Ripley's manager Peter MacIntyre.
Thanks to Bob Russell for use of his pictures at
webshots.com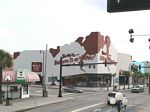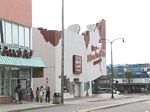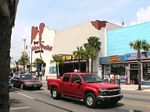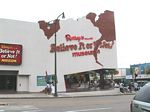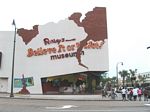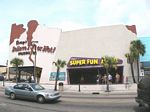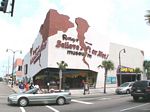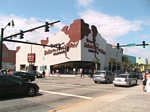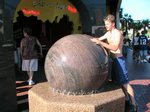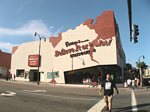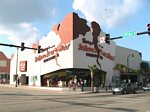 Last picture is thanks to Melvin Brafford, 2001"
Super Fun Zone Arcade
GPS:
N 33° 41.546 W 078° 52.780
View on map
The arcade is back! When I last visited in 1995, the arcade had been turned into a pizza restaurant, and all the arcade decorations had been removed. It has been converted back into an arcade, as it should be. There's nowhere near as many machines as there once was, and a large number of these are prize redemption games, but its a start. The free CD jukebox is a nice touch.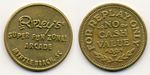 Super Fun Zone token, 2008
I worked here from 1980-1984, as a maintenance technician for the entire museum, but mainly for the arcade. When the museum opened in 1976, it had a magic shop in the middle of the lower section, with a neat "boulder" (actually, painted foam) hanging perilously over it. The magic shop was ringed by 1st-generation video games. By 1980, the Magic Shop was gone and it was all arcade games. This new arcade was darker, with wild, fantasy artwork along the top 1/2 of the walls. Pulsating disco lights were on the ceiling, and a long stage along the right-side wall held a line of video games, with flashing lights underneath. A jukebox by the central column faced outward toward the boulevard. In contrast to today's arcade which is nearly all prize redemption, my arcade was full of games-- I had 70 games, a jukebox, a coke machine, and a "Face Place" polaroid photo booth. Only in 1984 did we get a bank of Skee-balls, which were located where the prize counter is now.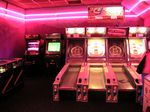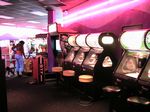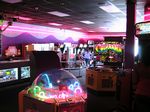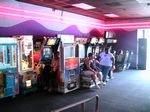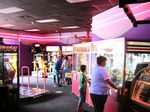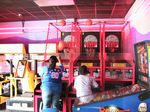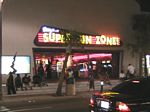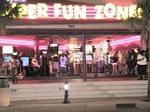 Behind the current basketball games is a door to a small triangular room, which was once my repair shop. I wish that they hadn't stripped out all of the original artwork, lights and special effects that were once in the arcade. But, at least its back.
---
FUN PLAZA
902 N. Ocean Blvd.
(843) 448-5141
GPS: N 33° 41.539 W 078° 52.758 View on map
This is a classic, open-air and concrete floor seaside arcade, and has been open for many years. It still has tons of great games, although its almost all prize redemption games like nearly every other arcade now. Even those old antique baseball games look and work great.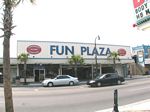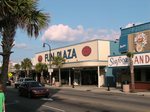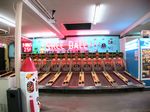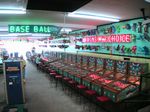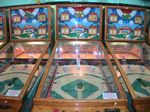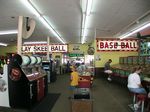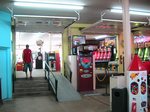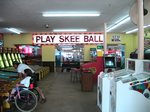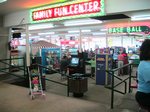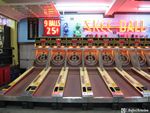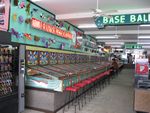 Fun Plaza games, October 2006, from Melvin Brafford
For full-resolution pictures, click here:
Skee Ball
,
Base Ball
.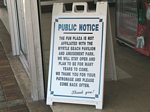 In 2006, almost all business along the strip had signs that they are
not
affiliated with the Pavilion and will not be closing- there must have been a lot of questions about this.
---
CASTLE DRACULA WAX MUSEUM/
NEW WAVE CAVE
907 N. Ocean Blvd. GPS:
N 33° 41.556 W 078° 52.766
View on map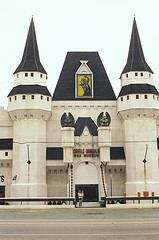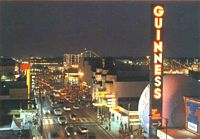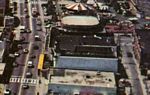 Castle Dracula during the daytime, from the air. This view shows the gargoyles astride the main entrance.
The Castle Dracula Wax Museum was located right beside Ripley's BION Museum for several years. The front was like a real castle with a moat and drawbridges. Often, a Frankenstein character would hand out brochures on the sidewalk (which ended up all over my arcade machines!). The museum was located on the 2nd floor, and was a twisty maze of caverns, with various scenes with monsters and scary scenes along the sides of the cave. At the very end was a light show, then the exit went down into the gift shop on the ground floor. It caught fire in late summer of 1975; I was there, and saw it burn- power to the whole block was out. It was quickly rebuilt, and was open the next season until its closing in 1982. The bottom floor had some scenes and figures, such as huge Phantom of the Opera-style organist, a coffin with someone inside struggling to raise the lid, and a dead Elvis. Scenes upstairs included a transforming Wolfman, the Pit and the Pendulum, the "Monster Mash" with loose body parts, and an eerie outer-space section with a strange, mushy floor.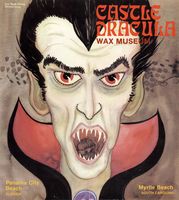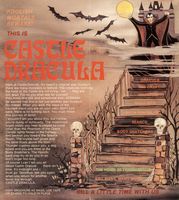 Castle Dracula brochure - the front and back open up into a ready-made horror mask.
The Castle Dracula Wax Museums in Myrtle Beach and Panama City Beach FL were both built a family from Niagara Falls. The one in Panama City Beach was sold in 1977 to Jack Long from Oklahoma. It is unknown if it is related to a
1985 attraction
of the same name in the Clifton Hills district of Niagara Falls. That attraction is now named
Dracula's Haunted Castle
. Another view of the Panama City Beach location is online
here
. The Castle Dracula in Panama City Beach opened in 1976; it burned in 1986 and was not rebuilt. For whatever reason, Myrtle Beach's Castle Dracula closed after the summer of 1982, and the bottom was turned into yet
another
t-shirt shop, which remains to this day. That first summer, in 1983, the top was turned into the club
NEW WAVE CAVE
. They kept part of the caves, and built a series of rooms with comfy chairs, and an arcade. They also opened up a large part of the area for a dance floor and bar area. It was my favorite place ever, on the whole beach. Sadly, it closed after that summer; in 1984, a Coke machine blocked the door, and now, that stairway is completely sealed as shown on the right-hand side of the building. In July 2006, I spoke with the manager of the t-shirt shop. He acknowledged that the caves are still on the 2nd floor, but that it is impossible to get to them, that the whole top floor is "full of junk" like old display racks. I'll see what I can do about getting up there to document whatever might be left of Castle Dracula and the New Wave Cave, but that might not be possible. Someone sent me mail, saying that the back door still shows "New Wave Cave", and thats true-- after all this time, it can still be read on the heavily oxidized door. In one picture, I tried to recreate what it might have originally looked like.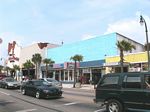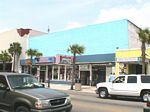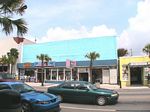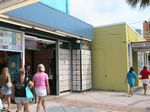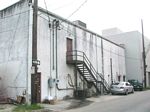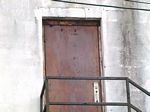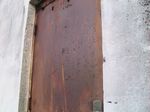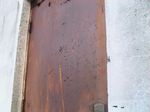 ---
GAY DOLPHIN GIFT COVE
916 N. Ocean Blvd
(843) 448-6550

Website:

Gay Dolphin

GPS:

N 33° 41.580 W 078° 52.722

View on map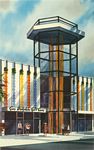 This is the ultimate tourist-trap souvenir shop; they claim to be the largest in on the east coast, and probably so. There's a truly incredible amount of stuff here, and its always fun to browse through it. You'll always find something you never saw before. It has been open since 1948, and is open year-round, 7 days a week.
This shop is much the same as I remember it, but with a few changes. At one time, the entire building was open- you could go up on the top observation deck, and there was another upper cove along the walkway. Also, there was a smaller Gay Dolphin Annex directly across the street, which was the home of the huge, ultra-cool Poster Cove down a spiral staircase in the basement (thats where I got the Hendrix poster for the bathroom wall in my 1984 apartment)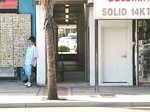 Nowadays, the Annex is long gone, and Ripley's Haunted Aventure is in it's place. All that is visible from the old Annex and the Poster Cove in the basement is this stairwell, which was once the exit. The Poster Cove is completely gone-- they didn't move it to the main building when the Annex was closed. People are no longer allowed to go up to the top observation deck- the insurance company stopped that sometime around the beginning of 2005, despite the fact there have been no accidents or problems. The staircase winding up the tower is completely closed off, and the old Indian Cove section on the 2nd floor is closed. The snack bar that was once on the lowest level, right by the tower, is completely gone.
Conspicuously missing is the string "waterfall" illusion- cords once ran from the very top of the tower down to the pool at the bottom, with endless drops of drops falling along it- it looked very cool. The pump broke in 2003, and no replacement parts were available, so they had to scrap it. They replaced it with some heavy (1000 lbs each!) dolphin sculptures in the bottom pool, but it just doesn't look the same from the street. The current manager is Buz Plyler, the son of the Gay Dolphin founder and builder Justin Plyler. The park on Ocean Blvd and 11th Ave. North is dedicated to Justin Plyler, who in addition to developing this whole end of the boulevard, is also responsible for a great many vintage postcards of the Myrtle Beach area.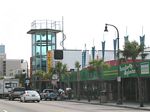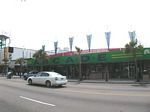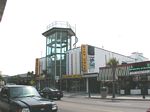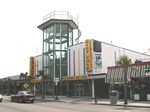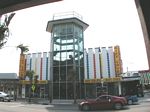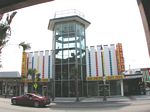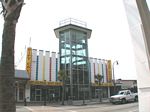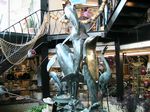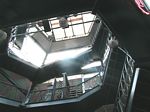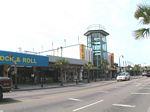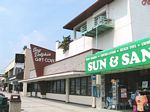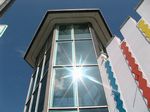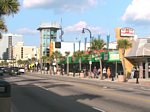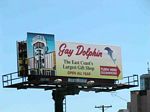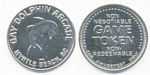 Gay Dolphin Arcade token, 2008
Gay Dolphin Arcade
GPS:
N 33° 41.566 W 078° 52.738
View on map
The Gay Dolphin Arcade is still next door, and still has a great selection of games- its where I first saw the "Crazy Climber" game so long ago. The Gay Dolphin Arcade also once had a fun shooting gallery on the corner of the arcade by the main building, along the street, but it was gone by 1980.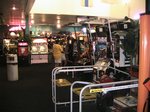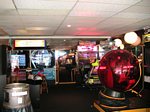 The corner of the arcade next to the main building on the boulevard, was once a western-themed shooting gallery, filled with animated items which would jump, make noise, or play the piano, when their target was hit. This was removed sometime in the late 1970s, to make room for a popular and very successful record-making recording studio in the breezeway between the main building and the arcade-- the canopy over this corner still says that its the studio. When this ended, the shooting gallery was not brought back- the man who ran it, "Gibbs", had died. These pictures are from a very similar shooting gallery still in operation at the
Santa Cruz Beach Boardwalk
.
They also have the old-timey piano player, who would briefly play when its target is hit: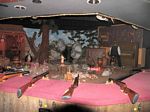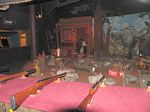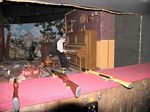 The building to the immediate north of the Gay Dolphin was once an old "
Carpet Golf
", then later renovated into the
Around The World In 18 Holes
mini-golf course.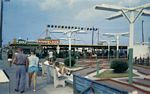 Gay Dolphin Park, looking from the boulevard sidewalk at the Fun Plaza. The two poles holding the park sign are still visible on top of the existing buildings.
Until the early 70s, the area on both sides of the main building was the "Gay Dolphin Amusement Park", with a variety of amusements. There was once a
Wild Mouse
roller coaster where the arcade now stands, as shown in this old Gay Dolphin postcard (
front
/
back
). The entrance to this coaster was on the boardwalk, and it cost 50 cents to ride. This coaster was later sold to Folly Beach, and was lost when the pier burned down in 1/09/1977, which is suspected as arson. (
Wild Mouse reference
)
---
ELECTRIC CIRCUS ARCADE
1001 N. Ocean Blvd.
(843) 448-6236
This was once a neat arcade at the corner of 11th Ave. North (now Mr. Joe White Avenue) and Ocean Blvd, now its another T-shirt shop, Wacky T's, which has been in operation for a couple of years as of 2006. They always had a ton of great videos, all lined up in tight rows. This is the only place that I've ever seen an Atari Hercules pinball- which used a pool cue ball as the pinball.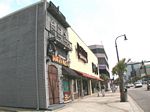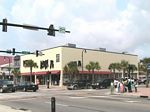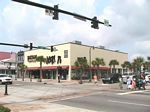 There is still a haunted house on the 2nd floor, with the entrance on the southern end of the building:
Nightmare Haunted House
This was originally the Nightmares Haunted House, built around 1985 by Ray Productions, of Orlando, FL. It had 10 rooms with two actors, with a Pet Cemetary, a boiler room, a kitchen, a balcony drop and a chainsaw ending. Admission was $5.00 This haunted house was once Mayhem Manor, from 1993-1999, run by Leonard & Jeanne Pickel of
Haunted Attractions magazine
. This was built right after the renovation of the Pavilion's
Haunted Hotel
ride, and totally renovated in 1997. It featured 13 rooms of high fright/low gore effects. He used this as a test location where he developed ideas that are in use in haunted attractions around the country, Mayhem Manor had a laser tunnel, a
Pepper's Ghost
effect, 9 automated effects, and a giant rat. Admission was $5.00
---
OCEAN WORLD OF MYRTLE BEACH
1006 Chester Street
(803) 448-8368 Long before Ripley's Aquarium opened at Broadway at the Beach, a small aquarium attraction opened a couple of blocks off the boulevard, behind Mammy's Kitchen at the SE corner of Chester St. and 11th Ave. North. Here is a brochure from July, 1982:
Brochure outside
Brochure inside
Thanks to Scott McMahan for brochure pics
Since it closed, it has alternated between sitting empty or run as a series of nightclubs and restaurants. It is currently open as "Coconutz Beach Bar", open since 2005, after previously operating as "Jerry Bar", "Rumors Beach Bar", "J W's Lil Concert Cafe", "Hammerhedz", and others through the years. The building still has the prominent lighthouse shape, pictures taken July 16, 2011: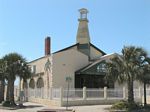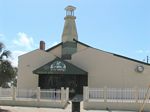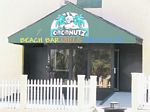 ---
ROCK BURGER
1107 N. Ocean Blvd.
(803) 448-7731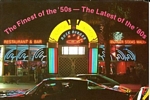 Rock Burger was for many years one of the only all-hours bars, open 24/7 except for Sunday, when no alcohol could be sold. It was THE favorite after-hours club for all the local people, and at 2-3 in the morning, it would be packed and stay that way all night long. They are also one of the first clubs that I saw with huge wide-screen TVs on the ceiling, and they always had cool things playing-- like MTV way back when it was actually entertaining. I drank many pitchers of beer there. [Hi! to Gary Dunn & his roommate Riff-Raff] This bar was owned by brother Danny and Doron Applebaumn, with their "momma" running the register. It became well-known for live bands, and was harassed by the police, who showed up constantly with dB meters to measure the noise. It was eventually forced to close. Now, it has been turned into
yet another
t-shirt shop. A guy working in the shop in 2006, who says that he remembers Rock Burger, said that it closed "about 10 years ago"; other reports confirm that it closed around 1995, after being open in that location since 1982.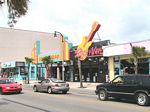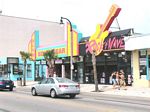 RockBurger re-opened under new management during July 2005, at 1604 N. Kings Highway. This new location was about 4-5 blocks from the original bar, in the old "Filling Station" pizza restaurant (originally Village Inn Pizza). Joseph and April Almakiz bought the Rock Burger name and concept from the original owners, hoping to turn it into a restaurant/bar with live rock bands. They had a fair crowd on Aug. 19th, 2006, when I drove by, but it wasn't anywhere near the crowds in the old one. The new place was centered around a small stage and huge video screen along the back wall, with a long bar on the right, just inside the front door. (phone was (843) 626-3333)
Story on this was online at
MB Locals Information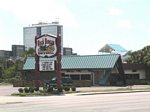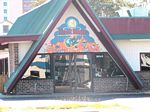 This incarnation closed at the end of the 2006 season, with the building listed for sale or lease on 12/24/2006. By 3/31/2007, it was remodelled into a "Visitor's Center" business. Since then, the building has been a number of different restaurants including the "Burger Bar", none of them lasted very long.

During the summer of 2014, it re-opened as Rock Burger once again, looking much the same as the first time, with a rock-and-roll theme inside, music videos on TVs, and a stage in the back- this time with Jake and Elwood Blues statues outside and an Elvis statue inside. Like the previous time, there were few customers on the times I stopped in; their closing time was 10pm, and reviews said they sometimes closed early due to lack of business. Various review sites had very mixed reviews; I had a good meal both times I ate there. New phone number was: 843-808-9839. The restaurant closed toward late September 2014, to be replaced by "Cafe Old Vienna". The Filling Station was originally owned by Grady Brown; the restaurant was moved from King's Highway to 1913 Mister Joe White Avenue in 2001. T. Brown, his son, sold the business in November 2009 to Kathryn Hedgepath, who changed the name to "Home Plate Sports Grill". It finally closed its doors on October 29, 2011, after being auctioned off on Oct. 25th, leaving it's famous busboy- Isaac Collington, who had worked for the Filling Station for more than 25 years, out of a job.
---
BODO'S GERMAN RESTAURANT
407 8th Ave. N
(843) 448-1310 GPS:
N 33° 41.547 W 078° 52.995
View on map
I never noticed this place when I was living at the beach; it opened the last year that I was there, despite the fact that I walked by it nearly every day. There was once a string of bars and restaurants along 8th Ave. N, now there's only this and a Barnacle Bill's next to it.
This building was originally built in 1939 by Eula Gerrald and Alex "Shug" Booth, as the Booth Guesthouse. They ran it for 19 years until she died in 1958, then he moved with his daughter to the Pat House, where the Joyland Beauty School once stood. Prior to the restaurant opening, it was Joli's Jeans.
Bodo's opened on June 8, 1984, by Helen and Axel Binninger. The namesake, Bodo, is Bodo Binninger, Helen's husband, who is also pictured on the sign. Helen
passed away
on March 22, 2009, and the restaurant is now being run by her son Bodo Binninger Jr. and daughter Patti Gregory. The first time I was in Bodo's was in 1995, and it was a lot of fun; they had a dartboard and foosball, Pink Floyd was playing continuously (hence their motto), and there was a fair crowd. Like so many of the other downtown businesses, it was much slower in 2006. They serve a unique Black Forest-style German cuisine- which is excellent. I usually stopped in every time I made a trip to the beach from 2007 on.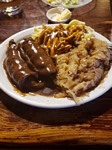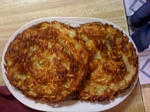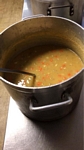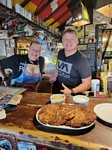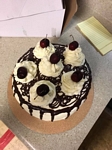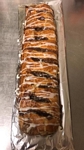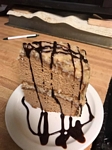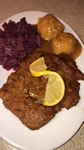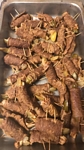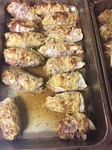 In 2022, the City of Myrtle Beach bought the property along with a number of other nearby "problem" motels. Bodo's was kicked out, giving them until April 15- subsequently extended to May, to vacate the building. It will likely be torn down as part of some unspecified "redevelopment project in early 2022, but the city has not indicated that anything will be rebuilt. During the last few weeks of business, the restaurant was packed with crowds, wanting to experience it one last time. The family has not announced if they will try to open up in a new location.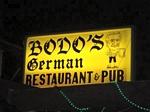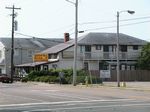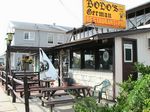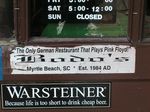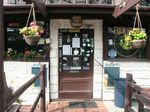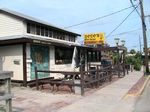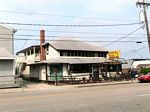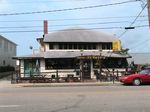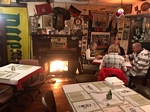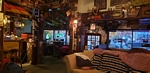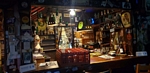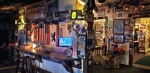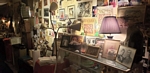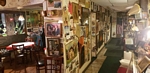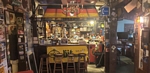 ---
SUBWAY
712 N. King's Highway
(843) 445-9109 Not very spectactular or noteworthy as far as Subway restaurants go, but its been at this same location forever, and it seems to be the only name-brand restaurant in the area that has survived. I walked by it every day, and ate there quite a lot. I wonder if my Sub Club coupons from 1983-84 are any good anymore? They owe me a couple of sandwiches! Many years ago, this was the site of Prather's Texaco station.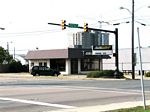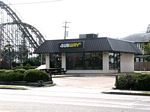 ---
CHAPINS DEPARTMENT STORE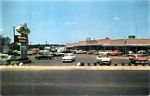 This was an interesting art deco department store that opened in 1928, and was noted for extending credit to local customers during hard times. Among other businesses occuping spaces in the building was Delta Drug Company, which sold a series of Myrtle Beach postcards by the famous photographer Bayard Wootten. Chapins was still open when I lived beside it in 1983/84, but closed in 1992. In 1999, the half of the building closest to Hwy 17 was turned into a huge miniature golf course at a cost of over $3 million -
Mount Atlanticus Minotaur Goff
. This sprawling, and from what I've heard, excellent miniature golf course goes through multiple levels of the building and outside toward the highway. Interestingly enough, the entire Chapins building is still there, and looks almost the same from Main Street/US501 side.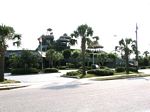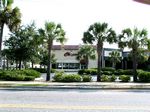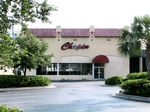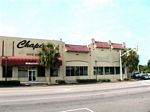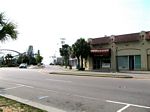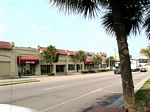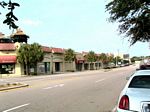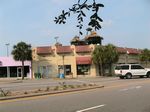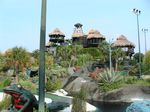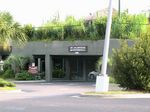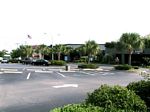 ---
MAIN STREET Directly across from Chapin's on Main Street is a large section of buildings dating back to the same 1920-1930s era. These are still there, many are occupied by new businesses, and several are empty.
The Venue Boutique and Gallery
has been open since 1985, founded by Barbara Patrick. This store is located at 510 8th Avenue North, on the corner of 8th Ave. N and Main Street.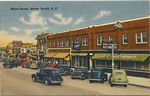 Downtown area in the 1940s. Note the Broadway Theatre, Mack's 5,10 & 25 Store.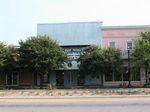 This was once the Broadway Theater, which was later an x-rated movie theatre back in the late 70s! It is now the home of
Encore Video Productions
. From this location, they also have a
webcam
pointing toward the former Myrtle Beach Pavilion.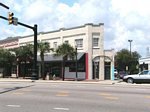 819 Main Street - At the very end of the block across from Chapins, was
Pizza Villa
, a small pizza restaurant in that triangular-shaped end, when I lived here. This was once the Kozy Korner Restaurant, and the Kozy Korner Tavern before that, in 2006 it was the "Soul Food Express". The Kozy Korner was extensively written about in the "Greek Boy" book by Dino Thompson, and was his family's business for many years.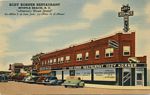 The downstairs area has been a series of bars over the years; back in the 30s-40s, it was the "Wonder Bar", and was once the "Pirates Cove" ran by Larry McDaniel. In the 1980s it was "The Cellar" bar with live music, and was part of the circuit that many local rock bands played.
---
RIVOLI THEATRE
904 Chester Street
You'd miss the
Rivoli Theatre
if you didn't know what it was, as thousands of people probably do every day. This gem of a theatre is now long closed, hidden behind the Pavilion's parking deck just off of 9th Avenue.
---
MY OLD APARTMENT
503 7th Ave. North Amazingly enough, almost every place that I had ever lived at the beach is still there. Before 1980, I stayed for many years in a trailer at the "Holiday Inn Trav-L-Park" which is
still there
.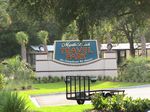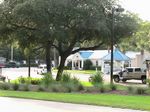 The Trav-L-Park Pavilion was the place to be at this park; I worked there for several summers. Unfortunately, the old arcade was destroyed by hurricane Hugo in 1989. Only the concrete pad remains, with this metal shelter over the original building. The restaurant is where the Bingo once was.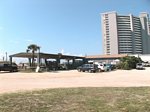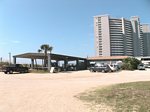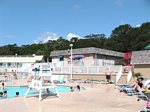 The arcade had to be moved from the beachfront because of new building codes after the hurricane, now its located by the new, greatly expanded pool by the general store. The pool is great, but the arcade is awful.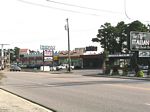 Watson's, the old general store by Highway 17, is closing. At least Willard's Fireworks is still going strong after all these years.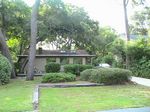 Then, I moved to Myrtle Beach. The house still looks great. This house was originally built and furnished for the head cook at the Ocean Forest Hotel.
Finally, I got my own apartment for the summers of 1983 and 84, in a house on 7th Ave. North, directly across from
Chapin's
. The first summer, I was in the lower-right hand apartment facing the front. The second year, I was in the ground-level of the garage apartment in back. In 2006, it appears that it isn't used anymore and is in disrepair; by 2008, it was torn down. If you lived at the beach in 1984, you probably came to the infamous 3-day party that I threw one weekend in August, in that back apartment. While I was there, that commercial building behind it wasn't there-- it was other apartment houses. A motorcycle gang lived behind me, and we got along great. The small apartment has since been torn down.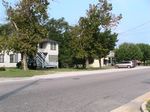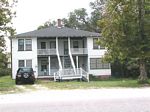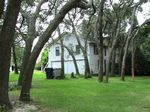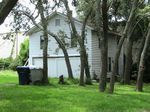 It was so nice having a little convenience store right next-door (left side of building). Too bad its closed now, and the other side is a bus station- that attracts a really nice crowd. The old Piggly Wiggly grocery store at 614 N. Broadway, just around the corner, is gone too, its now an Asian mart. Across the intersection, the old "Miscue Billiards and Bar" at 637 Broadway is also gone; it was the "7 Mare" Mexican restaurant in 2006, but is closed now.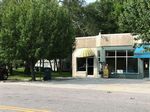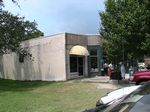 ---
ASTRO NEEDLE AMUSEMENT PARK
8th Ave North/Chester Street

This large, 200' rotating tower ride was for many years the tallest structure in Myrtle Beach, and was often figured prominently in postcards and pictures, second only to the Pavilion itself. This was part of a small park of rides and other attractions that opened in 1970, between Chester Street and Highway 17, directly across from the Pavilion park's parking lot. Click
here
or on the picture for info about this park and its impressive tower ride.
---

MOTHER FLETCHERS
710 N. Ocean Blvd.
Myrtle Beach, SC
(843) 448-2545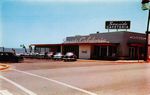 This building was originally the Seaside Cafeteria many years ago

.
This long-time nightclub was open from 1977-2004. This location was their 2nd- for many years they were located at 406 8th Ave. North by the highway, in the old "Sunshine Express" building, which was a Bump-Em Cars ride before that. When the Pavilion Amusement Park took over the entire block for the last big expansion, Mother Fletcher's moved to this new location right on the boulevard. For many years, they were famous for their wet t-shirt contests and over-the-top commercials on
WKZQ
. Their $2 off coupons were still in many brochure racks in hotels up and down the strip, even though they had been closed for serveral years!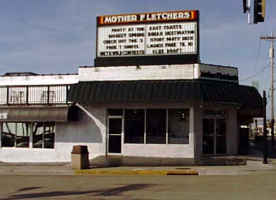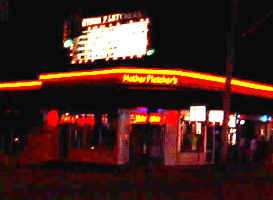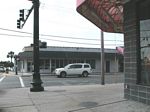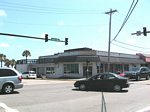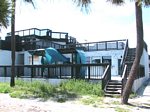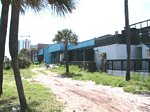 The ocean side of these buildings has always been a mess.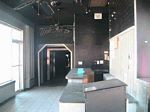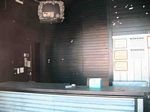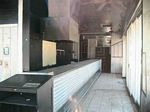 They were evicted on October 19, 2004, and the building sat empty for 2 straight seasons, in what should be a prime boulevard location. The
eviction notice
hung in the side window until the building was torn down. I've heard conflicting information about this-- some people say that the "City shut them down". The newspapers claim that they were having financial trouble and were unable to pay their rent. In either case, it looks unlikely that they will be re-opening. Their website at www.motherfletchers.com, online since 2002, is also gone. According to the Sun News, former landlord Burroughs & Chapin has turned down several offers from other nightclubs to use this building, claiming that they want a more "family friendly atmosphere" in the downtown area. Despite such plans, a new nightclub opened for the 2007 season directly across the street in the old Wet-N-Wild building, operating as "The New Attic" in 2007 and "Club Exception" in 2008. Last pictures of Mother Fletchers - these were taken on Sept. 29 and 30, 2006 during the Pavilion's Last Ride event: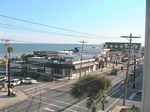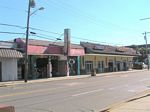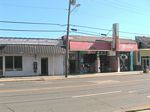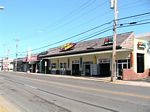 During the demolition of the Pavilion in early 2007, the old Seaside Cafeteria/ Mother Fletcher's building was also torn down. These pictures were taken on April 1, 2007: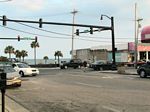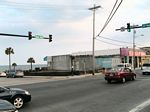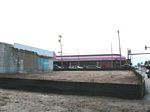 FREAKY TIKI CLUB
708A N. Ocean Blvd.
Myrtle Beach, SC
(843) 445-2582
Freaky Tiki was a large club occuping the building a couple of doors south of Mother Fletcher's - it was closed before the 2006 season by legal order, because of drunk and disorderly kids leaving the bar, and wet t-shirt contests and nudity. This bar was owned by Tony, Sonny, and Joey Amendola, plus other members of their family who also own Blondies, and Allen Dickenson. This bar was popular along the entire East coast, and was the official MTV Spring Break Sponsor for Myrtle Beach. It was open for at least 3 summers. The club drew the ire of local motels because of noise, fights and vandalism from club patrons after the club closed.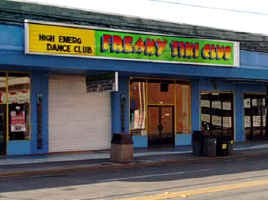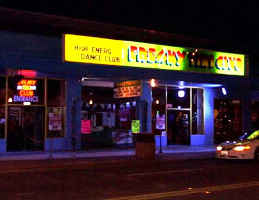 In the fall of 2005, Judge Stanton Cross issued a temporary injuction, when Myrtle Beach officials said the club's wet T-shirt contests violated the city's adult-entertainment laws, forcing them to close for one year or until Sept. 6th, 2006. Then, their application to renew their alcohol license for the next season was denied, which was probably the reason they gave up and closed. The bar has now been split up into several t-shirt/tattoo shops, similar to the others on the boulevard.

---
DUFFY'S TAVERN
110 9th Avenue North
Myrtle Beach, SC 29577
(843) 626-3445
Both of these old bars are still here, and are essentially the same.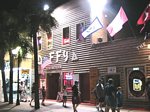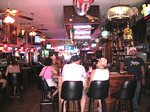 THE BOWERY
110 9th Avenue North
Myrtle Beach, SC 29577
(843) 626-3445
Website:
The Bowery
Open since 1944,
The Bowery
is one of the oldest bars in the area. They once had the country band Alabama as the house band, before they became famous.
******** IN MEMORY ********

Mike Spillane, long-time Bowery employee and beach resident, and one of the sons of Mickey Spillane, has died. He was living in a boardwalk-side apartment over the Fun Plaza, and when he didn't open up the Bowery on time on Friday, October 26th 2006, he was found by friends who went to investigate. Apparently it happened very quickly. A memorial/remembrance was held for him on Wednesday night, November 1, 2006 at The Bowery, at 7pm.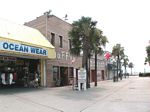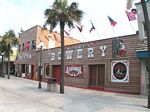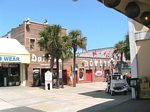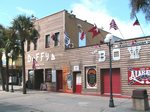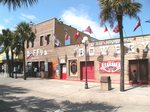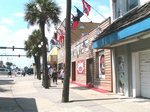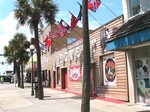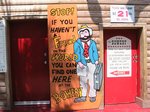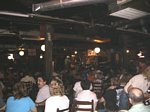 Older Pictures - 70's and 80's when Alabama played in The Bowery
The Bowery and nearby bar The Keg, early 1970s

1978, one of several styles of the Bowery front. This one featured a narrow saloon along the street, with a bar and pool table. It was open for 1-2 seasons before being removed to make space for seating in The Bowery's main room.

Easter Weekend, 1980. Ed Hall (1921-1986) and his daughter Sue Hall tend bar in Duffy's Tavern. He built the bar, which is still use as of 2013.


Ed Hall, tending the door at Duffy's

1980, Sue Hall tending the bar in Duffy's Tavern
(L-R) Toni McDaniels (Manager Duffy's and The Bowery, dancer), Tara Smith (dancer), Sue Hall (bartender), Kathy Stack (dancer), Julie Mortimer (bartender), Hilda Stevens (bartender)
Sue Hall Allard, Gary Moore (waiter), Pamela Zilonka Patterson, Lisa Koontz (waitress in Duffy's) Easter weekend in Duffy's
Hilda Stevens and Alton Hodges (waiter in Bowery)

Barry "Bugs" Schronce (1946-2000), doorman, waiter and bartender. He was from Lincolnton, NC.


Bugs and Danny King, on stage

Bugs and Charlie Henderson, doormen/waiters/bouncers


Danny King, from Akron OH

1975, "Don't Cry Joe" on left, tending the bar with Clyde Ray Crouse, on the right. Clyde is from Lincolnton, NC


Clyde Ray Crouse tending bar with Danny King, 1975. Here is a more recent picture.

Price "Scuba" Osborne (1951-2001), doorman, waiter and bartender. He held a Guiness Book record and was listed in Ripleys Believe It Or Not! for carrying 34 mugs of beer 100 feet, without spilling a drop. He came to the Bowery from Eden, NC, and left to be a crew member with Alabama when they left in 1980. Pic from 1980.

Price "Scuba" Osborne, 1975 pic
Peter MacIntyre, waiter and bartender. He was also a manager for Ripley's Belive It Or Not across the boulevard, and later the aquarium and other Ripley attractions in Myrtle Beach.

Susan Ledford Elliot, sitting in the window of the Bowery Saloon


Don't Cry Joe, waiter and bartender. In the 1930s, he set a world record with his sister for marathon dancing for 5,295 consecutive hours. This dance marathon was at Madison Square Gardens, for which he won $10,000- a huge sum for the time, and a new Ford.

Larry and Toni McDaniel, managers of Duffys & The Bowery
Larry McDaniel, manager of Duffy's and The Bowery, also working as waiter and bartender from 1973-1980. He is originally from Caledonia, Mississippi.

Waiters Tom Langfitt, Joe Gregoire, and Bob "Polaroid" Green, from left to right. Tom worked in the Bowery for 28 years, and was the assistant football coach at Myrtle Beach HS.
Joe Gregoire, on right and Danny D'Antoni, waiter, in 1974. Danny was the head basketball coach at Socastee HS, and owned Chairman's Corner. For a couple of years he was an assistant coach to the LA Lakers, under his brother and head coach Mike D'Antoni.
Wayne "Sugar Bear" Hoods, waiter (on right)
Tinker and Danny King on the sidewalk
Bob "Polaroid" Green, waiter, originally from Eden, NC
Ernie Smith, waiter in The Bowery, from Eden, NC
Frank Sands, waiter and bartender in The Bowery, toured briefly with Alabama and also drove their bus
Bruce Barnett, doorman and waiter (left with Alabama, was their bus driver and road manager)
Wild Country band, 1973. This was 4 cousins from Ft. Payne, AL who were the house band at the Bowery from 1973-1980. During that time, they changed their name to Alabama.
Wild Country with 2nd drummer, Rick Scott, 1977
Randy Owen - lead singer, rhythm guitar
Teddy Gentry - bass guitar
Jeff Cook - lead guitar, keyboards and fiddle
Bennett Vartanian, 1974, playing in 1973 (right) was the original drummer and cousin to the others
Toni McDaniel dancing with the band, 1978. Jeff Cook is on left, Randy Owen on the right.
1980, notice the price of beer! Dancers are (left-right) Debbie, Kathy Stack, Toni McDaniel. Visible band members are Jeff Cook, Randy Owens, and Teddy Gentry
Toni McDaniel, Debbie, Kathy Stack, Anne, Pamela Zilonka Patterson
(L-R) Susan Ledford Elliot, Anne (bartenter in Duffy's), Toni McDaniel, Debbie (dancer in The Bowery), Kathy Stack (dancer in The Bowery)
"Bouncing Betty", a crowd favorite, dances onstage
Susan Ledford Elliot sings, with Jeff Cook to the left
Toni McDaniel, dancing on the ceiling as the stage name "April"
Toni McDaniel, dancing on the ceiling. Jeff Cook's description to Lionel Ritchie about this was the inspiration for Ritchie's 1986 song and album title 'Dancing on the Ceiling'
Toni McDaniel and Susan Ledford Elliot on left, Julie Mortimer on right, taken at one of the "old-timey photo" places on the boulevard
Susan Ledford Elliot, singer, and Alton Hodges, waiter
Danny D'Antoni, waiter
Dancers and bartenders in the Stroh's Beer wagon, with Tom Langfitt and Toni McDaniel in front. In the wagon are Debbie, Bob Green, and Sue Hall on the right.
Mike Spillane, bartender and cashier in The Bowery. He was the son of hard-boiled fiction author Mickey Spillane.
Mike Spillane and Victor Shamah, remodeling Duffy's during the off-season in Feb. 2006. Shamah bought The Bowery and Duffy's Tavern in 1980.
Kathy Stack, originally from Kernersville, NC She was a dancer in the Bowery, and managed tips and albums/T-shirt sales for Alabama.
Toni McDaniel and Julie Mortimer, bartender in Duffy's. She is originally from Morgantown, WV
2006 picture of Kathy Stack with Thomas "Tinker" Gilbert, waiter and bartender at The Bowery. He went on to become the manager of both Olive Garden restaurants in Myrtle Beach.
55th Anniversary Party - March 20, 1999
| | |
| --- | --- |
| Invitation to the Bowery's 55th Anniversary Party. This fake candy wrapper had a Hershey bar inside | 55th Anniversary Flyer |
| Kathy Stack (left) and Toni Horne (right) on the ferry, party-bound | |
| Does the old costume still fit?...Yes! | On the way to the Party- |
| Snake, Bugs, Ma Gilbert | |
| | |
| | |
| | |
| | |
| A couple of the waiters | Official Bowery cake |
| | Joe Gregoire, waiter |
| Ron tieg, owner of Tire town | Gary Moore, on right |
| | |
| Mike Spillane and Clyde Ray Crouse | |
| | |
| Jeff Cook of Alabama, as they took the stage for the party | Teddy Gentry of Alabama |
| Randy Owen of Alabama | Susan Ledford Elliot singing onstage with Alabama |
| Danny King onstage w/Jeff Cook | |
| One last picture with everyone together | Sign of a successful Bowery party |

---
HIGHWAY 17/KING'S HIGHWAY Often called "King's Highway", U.S. Route 17 closely follows the original colonial "King's Highway" that led down the coast from Boston to Charleston. Currently, this is a 4-land road with two lanes in both directions, from the NC border at Little River to the Georgia border north of Savannah, GA. For many years, this was a 2-lane road, and not all of it was paved- which started near Woodsize Ave. north of the downtown area.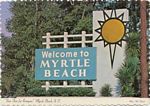 >
Welcome to Myrtle Beach sign greeting travellers on Hwy 17, 1970
---
THE BOULEVARD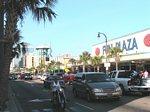 Other miscellaneous places on or near Ocean Boulevard in the downtown area.
---
THE BOARDWALK Many of old places are still in operation, but there's more unused space and seedy businesses here now. The boardwalk area has developed a bad, high-crime reputation in recent years, especially at night- which has probably driven off the once-thick summer crowds.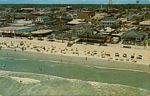 The beach and boardwalk area, 1960s. The rides in the Gay Dolphin Park dominated the oceanfront, with the Wild Mouse roller coaster beside the original Gay Dolphin building. Also notice the two miniature golf courses beside the Fun Plaza and the other side of the Gay Dolphin.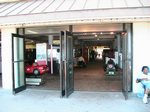 >
Looking into the Pavilion arcade from the start of the boardwalk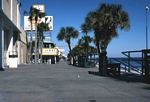 >
Looking down the boardwalk from the Pavilion, November, 1983.
Thanks to Bob Russell for use of his pictures at
webshots.com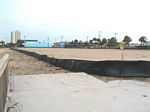 >
May 12, 2007: The boardwalk is shorter now that the Pavilion has been completely demolished.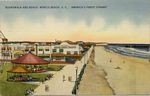 Boardwalk area, 1940s, at the end of 9th Ave. North. Rides and amusements were hired for the summer, set up in the area where the Pavilion would be later built. Some of these buildings can still be seen in the area- the "Oasis" is now Duffy's Tavern. The boardwalk itself extended all the way to the Yacht Club Pier, now the 14th Ave. Pier.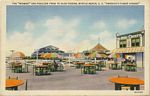 Ye Olde Tavern, in the late 1930s, from the beer garden. This is facing south toward the old Pavilion building, with a midway in the area between them.
Ocean Front Grill
- Originally "Ye Olde Tavern", then the Ocean Front Tavern- which had a beer garden built over the beach in 1935. The beer garden was removed in 1940 to make room for the new concrete walkway. It was bought by Johnny Burroughs in 1948, who renamed it to the Ocean Front Grill. This restaurant and Peaches Corner have been run by the same family since, and is currently managed by Russ Stalvey.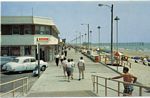 Ocean Front Grill, 1950s.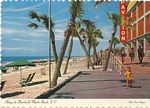 The end of the boulevard, looking toward the Pavilion, 1950/1960s.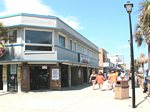 Many years ago, "The Keg" bar was over the restaurant- entrance was that gray door in the alleyway.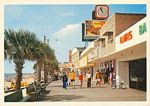 Looking down the boardwalk toward the Pavilion, 1970s.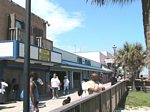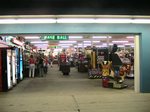 Looking into the Fun Plaza from the boardwalk.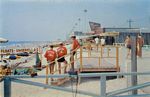 End of the boardwalk in the 1950/60s. Lifeguards from Coasters beach service watch over the crowds on the beach, near the original Gay Dolphin building. Note the Archery Range and Rifle Range, as well as the miniature golf, on the sides of the Gay Dolphin.
MARVIN'S FOOD & GAMES
918-D N. Ocean Blvd. Myrtle Beach, SC
(843) 448-4926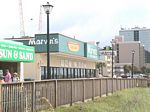 Website:
Marvin's Food and Games
Located at the end of the Boardwalk, beside Plyler Park. Often called "Starvin' Marvin's" by the locals, this place looks unchanged, and is still a great place to eat. There are also several pool tables and other games, and a jukebox. This restaurant originally started as a taco stand on the boulevard in 1975 by Marvin McHone; it moved to the old Seaside Cafeteria building in April 1979, then moved to the current location in 1983.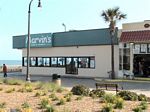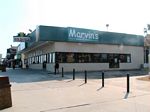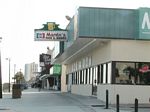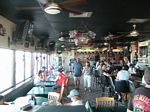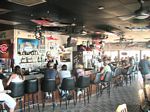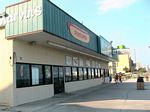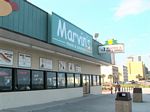 Marvin McHone retired on Saturday, Nov. 12, 2011, with a retirement party at 4pm that day. The restaurant was bought by Steve Taylor of Native Sons screen printing/apparel, and Bill Prescott, who runs the Sling Shot ride and is part-owner of the SkyWheel. Marvin's officially closed on Nov. 13-14th 2011, and re-opened under the new ownership on Nov. 15th, 2011- it is now named "Moe Moon's". After spending retirement time on the road in his motorhome, Marvin McHone died on June 16, 2015 after a battle with cancer.
---
***************** Going South *****************
---
HARD ROCK PARK
211 George Bishop Parkway
Myrtle Beach, SC 29579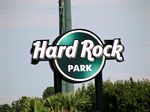 This new Rock & Roll-themed amusement park, located at Fantasy Harbour along US 501, opened on April 15, 2008, and closed Sept. 24, 2008-- lasting not even a single year. They filed for Chaper 11 bankruptcy, which was converted to Chapter 7, and were unable to find a buyer as of 2009. The park was eventually sold for around $25 million, pennys on the dollar for an initial investment of $400 million. It opened in 2009 as "Freestyle Music Park", but was also unable to attract enough visitors to remain open, despite heavily discounted admission prices.
Click
here
or on the Hard Rock sign for a special page of pictures.
---
K'S OF MYRTLE BEACH
1108 3rd Ave. South Ext.
(803) 448-3110
Another great local bar on 3rd Ave. South, close to Hwy 501. The manager, Bruce, was also part of the party crew. This was "Warren's" in 2006 when this picture was taken- it has since changed hands and names a couple of times.
---
KING'S ROAD TAVERN
100 North King's Highway
(803) 448-4937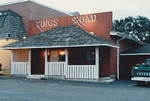 A popular former restaurant/bar on Highway 17, previously named the "Hop-N-Hutch". This bar burned down during the night of July 4, 1989, and a Waffle House is on the site as of 2023.
The owner/manager, Bettie Jean (Barnes) Gilbert, known as "Ma" Gilbert, died on Wednesday, January 13, 2007 at Waccamaw Community Hospital, at age 76. She was born Jan. 15, 1931 in Parkersburg, WV, and had been living in Murrells Inlet. The funeral service was on Friday, Feb. 9, 2007 at Goldfinch Funeral Home in Murrells Inlet, and she was buried in Oceanwoods Cemetary. (Sun News, 2/02/2007) She ran this popular bar with her late husband William Gilbert, who preceded her by many years. Ma Gilbert was well known and respected for her support of many local musicians and rock bands. The band Sharks was the house band for a time. GILBERT'S GASLIGHT TAVERN
407 Yaupon Circle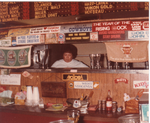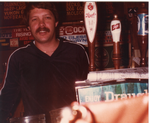 Ma Gilbert also ran "Some Place Else" and Gilbert's Gaslight Tavern. The Gaslight opened in 1974 at 407 Yaupon Circle on the other side of the swash from Grand Strand Amusement Park; the Swamp Fox coaster could be seen from the deck. This bar was a favorite place for the Alabama band to hang out before they played at The Bowery. Ma Gilbert sold the Gaslight shortly after 1980 and bought Kings Road Tavern a few blocks north on Hwy 17.
(Gaslight Tavern pics thanks to Peter Mac)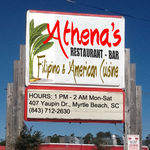 The bar has had many owners since, including a man from New Jersey and his partner Barbara who remodeled it and renamed it to "The G Spot" around 1998. It was the "Back Deck Bar & Grill", which opened in 2007, then it was Mai Tai's Beach House and Grille opened Feb. 20, 2016. The most recent business here is Athena's Bar & Grill, around 2018 with Filipino & American cuisine; the restaurant side closed in 2022, and is now a bar/club only.
---
FORT CAROLINE and CHARLES TOWNE
Forestbrook Road area off US 501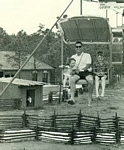 This was a frontier-land style park featuring a large wooden fortress which was "attacked" by Indians several times a day. This was located in the area of the present-day Forestbrook Road, before the road was built, and it was in operation through the 1950s and 1960s. References to a "wild west" theme park in Myrtle Beach may be confusing this park, and many anachronistic elements of the old
PirateLand
park in Surfside Beach. The fort was entered through a chair-lift ride.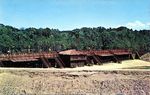 Looking east toward the main defense wall - the colorful masts of a Spanish galleon anchored in the lagoon may be seen against the trees of the surrounding forest.
The fort had a large music stage, where folk acts like The Shilos performed, as band member Paul Surratt reminisces:
During the summer of 1964 I played at the Fort Caroline adventure park in a folk group called The Shilos. We were a four piece (stand-up bass, 2 guitars, banjo) with a commercial-folk sound reminiscent of The Kingston Trio or The Journeymen. We would play seven(!) shows daily in the outdoor dining area. Tens of thousands of tourists must have come through and seen us perform over that summer. I know this is a longshot, but I thought I'd post this and see if anyone out there happened to take any photographs or 8mm home movies of my group during our residency at Fort Caroline. We were four teenagers all roughly 16 years of age, most of us from Greenville, SC, belting out songs like "Little Light of Mine" and "Headed for The Hills". Following our performance, someone would run up and yell "ATTACK! ATTACK!" and the Indians would descend upon the fort, and a simulated battle with the French Huguenots would begin. I would love to hear from anyone who might remember seeing The Shilos back in those days.
One notable member of The Shilohs was
Gram Parsons
, who went on to considerable country-rock/folk music success. Paul Surratt passed away on March 14, 2020. Many local people worked here as well as PirateLand. At night, the "Indians" would often go out into the forest and collect snakes to use in the next day's performances. In later years, declining attendance drove the owners to start holding rock concerts and other events, which quickly gave Fort Caroline a bad reputation for hippies and drugs. One of the last groups to perform here was
Deep Purple
.
---
UNKNOWN MINIATURE GOLF
3rd Avenue South Directly across 3rd Avenue South from the parking lot of the then-Grand Strand Amusement Park, was a miniature golf course which is long gone, nothing remains of it. The name of this course is not known, although it could have been the old "Dinosaur Minigolf" course. It was directly behind a 24-hour breakfast restaurant on the north corner of Hwy 17, which itself is now a gas station. Most overhead pictures of the park at the time show little of this course because of the trees. In a direct ripoff of the older Goofy Golf course, this one had a big Tyrannosaurus Rex that moved its arm, raising and lowering a spider hazard on a chain.
---
FAMILY KINGDOM AMUSEMENT PARK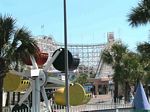 The oldest surviving amusement park in the Grand Strand region is the Family Kingdom Amusement Park, originally named the Grand Strand Amusement Park. It's signature Swamp Fox roller coaster has towered over the beach since 1966. Click
here
for the Family Kingdom page.
Miniature Golf in Myrtle Beach
---
KENTUCKY FRIED CHICKEN
400 S Kings Hwy
Myrtle Beach, SC 29577
(843) 626-9786 This was the first KFC restaurant in the area, located right along Withers Swash. It was likely built at the same time as the Grand Strand Amusement Park, which involved a massive landfill to close the once-wide swash. The restaurant became run-down over the years; KFC wanted to tear it down and build a new, much nicer and larger restaurant, but the property owners wouldn't allow the land grading necessary for this. It closed in 2010, and was remodelled into the Japanese Hibachi Steakhouse by the new occupants. KFC still plans on building another new restaurant nearby. Toward it's end in the original location, this was listed as "Thomas Kentucky Fried Chicken".
HO WAH
MITSUWA JAPANESE HIBACHI
409 S Kings Hwy
Myrtle Beach, SC 29577
(843) 448-3321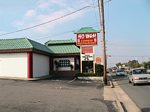 A great Chinese buffet restaurant on Highway 17, just south of Family Kingdom. This has been open since 1976, it was plagued by mixed reviews and bad health inspections in recent years, getting a "C" rating in 2017. It also suffered a late-night fire in 2012, but re-opened quickly. It closed in 2020 and became Mitsuwa Japanese Hibachi. This was a really good place to get lunch, I ate here often when I lived in the area. There was another great chinese restaurant- Golden Gate, at 2701 North King's Highway beside the old Myrtle Square mall, but its gone now. Older sources list this street address as 501 S. Kings Hwy.
---
MR. MURPHYS PUB /
MAGASTOS LOUNGE
1605 S. King's Highway
(803) 448-2733 GPS:
N 33° 40.511 W 078° 54.255
View on map
In September 1972, this bar on King's Highway was transferred from the original owners to Peter MacIntyre, in exchange for paying the next month's rent. Over the next few years, this became a very popular nightspot.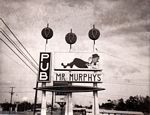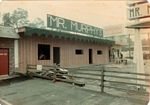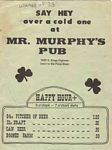 They had live music, and brought in regional and national acts like Mother's Finest, Nantucket, and many more- here is a small sample of promoted bands, many of which played here. One favorite was
Kallabash
, whose antics included "squiddering"- an audience member had to hold a quarter in their posterior while squat-walking across the stage, receiving a beer if they didn't drop the quarter.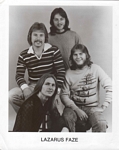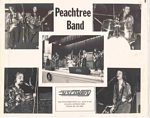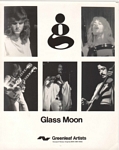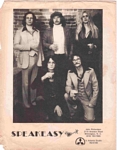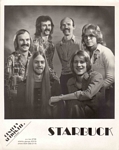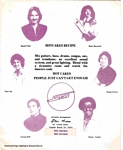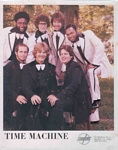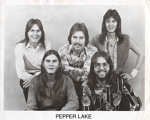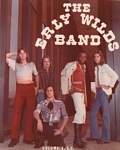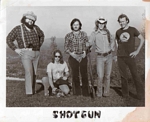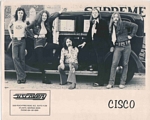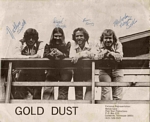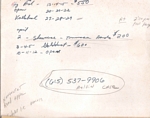 Working out the band schedule and prices.
Probably the biggest act to play here was Starbuck, who had the 1976 hit "Moonlight is Right".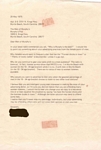 Politically-correct complaint; most likely she never went there.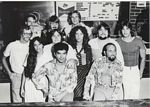 Murphy's Staff- back row (left to right): "Snake", Peter Mac, Gary Moore.
Next row: Charlie Langerford, Kuuipo, "Green Jeans", Miami, Big Al, Ralph Hun. Front: Tito, Mouse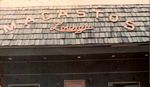 Because of threatened legal action over the "Mr. Murphy's Pub" name, it was changed to "Magasto's" for Peter MAc, GAry Moore, STeve, and Others.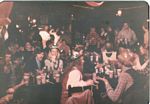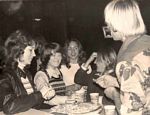 To the right: Gary Moore with the "Conway Twitties", a trio of young women from Conway, who frequented the bar.
Memories of Mike Vauthier aka "Wolf of Myrtle Beach" (72-76):
Mr. Murphy's Pub I remember Myrtle Beach and Mr. Murphy's Pub. I had just reenlisted in the USAF after a ten
month break in service, and was assigned to Myrtle Beach AFB, South Carolina.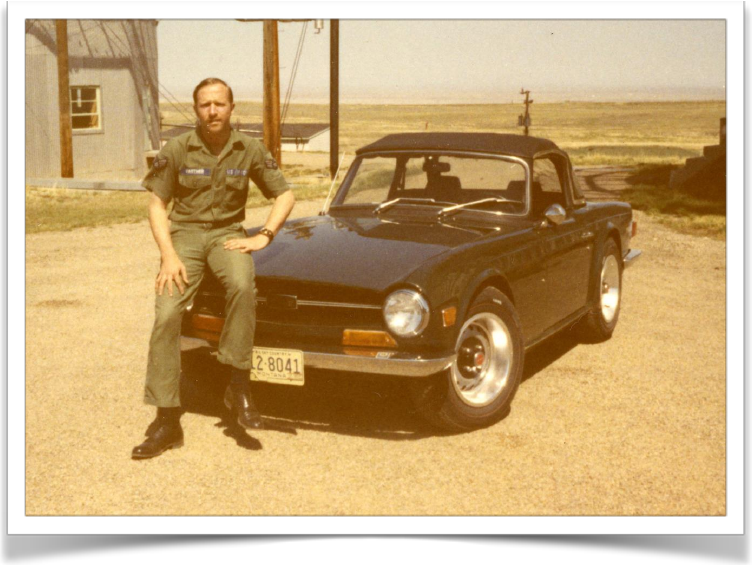 I was 23 years old and drove a British Racing Green Triumph TR6
(picture above of me and my TR6 at my last assignment at Havre AS, a Radar Site north of
Havre, Montana.) My nickname was Wolf. The base entrance faced King's Highway and was just a few miles south-southwest of the
business edge of Myrtle Beach. Mr. Murphy's Pub was on the right as I drove into town. The bar
was on my right as I entered the pub. The place was pretty plain, but clean. As I noticed the
pool table in front of me, I was greeted with "Hello!" from the the two guys behind the bar. Both
had long hair, one with a beard and the other clean shaven. I said, "Hello". Then reaching over the bar I shook their hands, and asked for a Schlitz beer. I waved off the
glass as they sat the ice cold beer in front of me. I asked how much, and they both answered it
was free. I thanked them. They told me I was one of their first customers, and introduced
themselves, bearded guy was named Ralph, and the other was Jim. I told them I was in the Air Force and they smiled, it must not have not been too much of a
surprise with my short hair, comparatively speaking. I found out that they both were going to
college and had opened this place up to earn some money for the fall semester. I remember
thinking that was pretty smart. I stayed there a while and had a few more beers playing the pinball machine and talking with
them. They were cool and laid back and easy to talk to. I told all my Air Force Friends about the place. Over the next few months the pub became very
popular with a good mix guys and gals. Needless to say it became my go to hangout. They had added
a waitress, who introduced herself as Sue. I called her Suzy Q and it seemed to stick. I
continued to hangout at 'Murphy's, with Bartender's Jim and Ralph, and waitress Suzy Q. Toward the end of Summer Jim told me that he and Ralph were looking for someone to take
over Mr.Murphy's Pub, and asked me if I would be interested. I laughed and told him it would
be difficult to do, since I was in the Air Force and subject to TDY's and COA's without notice. Later that year, when pulling up to the front of Mr.Murphy's Pub, I noticed a black Porsche 914
(I believe that was the model, it wasn't a 911). Going inside there was a golden retriever lying
next to the bar, and a long haired dude with a mustache coming out of the storeroom with cases
of beer to stock in the coolers behind the bar. Jim and Ralph were not there. He asked if
he could help me, and I told him I would like a draft beer. He pulled me a glass, and I introduced
myself. He shook my hand and said his name was Peter McIntyre, but that everyone called him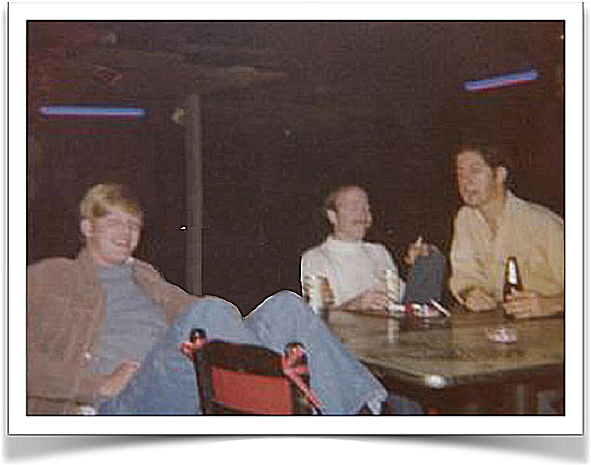 Running Buddies - L/R John Boy, Wolf, and Van the Man at Mr. Murphy's Pub Early1970s

Peter Mac. I asked where was Jim and Ralph. He said he was now the manager and owner of
Mr. Murphy's Pub. His Dog's name was Herschell. As time and the years went by Murphy's crew grew, initially Peter Mac, Gary, Steve, with Suzy
Q (our main waitress), and later Snake and Mouse. My main running buddy during those years (1972 - 1976) was 'John Boy' Moran. Another close
friend was 'Van the Man' Stephens, who streaked Murphy's a few times and was also funny as
hell. Among many others, we were regulars at Murphy's. It got so busy at Murphy's it took
awhile to get your orders of beers for the table. So, we ordered individuals pitchers of beers. It
began a trend at Murphy's for us, and other die hard drinkers at Murphy's.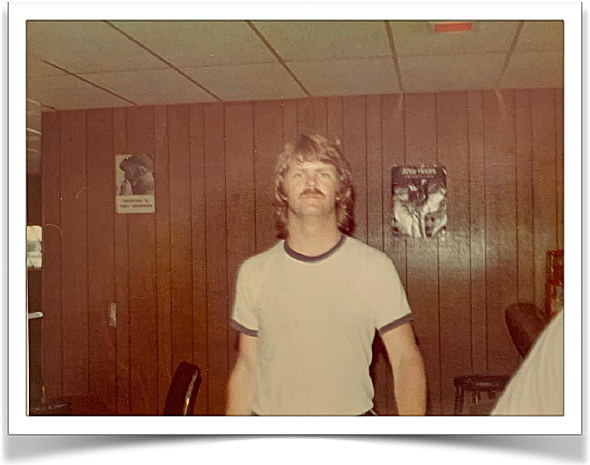 'Peter Mac'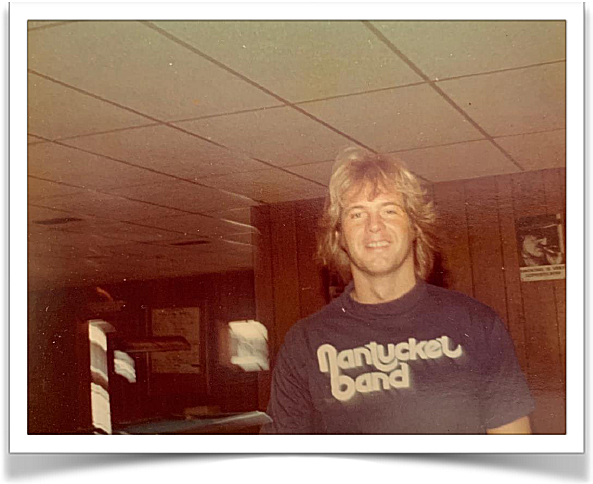 Gary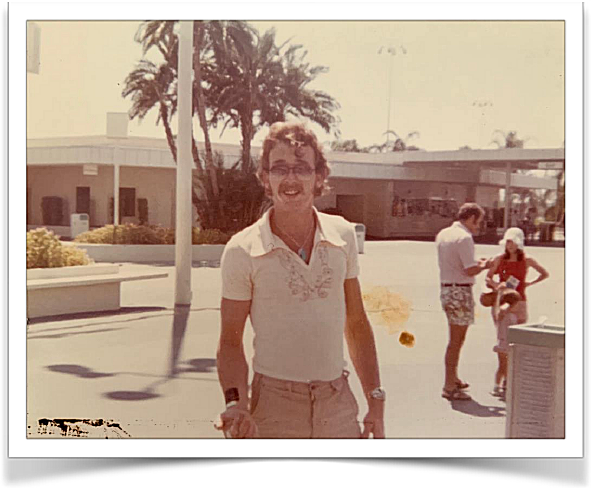 Snake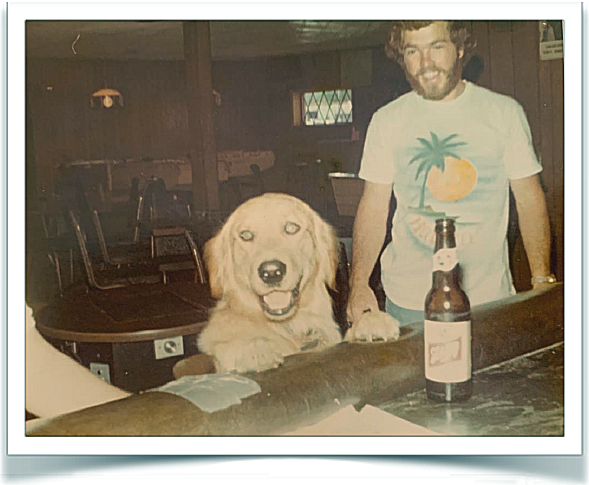 Herschell and Unknown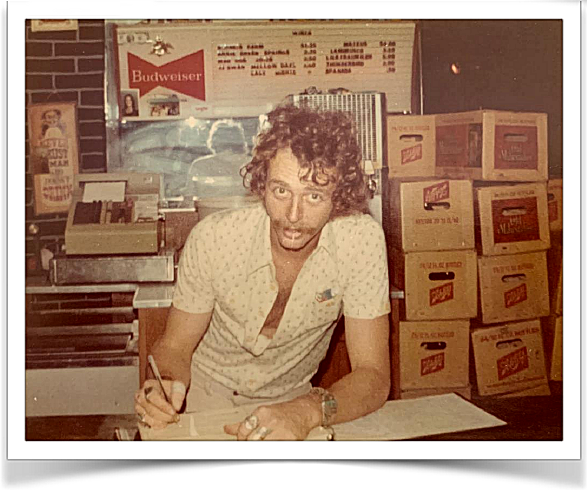 Snake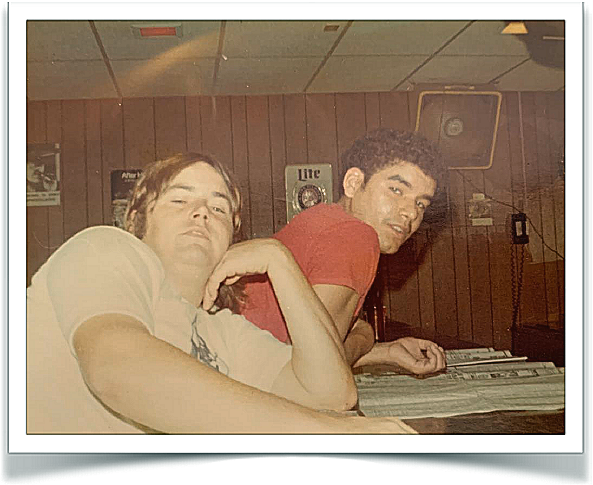 Green Jeans and Tito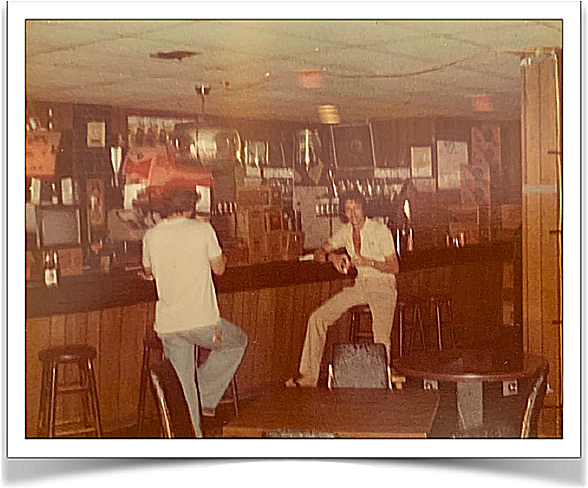 unknown and Snake

These pictures were taken around prior Mr. Murphy's Pub change to MAGASTO'S. If I recall
correctly Steve was sick with mono or something like that, but whatever it was, it was bad.
Several months later in August 1976, I got orders for a Security Base in Southern Italy. I will
never forget the guys and gals of Mr. Murphy's Pub (MAGASTO'S) which I enjoyed and truly
loved. From the first time I walked in the door and saw Ralph and Jim, til the last time when I left
them all behind. It one place I will hold close to my heart. ____________________
Mulligan's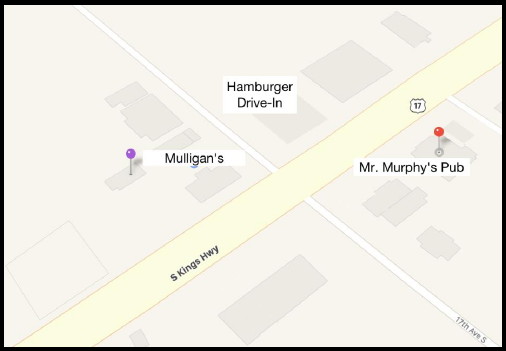 Location of Mulligan's and Mr. Murphy's Pub
( there is a Dominos Pizza to the front left in front of the building now ) I have to admit there were times when we would go to other bars. Our second favorite place
was "Mulligan's" ( not sure of the spelling ). It was just up the street from Murphy's, about a
block and half, but on the opposite side of Kings Highway. It was ran by Ma and Pa Mulligan
and their sons. It had quite a few billiard tables. The norm as it is to day you would put or add
you quarters for the table on its rail just over the mechanized pay slots. When your turn came up
you would play whoever had just won the previous game. There were a couple of cute waitresses here too. The one who's name I remember was Brandy.
Our Air Force buddy Rick, who worked POL (fueling the planes on base), had a thing with her. Mulligan's was a friendly place and we were all comfortable being there. It was busy, but not so
busy that one would have to wait to long for your order to arrive.
Murphys to Magastos Movie:
480 x 360
-
720 x 480
This bar was popular until the "Disco" craze swept the nation in the late 70s; the crowds evaporated, and the bar closed.
As of 2015, the "5 Star Discount Beachwear" at 1605 S. Kings Hwy is located where this bar once was.
---
MYRTLE CINEMA 10
1804 S. King's Highway This was once a multi-screen movie theatre, open all year round. Located on Highway 17 almost near the airport, it was my first choice of places to see the latest movie. They were one of the last theatres with quirky late shows like "The Faces of Death Part 4" shown in 1993 to a full audience. The building sat empty for some time in what should be a busy area. In fact, hardly any of the old theatres are in operation anymore. This abandoned building has since been torn down, leaving nothing but another empty lot beside the highway.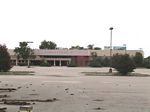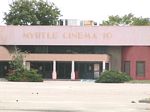 ---
SPRINGMAID BEACH Located at the very end of the string of beachfront motels, nearly at the end of Ocean Blvd, this is a little-known beach where a lot of the locals go to get away from the crowds. There is a fair amount of new development near the Springmaid pier, but this beach itself is still very much the same as its always been- empty. Even the long-abandoned parking lot that you have to walk through to get to it, is the same. This area was once the site of Pebble Beach Campground.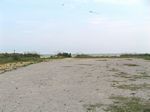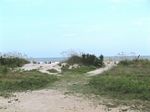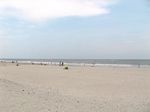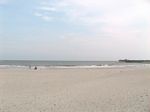 This last, empty bit of beach may be soon developed as part of a nearby condo resort.
---
WATER BOGGAN
3207 Highway 73 (Ocean Blvd)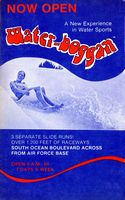 Built in 1976, this was among the first Waterslides in Myrtle Beach, touching off a craze that would be copied up and down the coast. This has not only gone out of business-- they've completely levelled it! It was fun to go on this slide on hot days, watching A-10s taking off directly overhead from the Air Force Base across the highway (its closed too, transformed into the airport). This is almost at the very end of Ocean Blvd where it stops at Highway 17. The ad page to the left is from "The Coast" vacation guide, Volume XXI, 611th issue, Number 17, dated July 4, 1976. Susan Hurley takes a ride to make the first promotional picture of the water slide, on page 98.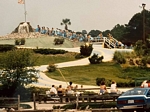 This early water-slide was made of concrete instead of fiberglass like all the later ones-- you really needed those blue mats to slide on. Some discussion of MB waterslides is online
here
. These 1977 pictures are from the first waterslide, built on the beachfront across from Grand Strand Amusement Park. The hill and slides are very similar to the Water Boggan and other slides of that era.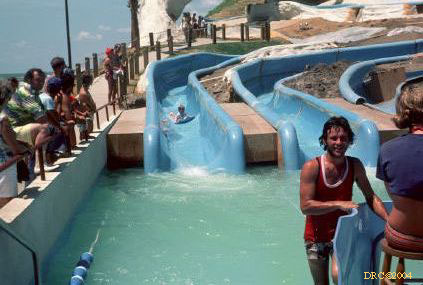 Thanks to
Don Chesnut
for these pictures, from his family's
vacation picture archive
.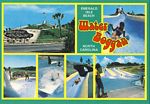 This was once an entire chain of water slides, developed and owned by Dwight Myers from Mocksville, NC, starting with the prototype at his family's campground in Mocksville. The only known remaining one in operation is in
Emerald Isle, NC
, which has been under different ownership for over 20 years. The chain was bought out by a Canadian corporation, and individual locations sold off- most of them have been closed and destroyed. The one in Emerald Isle, NC still uses those foam mats to slide on, and is just like the original Water Boggans in the 1970s.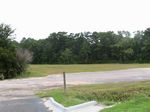 The Water Boggan today-- an empty lot. Nearly all waterslides in the region have met the same fate.
MYRTLE BEACH GRAND PRIX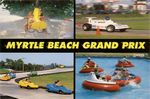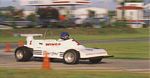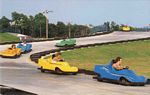 The original Myrtle Beach Grand Prix, across the street, is also gone, replaced by a miniature golf course and a Par 3 course, with only remnants of the race tracks left. This racing park was owned by the Lazarus family, who also owned the Myrtle Beach Grand Prix in Windy Hill, which closed in 2006. They also own the Wild Water Park in Surfside Beach.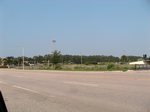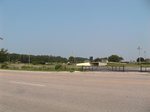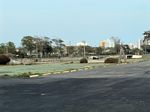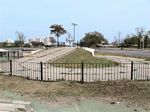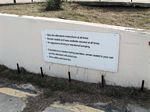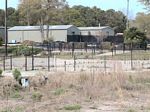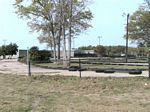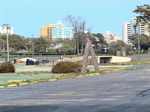 ---
PIRATELAND /
MAGIC HARBOR
4901 S. King's Highway
Myrtle Beach, SC
(803) 238-0717
This was a small amusement park approximately 4 miles south of Myrtle Beach, located on Highway 17 south of MB Air Force Base (now Airport). Originally opened as PirateLand in 1964, it has changed hands several times, changing to Magic Harbor, and later a British-themed park. For several years, there was also an adjacent water slide on the north side, Magic Mountain.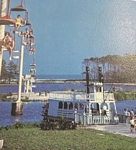 PirateLand contained one of the first four Log Flume rides in the country, made by O.D. Hopkins and went in and out of the buildings. Other rides included a 1200' Chair Lift ride, a ride around Forbidden Island on the Paddle Wheel boat "Mary Jane", a mile-long ride on a real steam train, and self-powered "Skeeter Boats" which were added in 1968. The old village was built along the original King's Highway, the route George Washington travelled through in 1791. The park had it's problems, and experienced an irregular schedule in later years. It finally closed after a fatal accident on the Horse Stage Coach ride; it tipped over killing one and hurting several others.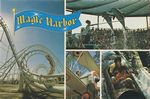 After PirateLand closed, it was renovated and expanded with new rides, opening in the mid 1970s as Magic Harbor. They had a large, distinctive lighthouse at the entrance on Highway 17.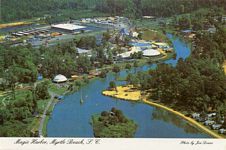 Overhead view of the park, showing the Dolphin dome, chair lift to the island, water flume, the Ferris wheel, and the Magic Mountain water slide. The antique cars, which were sold to the Pavilion, can be seen in the lower left corner.
A history of Magic Harbor is on the
Defunct Parks
site. Roller Coaster Database entry for
Magic Harbor
.
This park was the original home of the
Corkscrew
roller coaster, made by Arrow. It was later sold to the
Pavilion Amusement Park
where it operated from 1978 until 9/06/1999, when it was taken apart and sold to a park in Colombia to make room for the Hurricane Category 5 coaster. The log flume and antique car rides were also sold to the Pavilion, and operated there until the park's closing on Sept. 30, 2006. 1977 "Have a Pepsi Day" TV commercial, filmed at Magic Harbor:
https://www.youtube.com/watch?v=AHaC2EyHDEM
Filmed in July, 1976 by Denny Harris Productions out of Sunland, CA shot this series.
It went to market in late September, 1976 and was on air for 17 months The final incarnation of this amusement park closed in the mid 1990s. Nowadays, absolutely nothing remains of this park-- it has been completely absorbed by
PirateLand Campground
at 5401 South Highway 17 and is used to store campers. The campground owners were inspired by the lines of campers waiting to enter nearby Myrtle Beach State Park. They leased 41 acres of adjoining land from the park, with an agreement requiring the campground to operate under the same PirateLand name and market as a single entity, although the campground was always independent. PirateLand Campground opened in July 1966 with 75 water and electric sites and rates as low as $3 per night. Over time the campground prospered, leasing an additional 80 acres and offering mini-golf, an Olympic sized swimming pool and more amenities. Despite the attention drawn by the campground, all the amusement parks at this location failed.
---
SHOWBOAT DINNER THEATRE
S. King's Highway
Myrtle Beach, SC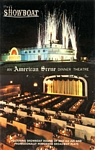 This paddle-wheel boat-shaped building was located along Hwy 17 South, "at Pirateland". This particular dinner theatre was a member of American Dinner Theatre, Inc., registered in Pinellas Park, Florida in March 23, 1967. Other member theatres were located in St. Petersburg, FL, and Greensboro, NC. The date and circumstances of its close are unknown.
The same building was used for "Capt. David's Extravaganza"; note the "$2.00 up" price for an adult meal, with a buffet of seven salads.
---
SANDY MONKEY
3034 Hwy 17 S.
Garden City
(843) 357-0208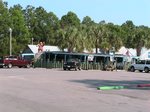 A friend turned me on to this neat bar way down south in Garden City, and we frequented it during numerous weekend excursions to the beach in the mid 1990s. Look for the big ape on the roof.
---
GARDEN CITY PAVILION ARCADE
103 Atlantic Ave.
Garden City, SC 29576
(843) 651-2770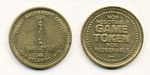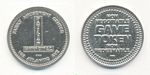 Garden City Arcade tokens, 2008
This is one of the largest -and last- of the old-style beach arcades. It is located on the main road coming into Garden City, not on the beachfront, but just across the street from the pier. There are plenty of prize redemption games, but also the largest collection of "regular" arcade games on the strand, plus they have a section of "classic" arcade games on the 2nd floor. During the 2008 season, there was also a small amusement park across the street, with go-karts, a Slingin' Swing, and some kiddie rides. Almost every beach on the Strand once had such an amusement area, now this looks like the only one.
---
***************** Going North *****************
---
CAMELOT THEATRE
1901 North King's Highway
(803) 448-3322 Like most old theatres in Myrtle Beach, this one is long gone, but the building remains. This was a 3-screen theatre in the Plitt Theatre chain, which closed in the early 1990s, after opening in 1968 with the film "Oliver". This theatre was where I first saw "Alien" in the summer of 1979. After it closed, it was turned into a series of bars and country music clubs.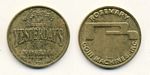 Yesterday's Nite Life token
One of these was "Yesterday's Nite Life". This was a large, multi-level nightclub with sports bar, five big screens, at least 40 stations for the National Trivia Network (NTN), darts, and many sports-oriented games including full swing golf simulators and Dayton driving machines. They advertised: Happy hour 4-8pm.,daily specials, Open 4pm. 7 days a week. In 2007 it was the Red Rooster Ultra Saloon, joining a similar bar in Winston-Salem, NC. a college rock/Top 40/Country/Western bar, which opened on June 13, 2006. It didn't last long, and the building is being renovated as of the beginning of June, 2008.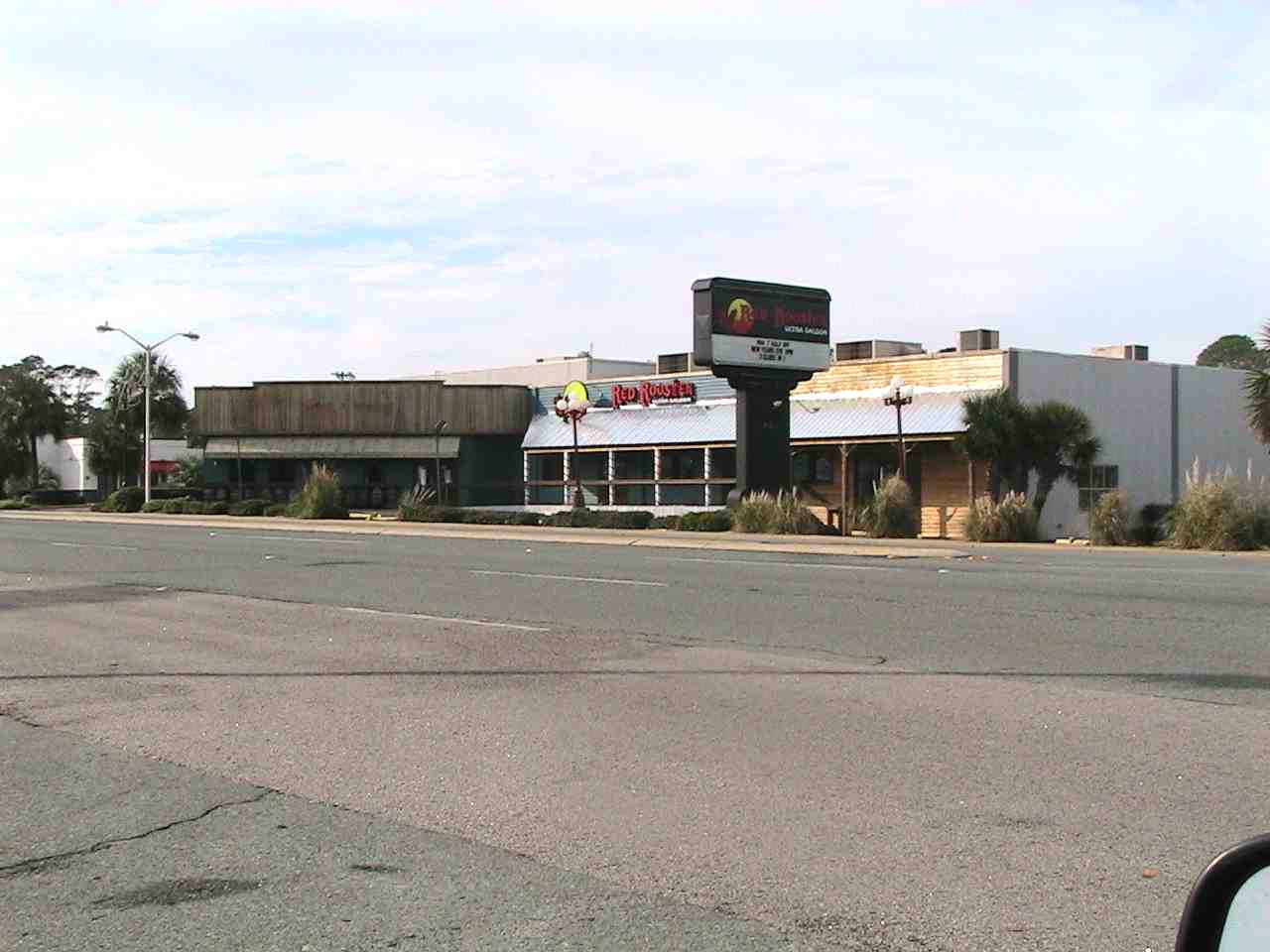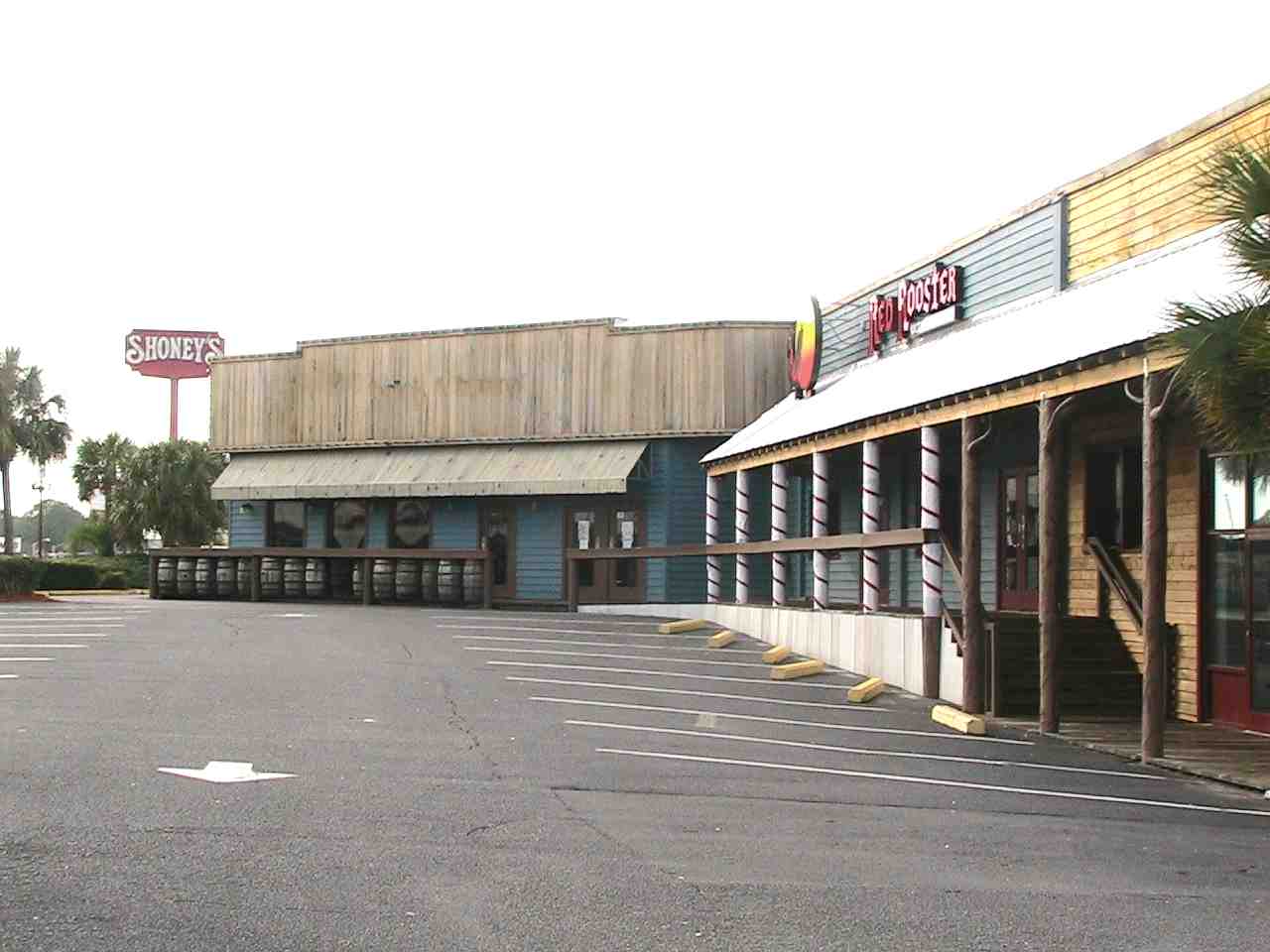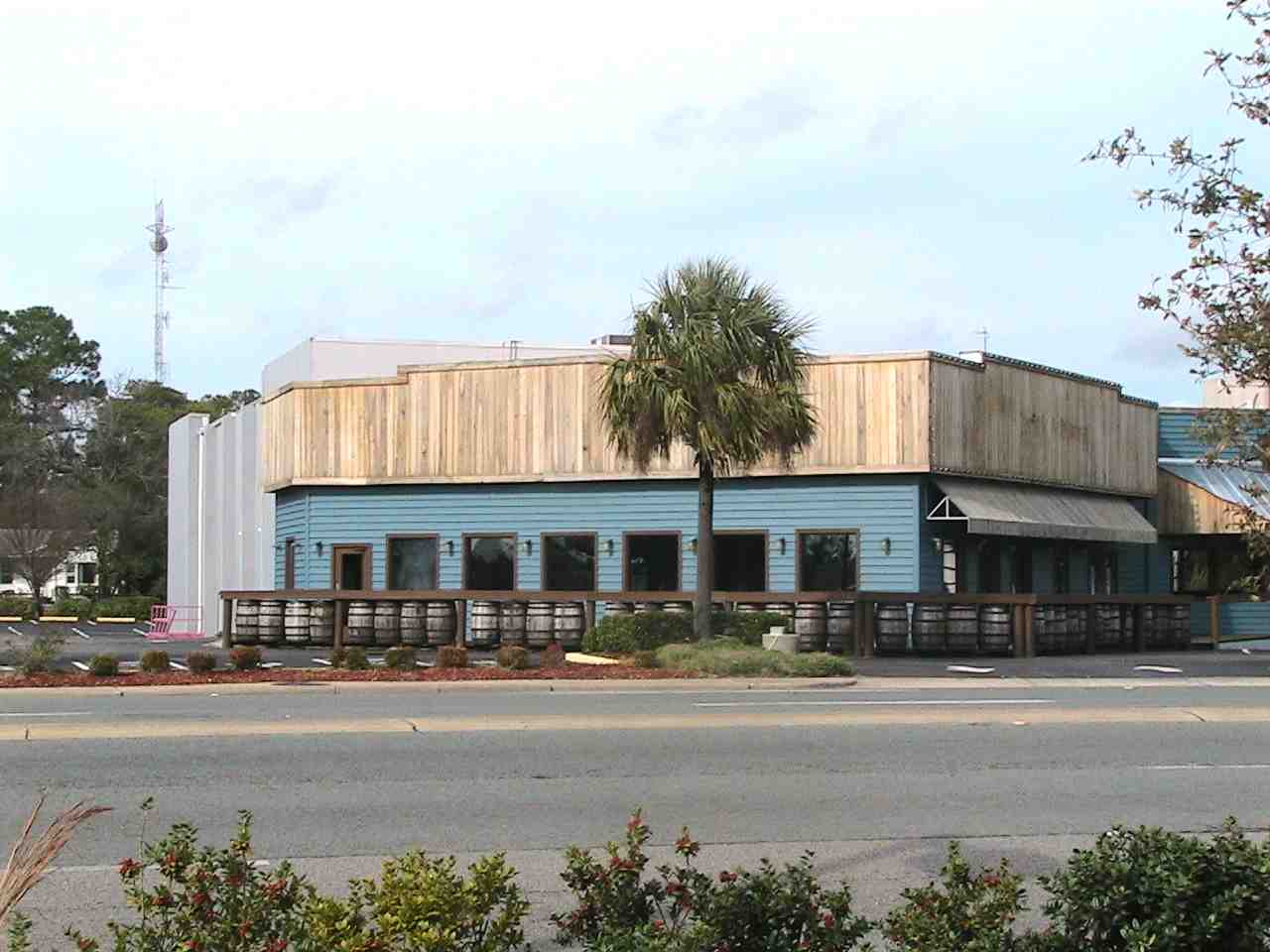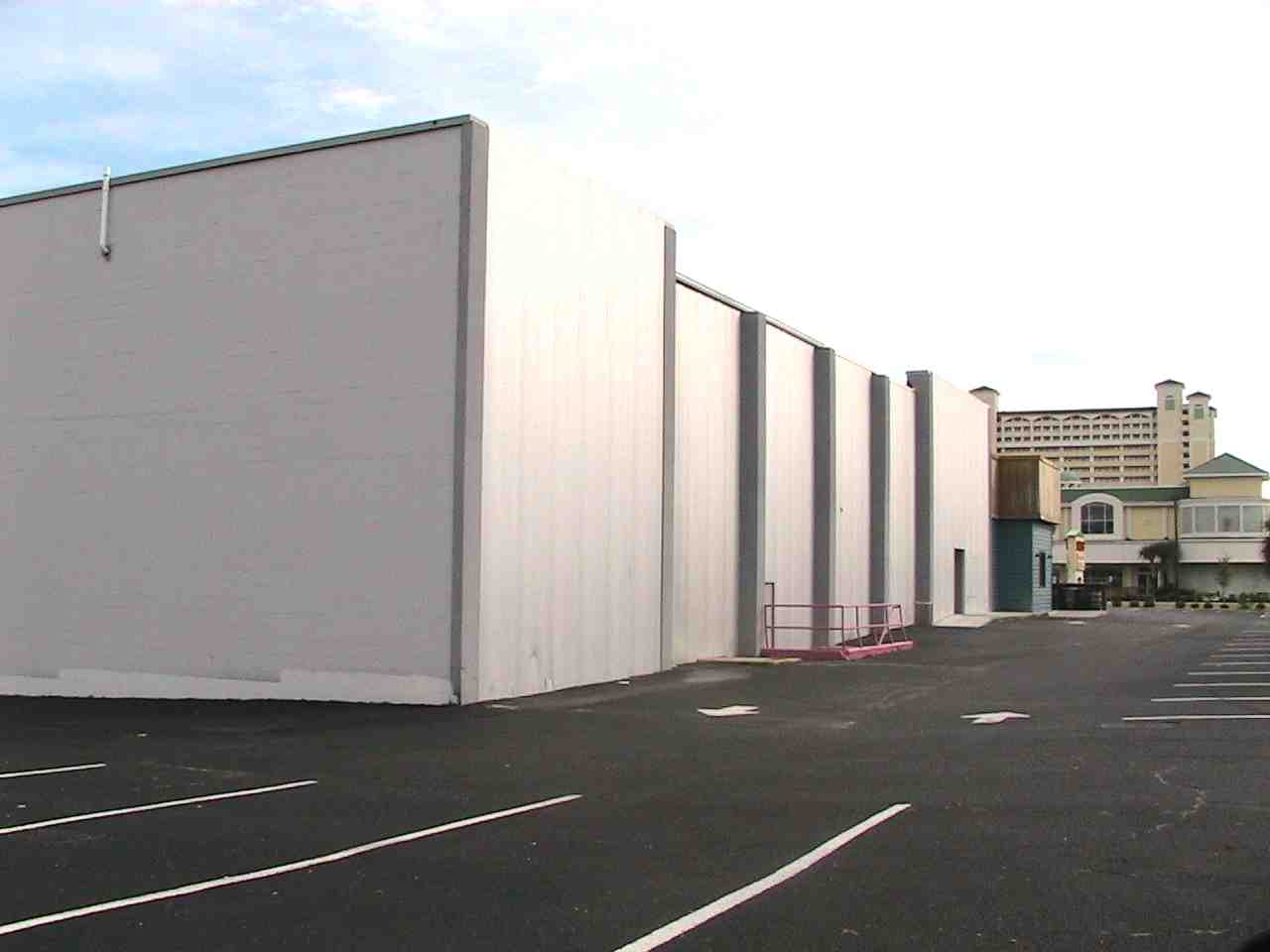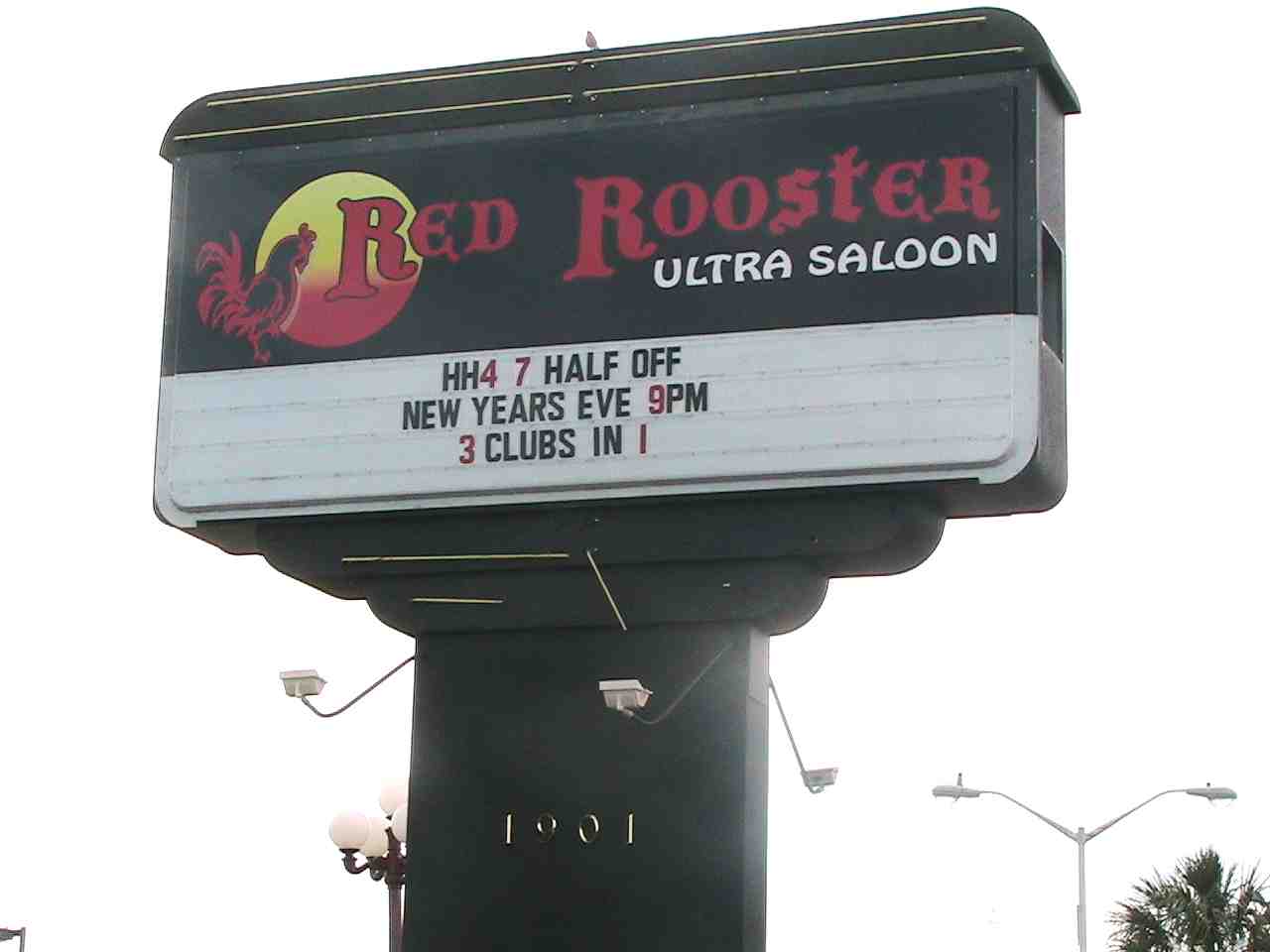 ---
STUDEBAKER'S
CHAIRMAN'S CORNER
2002 North King's Highway This was once a great bar and restaurant, in the corner of a strip mall beside Studebaker's nightclub. It was THE place to unwind after a hard day's work, and I got plastered there more than once. When I visited in 1993, it was still Chairman's, but under new management; they had taken out half the tables and replaced them with pool tables, and it was a country bar. I heard from the bartender at Tha' Bar, that it was briefly "Captain's Corner" before it became Madison's Bar and Grill.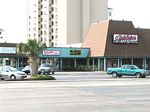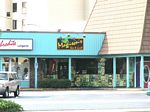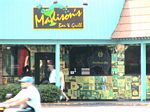 This has changed names again- during the 2008 season it was "Knuckleheads". Studebaker's, located at 2000 N. King's Highway, closed on Jan. 9, 2010. The owner, Don Cauthen, blamed a bad economy, a slow summer, and loss of the May bike rallies. This club opened in May, 1981 and was open for nearly 29 years; it became famous for it's oldies music and dance contests.
---
MYRTLE SQUARE MALL
2501 North King's Highway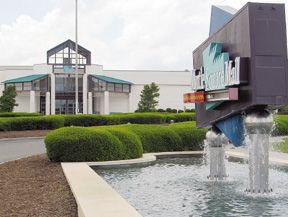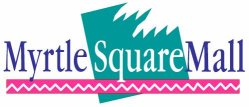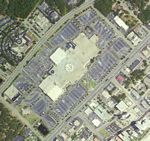 Opened in 1975, this was the first mall in the region, along Highway 17 near the Convention Center. At that time, it was fairly large, with 450,000 square feet of shopping space on 57 acres. Memorable parts of this mall were: the central food court with the huge clock made out of lights; the "Magic Cavern" arcade, the hobby shop across from the arcade and the Record Bar a couple of doors down; the Radio Shack for electronic parts, and the fantasic lemonade from the area's first Chik-Fil-A. I haven't actually liked many malls; this is one of the very few that I enjoyed going to.
The original clock featured two rings of 60 lights, with each 5 seconds or minutes being orange. The inner ring would count out the seconds, and the outer ring counted the minutes, with large numerals indicating the hour.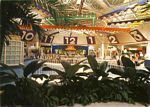 1992 Pictures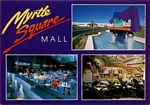 Original Myrtle Square Mall postcard, 1992

Renovated clock and interior, August 2005, picture thanks to "isipeoria".
Click
here
for the full-resolution 2560x1920 pixel, 2.43MB version.

Uprooted tree outside Sears, January 2006, picture thanks to "isipeoria".
Click
here
for the full-resolution 2560x1920 pixel, 2.43MB version.
This mall had the "worlds largest clock", originally a series of blue and orange globes as the seconds and hours, with seats beneath it shaped like clock gears. It was later renovated to include the numbers shown in these pictures. Demolition started in December 2005, finished in June 2006. Its just a big empty lot now- nothing is left but the out-building in the corner of the lot. The former mall's owner, Burroughs & Chapin, has no current plans for this property, and it is sitting mostly empty. The Chik-Fil-A was the first local branch, opened in 1976 by John Shaw, a textile mill worker from Greenville. At the time, there were less than 50 of these restaurants nationwide. He went on to open several others in the MB area. Links: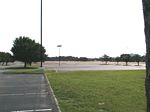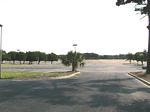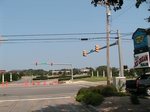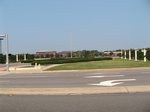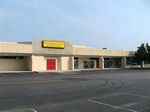 This building in the back left corner of the mall lot once contained a great local bar called Eby's. There were some
wild
after-hours parties there.
---
MYRTLE BEACH PINBALL MUSEUM
607 N 27th Ave
Myrtle Beach, SC
(843) 282-9018
Website:
https://MyrtleBeachPinballMuseum.org
Facebook:
https://www.facebook.com/MyrtleBeachPinballMuseum/
GPS:
N 33° 42.638 W 078° 52.174
View on map
This museum features more than two dozen retro and modern pinbal machines, from the 70s to the present, all fully playable. All games are set to free play, available at a per-hour rate. It grew out of Jerry and Sheila Pinkas' personal collection of pinball, originally bought for his real estate business is right across the street. Instead of keeping this collection private, they opened it to the pubiic in May, 2018. From their website, "Our goal is to preserve Pinball for what it really is: a National treasure of pure American engineering, art, and pop culture. We want to inspire, preserve & promote this important part of American culture." The Myrtle Beach Pinball Museum is a 501(c)3 nonprofit dedicated to preserving this important part of American pop culture and through its charitable contributions to children's charities.
---
GREENS BEVERAGES
2850 N. King's Hwy
Myrtle Beach, SC
(843) 448-1623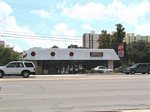 Its nice to see that some things never change. This is the ultimate party supply store.
Website here
---
VILLAGE SQUARE/
SOUNDS FAMILIAR
38th - 43rd Ave. North & Highway 17
Myrtle Beach, SC Once a bustling shopping center, one of the first and largest "strip malls" in the area, it now appears largely deserted.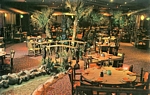 Long-time beach-goers would recognize this as the site of the former Hawaiian Village restaurant and motel. The restaurant actually had a small river running through it, with little bridges to get across. This picture is from a 1965 postcard, taken by Jack Thompson.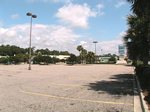 Hardly anyone here now, most of the businesses look closed. Even long-time places like Mr. Gatti's Pizza are gone.
One of the last of the older businesses in this strip mall has also closed. These Nov. 1, 2006 pictures show the front of Chung Wah restaurant, closed after 25 years. This was a Chinese buffet, with Cantonese and Mandarin lunch and dinner.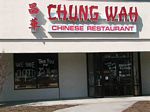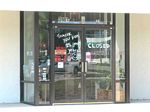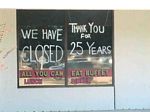 Sounds Familiar was the best music/record store on the whole beach, even better than The Record Bar in the
mall
-- I bought a ton of albums from them over the years. In 2006 it is sitting empty and apparently neglected from the looks of the vegetation outside.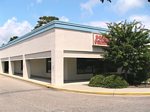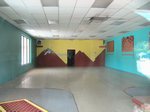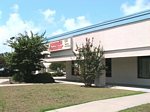 SOUNDS BETTER
9904 N Kings Hwy
Myrtle Beach, SC 29572
843-497-3643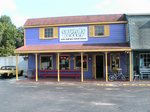 The store re-opened in the Restaurant Row section between Myrtle and North Myrtle Beach along Highway 17. This new location was behind Margaritas restaurant in the "Hidden Village Shopping Center", on the very left end of the row of small businesses.
According to owner/manager Jeff Roberts, the MB location of Sounds Familiar was opened in 1979 and closed in 2003 due to a number of problems: rising rents, predatory competition from "Big Box" stores, questionable out-of-state shopping center management, and a business partner who went bankrupt and abruptly bailed out. He opened the new store at his family's retail complex at Hidden Village, in Restaurant Row. The new store was used/special music only, and he could order anything special that you wanted. He was also very active at promoting local music, with a series of special shows at the old
MB Train Station
. Jeff Roberts died of a heart attack on Monday, January 11, 2010, at the age of 55. The South by Southeast event at the MB Train Station the following Saturday was cancelled because of this.
---
DUNES CINEMA
4501 N Kings Hwy
Myrtle Beach, SC 29577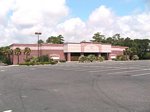 Another nice movie theatre on Highway 17, closed. This particular cinema was built and opened around 1994 by Carmike, on the same spot as the older Dunes Cinema, which had only 3 screens and was much closer to the road. The original theatre where I saw the
Rocky Horror Picture Show in 1979.
Some websites indicate that this closed in 2004, when a new theatre was built at Broadway at the Beach.
---
AUNT MAUDE'S COUNTRY KITCHEN
6901 N. Kings Hwy
Myrtle Beach, SC 29572
(803) 449-3835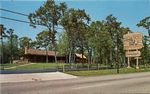 This was once a busy country-cooking style and seafood buffet restaurant, located at 70th Ave. North on Highway 17, beside a swash. It opened sometime in the early-mid 1970s. It was open for dinner, and was often packed with people patiently waiting on the porch to get in. The sign actually says "Vittles n Things". Between 1979 and 1982, the restaurant beside it became Aunt Maude's Low Country Seafood, and it later became Crabman's Seafood, owned by MB Mayor Mark McBride.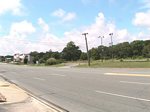 Now, its just an empty lot like so many others in Myrtle Beach, demolished along with the seafood restaurant beside it in
May, 2004
. Since then, it has been awaiting development by Burroughs and Chapin. This is planned to be part of a large restaurant/shopping area called The Palisades, but nothing has been done as of 2008.
---
NORTH MYRTLE BEACH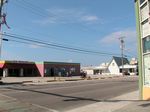 Lots of changes in North Myrtle Beach as well. More strip malls. More high-rise hotels and condos. Less amusements and places to hang out.
---
---
Myrtle Beach backgrounds/graphics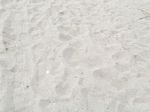 MBSAND.JPG - Shot on an overcast morning on July 29, 2006, at the very end of 8th Ave. North by the Pavilion go-cart track.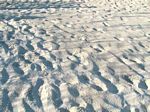 MBSAND2.JPG - Sept. 29, 2006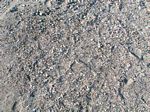 MBSAND3.JPG - Sept. 29, 2006
---

| | | |
| --- | --- | --- |
| has recorded: | | hits to this page. |